Home
Politics
Billions to be announced for housing construction in federal fiscal update, says source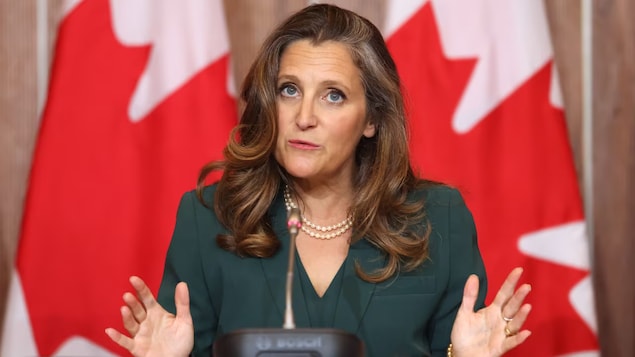 Tuesday's economic statement will focus on creation of rental and affordable housing
The fall fiscal update, to be presented Tuesday by the federal finance minister, will include billions of dollars in loans and direct funding for the construction of affordable housing, a senior government source has told CBC News. 
New measures will include $15 billion for 10-year loans for new rental housing construction, a $1-billion fund dedicated to getting more affordable housing built, and new mortgage rules for lenders dealing with homeowners at risk, according to the source, who is not authorized to speak publicly about the fall economic statement before it is tabled.
The measures are part of a restrained fiscal update focused on mitigating the housing crisis and easing cost-of-living challenges while still trying to grow the economy and create jobs, the source said. 
The Canada Mortgage and Housing Corporation (CMHC) will facilitate the lending to builders and the loans will have favourable terms, said the source, who would not discuss the rate to be charged.
The money, which the government estimates will help build 30,000 new homes across Canada, is for rental construction projects with five or more units.
This funding gives builders a lot of certainty during the riskiest phases of a housing project, said the source. It helps ensure buildings and construction happens, which we need.
WATCH | Chrystia Freeland discusses upcoming economic update:
Housing, affordability top priorities in upcoming fall economic statement, Freeland says
Speaking at a housing announcement alongside Toronto Mayor Olivia Chow, Canada's Deputy Prime Minister Chrystia Freeland said the fall economic statement, which will be presented on Nov. 21, will be focused on making housing — and life in general — more affordable for Canadians.
The new mortgage rules are about codifying the government's expectations around mortgage relief for homeowners at risk, and how they are treated by their financial institution, said the source.
The rules will be part of a six-point charter that builds on the Financial Consumer Agency of Canada's existing guidelines that include allowing for extensions of amortization periods and the waiving of fees related to delayed payments. The charter will include a new requirement that mortgage lenders proactively contact homeowners four to six months before they are set to renew their mortgage to assess their options, especially as many homeowners will be facing much higher interest rates at renewal time in the next two years.
As well, for those with insured mortgages, there will no longer be a requirement to pass a financial stress test if they want to switch lenders when their mortgage is up for renewal. 
The Office of the Superintendent of Financial Institutions and the Financial Consumer Agency of Canada will be the principal enforcers of the new rules.
This is about supporting Canadians through temporary financial stress caused by an environment that we're living in with elevated interest rates, to help people stay in their homes, said the source.
The $1 billion earmarked for affordable housing is aimed at building more non-profit and public housing. It will take the form of direct funding, rather than loans for builders.
New measures for short-term rentals
These new measures are in addition to a number of housing and affordability announcements the Liberal government has made recently, including those in the yet-to-be passed Bill C-56, which would remove the GST for construction of new rental housing and give more powers to the Competition Bureau, particularly to go after unfair competition in the grocery sector.
Tuesday's fiscal update will include additional Competition Act changes, different but complementary to what is proposed in Bill C-56.
Radio-Canada confirms what the Toronto Star first reported (new window), that Ottawa intends to prevent owners from making tax deductions for short-term rental properties when they are located in areas where this practice is prohibited.
Under this new proposal, it would be impossible for owners of short-term rental properties to deduct rental expenses such as interest costs, property taxes or repairs. This would require legislative changes and would come into force on Jan. 1.
It would also penalize owners who find themselves in violation of provincial or municipal regulations by having the Canada Revenue Agency refuse their request for tax deductions. The fiscal update will also include money for municipalities to enforce their own rules on short-term rentals.
The aim is to make short-term rental properties less lucrative, to discourage landlords who break the rules, and to ultimately make existing housing available for long-term tenancy, opposed to short-term rentals.
Karina Roman (new window) · CBC News ·