Home
Environment
World needs to quicken energy transition or face warming of nearly 3 C by century's end: UN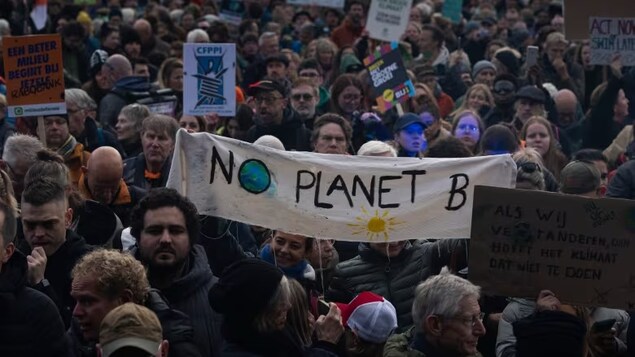 Countries on pace to eclipse emissions targets, must boost incentives to switch to renewables, report says
The world is on pace to warm by as much as 2.9 C by the end of the century, nearly double the international target agreed upon less than a decade ago, a new United Nations report says.
The report, released this morning, says maintaining the goal of limiting warming to the 2015 Paris Agreement target of 1.5 C above pre-industrial levels hinges on a rapid transformation away from fossil fuels toward renewable energy.
There is no person or economy left on the planet untouched by climate change, so we need to stop setting unwanted records on greenhouse gas emissions, global temperature highs and extreme weather, Inger Andersen, executive director of the United Nations Environment Programme, which released the report, said in a statement. 
The 108-page UN report is the latest in a flurry of research released ahead of the climate talks, known as COP28, scheduled to begin next week in Dubai. 
A report released last week (new window) in the Lancet medical journal warned of increases in food insecurity and heat-related deaths if temperatures rise by 2 C by the end of the century. A week earlier, another report (new window) found that top fossil fuel-producing countries, including Canada, are on pace to extract more oil and gas than would be consistent with agreed-upon international targets.
The world, meanwhile, is on track for its hottest year (new window) on record. Last month was the hottest October on record — marking the fifth consecutive month (new window) of record temperatures globally, according to Europe's Copernicus Climate Change Service.
Urgent transformation needed, report says
The latest findings from the UN underscore the need for urgent action at COP28, said Taryn Fransen, one of the report's authors and scientific director of the climate program at the Washington D.C.-based World Resources Institute.
If countries achieve their most ambitious targets — cutting net emissions to zero by around 2050 — we can hold warming to even 2 C, but the trouble is, most countries haven't yet underpinned those targets with legislation and implementation plans that will be needed to drive down emissions, Fransen said in an email to CBC News.
To be successful, countries will need to make commitments to transform numerous sectors at a pace and depth not seen before, such as rapidly and equitably shifting away from fossil fuels, she said. 
The UN report found global greenhouse gas emissions increased by 1.2 per cent from 2021 to 2022 to reach a new record last year. 
According to the report, current and planned coal, oil and gas projects would emit more than 3.5 times the carbon than what would be required to limit warming to 1.5 C.
In percentage terms, the report said the world needs to cut 2030 emissions by 28 per cent to get on track to limit warming to 2 C, with a 66 per cent chance, and 42 per cent for the 1.5 C goal.
WATCH | Researchers say global fossil fuel demand will peak before 2030: 
Global fossil fuel demand will peak before 2030, report says
Global demand for fossil fuels will peak before 2030, according to the International Energy Agency's annual World Energy Outlook. Environmentalists say Canada lags in renewable energy investment and risks being left behind.
Onus on wealthy countries
The report said wealthy countries, including Canada will need to take more ambitious and rapid action and provide financial and technical support to developing nations. 
An audit of Canada's climate policy found that, under its current plan, the country falls short (new window) of hitting the next greenhouse gas reduction target in 2030 by several million tonnes.
Environment Minister Steven Guilbeault has said (new window) that the federal government needs to do more to reduce emissions, with regulations expected by the end of the year to cap emissions on oil and gas production. 
Fransen said Canada needs to double down in order to meet the goals it has set for itself, pull its fair share globally, and further increase incentives for renewables. 
Overall, Fransen warned that a warming of 3 C poses grave risks for human and natural systems. 
Concretely, this looks like increased storm damage, crop failure, fisheries collapse, disease spread, and air pollution, among other impacts, she said.