Home
Society
'We're so happy to have her': One of Nova Scotia's newest nurses is a former refugee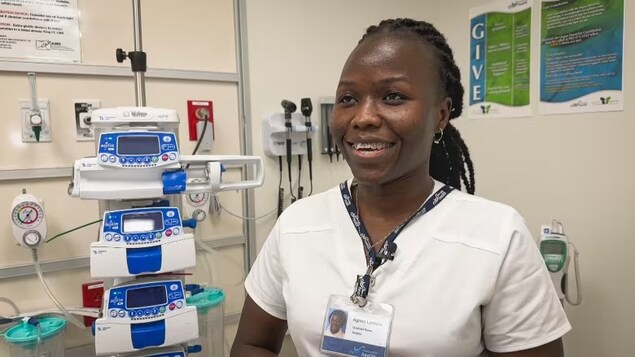 Agnes Lomoro arrived in Canada as a continuing care assistant but has gained her RN credentials
Agnes Lomoro carefully places a stethoscope on the chest of an 85-year-old patient she's checking in on. 
It's a job she has dreamed of since she was a child growing up in South Sudan — where she had no access to health care — but one that seemed out of reach, with a civil war forcing her to flee to Kenya, where she lived as a refugee.
Lomoro arrived in Nova Scotia in 2021 under a federal program for skilled refugees, initially working as a continuing care assistant. 
Two years later, she has upgraded her skills and passed her final NCLEX-RN exam to gain her licence. 
Words can't really explain how grateful and how happy I am, Lomoro said.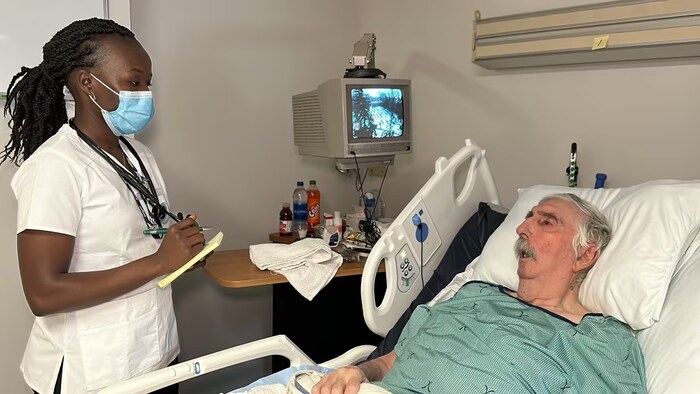 The 29-year-old is now taking care of patients in the surgery unit of the Aberdeen Hospital in New Glasgow, N.S., where she has been training as part of a bridging pathway program introduced by Nova Scotia Health.
It really means a lot, having to know that you are making a difference, she said. You're making a difference in people's lives.
Going to work on the unit — where part of her work involves monitoring patients who are recovering from surgeries such as hip replacements — is a challenge she looks forward to every day, considering her journey. 
I hadn't imagined that I could be where I'm right now, she said, coming from a place of not having any hope for what your future would look like.
Helping address staffing challenges
Lomoro earned a nursing degree in Kenya but her refugee status got in the way of working there.
She got the chance to move to Canada under the Economic Mobility and Pathways Pilot Program to work as a continuing care worker, which she took with the goal of upgrading her skills.
She earned her nursing credentials in Nova Scotia at a critical time, as the health-care system faces major staffing concerns.
We have a number of vacancies and with the influx of [internationally educated nurses], we've been able to fill many of these vacancies, said Leah Heighton, who is health services manager of the medical inpatient unit at Aberdeen Hospital. It's so wonderful, we're so happy to have her with us at the Aberdeen. 
The additional hires have addressed some staff shortages and allowed other nurses to take time off, she said, which has really helped to boost staff morale and it's certainly improved patient care as well. 
'We have reduced those barriers for people'
Lomoro, who is now a permanent resident of Canada, was one of 15 internationally trained and educated nurses who enrolled in the pilot bridging program last fall.
Ten have taken the exam and all 10 have passed and about eight of them are already employed in Nova Scotia Health, said Tara Sampalli, the department's senior director of implementation science and global health systems planning.
The success rate demonstrates those in the program already have transferable qualifications from other countries, she said.
It's so important to have this type of an opportunity, Sampalli said. We have reduced those barriers for people to come into the health system and bring their expertise.
Lomoro gives a lot of credit to Nova Scotia Health for providing her the opportunities to build her career.
Now she has bigger goals.
She's thinking about doing her masters degree, as well as considering continuing her training to become a nurse practitioner.
I can keep dreaming and be thinking of what the future holds.
Lomoro still has family members who are living in a refugee camp in Uganda, and she would also like to help them follow her to Canada.
Gareth Hampshire (new window) · CBC News