Home
Politics
I'm a Palestinian living in Canada, and I can't take the silence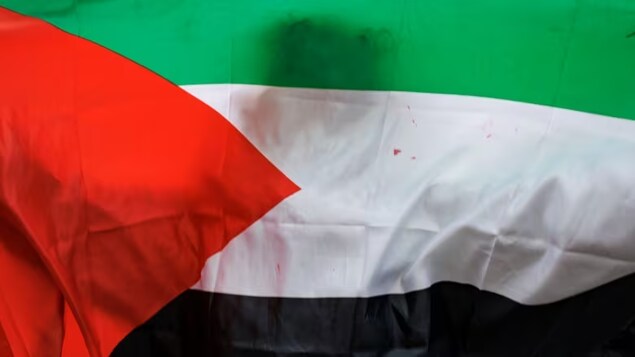 I feel so helpless thousands of miles away from my family's homeland
This First Person column is written by Lima Al-Azzeh, who lives in Vancouver. For more information about First Person stories, see the FAQ (new window).
There was a flurry of messages on our family WhatsApp group, which includes people in Canada, the United States and Qatar. Usually, this isn't totally surprising on a Sunday morning, except this was not like any other Sunday. 
I sat by my phone anxiously waiting for updates from my aunt on the status of our extended family in Gaza. At the same time, we were waiting to hear from my uncle to find out how we can send money — if we can send money — to the family of the little Gazan girl my mother and aunts have been sponsoring for the last few years in memory of my grandmother, a born-and-raised Gazan herself. 
Between pauses, I was glued to my Instagram feed, constantly refreshing as I waited for updates from the now familiar faces of courageous Gazans reporting on their hellish lives as they dodge endless bombardments while searching for the most basic of human necessities, such as food and water. There's Bissan and Hind, Plestia and Motaz. I look for their updates daily. 
Power and Wi-Fi have been intermittently cut in Gaza, and Palestinians have been living under siege for weeks. For Palestinians in the diaspora such as myself, we continue to wait, fearful that we'll never hear their precious voices again
My mother and I have become lulled into a ritual over the past few weeks: I go over to her house and — sitting at the opposite ends of her couch — we stare at our phones in silence. Al-Jazeera plays non-stop in the background. But we're so distracted that everything sounds muffled, almost like we're living inside a Charlie Brown episode. 
And then there are the other silences to contend with. The ones that feel more personal. 
Noticing who spoke up and who didn't. Noticing who reached out with a word of support or comfort and who didn't. Noticing who, over the years, has cared to ask us genuine questions about what it means to be Palestinian. What it feels like to be homesick for your homeland and every day be confronted by the impossibility of your return.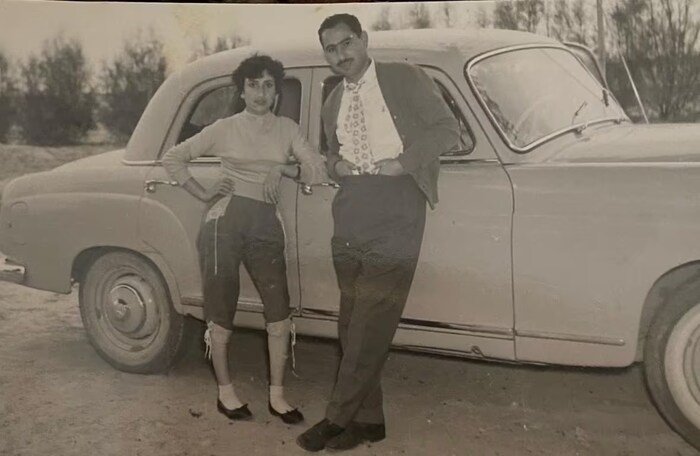 For 75 years, Palestinians seemed doomed to suffer in silence. We told our stories among ourselves and to anyone willing to listen. Stories of our parents and grandparents relinquishing their homes at gunpoint and, as in the case of my grandfather, walking across the desert to Egypt before resettling as a refugee in Kuwait. Palestinians — about 700,000 of whom fled or were forced to flee around the time the state of Israel was established in 1948 — call their expulsion from Palestine the Nakba, or catastrophe. 
That catastrophe has reverberated across generations. My mother was born in Kuwait, but still, my grandparents, as refugees, had to fill out residency forms every couple of years, always uncertain of their fate. If they were denied, where would they go?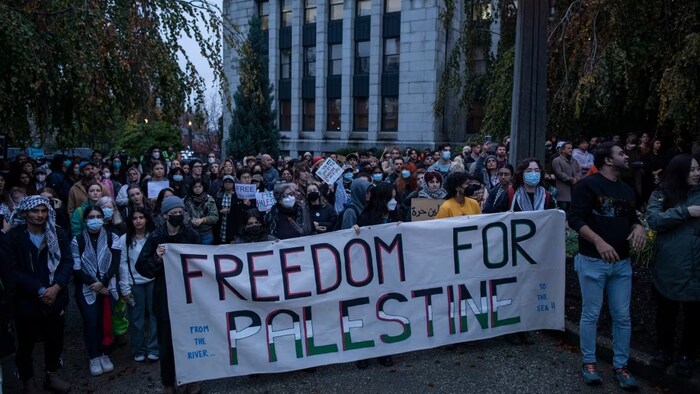 Now, millions of Gazans desperately ask themselves that same question, but their cries are being muffled by the sound of endless Israeli bombs. 
Over the weekend, I took my 65-year-old mother to a pro-Palestinian protest at the Vancouver Art Gallery. It was the first protest she had ever been to. I wanted to fill some of that dreadful silence with the sounds of our people and allies shouting for liberation. 
Neither of us expected the turnout — hundreds, likely thousands. Doesn't it feel good to hear all these people say 'Free Palestine?' I asked her. She looked at me with tears streaming down her cheeks, But what if it's too late? 
There are other silences that I knew needed filling, but I wasn't sure how. Some of my closest and dearest friends are Jewish Americans. One thing I know for certain is that the generational effects of the Holocaust on them and their kin are as real as the effects of the Nakba on me and mine. What a horrific thing to have in common. 
When antisemitism spikes, it sends them spiralling — the same way a rise in Islamophobia and xenophobia makes my family shiver with fear. My friend once told me that her mother considered changing their last name to conceal their Jewish identity, and it saddened me to no end. I thought about the fact that the hyphen in my last name has always made me feel like a target. 
My phone buzzed with a new notification. It was a text from one of my Jewish friends. 
I love you. I see you, she said. 
I texted back. I love you. I'm scared. 
I'm scared, too, she said. 
That's the world we live in now. A place where nobody feels safe or at home, where we're afraid to express our full identity and humanity, and where anyone and everyone's fate may be forfeited — played like a chess piece — at the whim of a handful of imperialist powers who have made it all too clear that their singular goal is the accumulation of power, not protecting lives. 
We still aren't sure if anyone in our extended family or the little girl we sponsor are OK. 
Meanwhile, I am thousands and thousands of kilometres away, sitting here in the interminable silence, wondering, Is this what we call freedom?
Lima Al-Azzeh (new window) · for CBC First Person