Home
Politics
Trudeau says he's 'not looking to escalate' tensions as India tells 41 Canadian diplomats to leave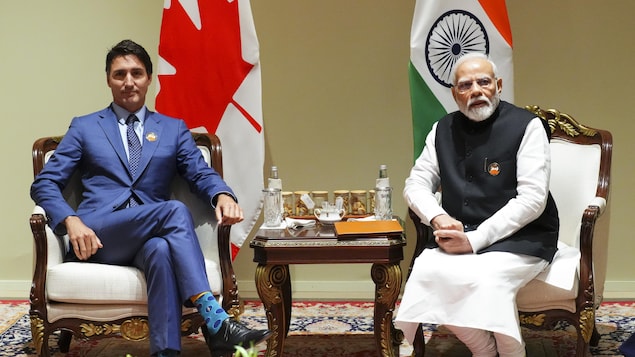 Ties between 2 countries have deteriorated since PM accused India of involvement in death of Canadian
Prime Minister Justin Trudeau said his government is not looking to escalate a diplomatic row with New Delhi, but declined to say whether Canada would match India's decision to ask for the removal 41 Canadian diplomats. 
Trudeau made the comments on his way into the Liberal caucus meeting in Ottawa on Tuesday, hours after India told Canada that it must repatriate 41 diplomats by Oct. 10, according to a story first published in the Financial Times earlier in the day.
The newspaper, citing people familiar with the Indian demand, said India had threatened to revoke the diplomatic immunity of those diplomats told to leave who remained after Oct. 10.
Asked if his government would retaliate by asking India to remove diplomats based in Canada, Trudeau insisted his government would try to keep working with New Delhi. 
We're not looking to escalate, as I've said, we're going to be doing the work that matters in continuing to have constructive relations with India through this extremely difficult time, Trudeau said. 
Ties between India and Canada have deteriorated in recent weeks, after Trudeau announced there were credible allegations of Indian involvement in the assassination of Sikh independence activist Hardeep Singh Nijjar.
Nijjar, 45, had been wanted by India for years and was gunned down outside a Sikh temple in Surrey, B.C., on June 18. India has dismissed the allegation as absurd. (new window)
Trudeau said Canada's diplomatic relationship with India is going through an extremely challenging time and that the ongoing dispute between the two countries has made it important for us to have diplomats on the ground working with the Indian government there to support Canadians and Canadian families.
The prime minister said that his government is taking the diplomatic dispute extremely seriously and is going to continue to try and engage responsibly and constructively with India to sort it out. 
Watch: PM asked about India's reported move to oust Canadian diplomats:
PM asked about India's reported move to oust Canadian diplomats
Prime Minister Justin Trudeau says Canada will continue to engage 'constructively' with India after it reportedly said 41 Canadian diplomats must be repatriated by Oct. 10.
Conservative Leader Pierre Poilievre said he is very concerned about India's decision to ask for the removal of Canadian diplomats and that his party will monitor the situation to protect Canadians here and abroad. 
Poilievre added that he would be speaking with Conservative MP Michael Chong, the party's foreign affairs critic, who the Conservative leader said is an expert on this.
India wants 'parity' in number, rank
Canada has 62 diplomats in India, and India had said that the total should be reduced by 41, the Financial Times report said.
Arindam Bagchi, spokesperson for India's Ministry of External Affairs, said late last month that New Delhi had informed the Canadian government that there should be parity in strength and rank equivalence in our mutual diplomatic presence.
Their numbers here are very much higher than ours in Canada, said Bagchi.
WATCH l India's RAW intelligence unit operates with little transparency:
What's the likelihood India's spy agency killed someone in Canada?
The government has made allegations that India's government and its intelligence agency were involved in the killing of a citizen, Hardeep Singh Nijjar, on Canadian soil, but some don't think it was possible. CBC's Adrienne Arsenault breaks down whether it's capable of what it is being accused of and the implications if it's true.
The Indian and Canadian foreign ministries did not immediately respond to requests for comment.
The High Commission of Canada in New Delhi told CBC News on Tuesday it had no comment. 
Indian Foreign Minister Subrahmanyam Jaishankar said earlier there was a climate of violence and an atmosphere of intimidation against Indian diplomats in Canada, where the presence of Sikh separatist groups has frustrated New Delhi.
Days after Trudeau's bombshell announcement, India warned its citizens (new window) to exercise caution when travelling to Canada, citing concerns about politically-condoned hate crimes and violence.
Soon after, it stopped processing visitor visas (new window) in Canada.
 At the same time, the High Commission of Canada said it was temporarily adjusting its staff presence at its commission and consulate locations in India, due to some diplomats having received threats on various social media platforms.
Peter Zimonjic (new window) · CBC News ·