Home
International
Trump could be on the hook for up to $250M as business fraud trial begins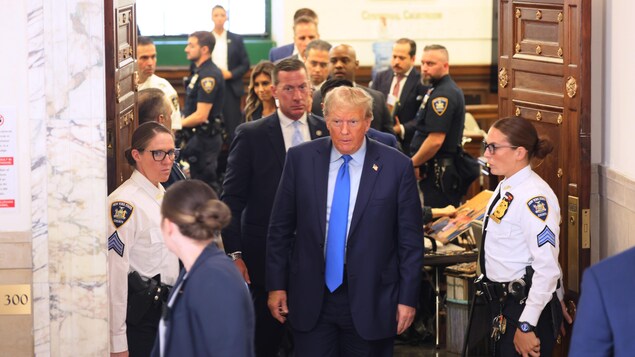 New York attorney general is seeking a 5-year real estate licence ban in addition to heavy fines
Donald Trump gained more than $1 billion US by lying about the value of his assets to banks and insurers, lawyers for the New York state attorney general told a judge on Monday in a civil fraud case that could deal a major blow to the former president's real estate empire.
Kevin Wallace, a lawyer in state Attorney General Letitia James's office, said in his opening statement in a downtown Manhattan courtroom that Trump described his finances to banks and insurers in a materially inaccurate way for a decade.
Wallace said Trump did this to get better loan terms and lower insurance premiums, illegally generating more than $1 billion of financial benefits.
This isn't business as usual, and this isn't how sophisticated parties deal with each other, Wallace said. These are not victimless crimes.
Christopher Kise, a lawyer for Trump, countered in his opening statement that the financials for Trump and the Trump Organization were entirely legal.
It is one of the most highly successful brands in the world, and he has made a fortune literally being right about real estate investments, Kise said. There was no intent to defraud, there was no illegality, there was no default, there was no breach, there was no reliance from the banks, there were no unjust profits, and there were no victims.
'No one is above the law'
Trump, a candidate for the Republican presidential nomination, is accused by James of inflating his assets and his own net worth from 2011 to 2021. That includes listing his Mar-a-Lago club and residence in Florida as being worth up to $739 million even though deed restrictions capped it at $28 million.
No matter how much money you think you may have, no one is above the law, James told reporters before entering the courtroom. The law is both powerful and fragile. And today in court will prove our case.
James is seeking at least $250 million US in fines, a permanent ban against Trump and his sons Donald Jr. and Eric from running businesses in New York and a five-year restriction on commercial real estate activities by Trump and his flagship Trump Organization.
Trump was defiant upon arrival at the New York Supreme Court, deeming the case a scam and a sham while hurling epithets at both James and Justice Arthur Engoron.
Trump characterized the prosecution as election interference, although the investigation that has led to trial predates his November 2022 announcement that he would again run for president.
'Fantasy world'
Trump during his deposition earlier this year testified some of the practices his company engaged in with respect to valuations were typical for large real estate firms.
Engoron, who is presiding without a jury, disagreed. In a scathing decision on Sept. 26, Engoron found the defendants liable for fraud, and criticized a number of defendant practices with respect to financial statements as fantasy world, not the real world.
Trump at one point suggested under oath in his deposition that the valuations were fine because he could find a buyer from Saudi Arabia to pay whatever he wanted.
This statement may suggest influence-buying more than savvy investing, Engoron wrote.
Engoron cancelled business certificates for companies controlling pillars of Trump's empire — including Trump Tower and his golf clubs in New York — and said he would appoint receivers to oversee their dissolution.
The ruling covers only a handful of the roughly 500 entities in Trump's portfolio but includes some of his most valuable properties.
WATCH l Breaking down the different Trump criminal indictments:
Trump's indictments explained: Why Georgia is charging him like a 'Mob boss' | About That
Former U.S. president Donald Trump is facing criminal charges for the fourth time, after a Georgia grand jury issued a sweeping indictment accusing him of trying to overturn his 2020 election loss to Joe Biden and of running a 'criminal enterprise.' Andrew Chang explains all of the charges, and why the latest are so significant.
The specifics of how that order will be implemented have not been decided, but the loss of those prized assets would be a major blow to Trump's finances. If Engoron tacks on fines and business restrictions, that damage would compound.
Trump will appeal that ruling but in the meantime the trial will see Engoron decide on six remaining claims in James's lawsuit, including allegations of conspiracy, falsifying business records and insurance fraud.
Weekslong trial likely
The trial is scheduled to run through early December. More than 150 people including Trump are listed as potential witnesses, but much of the trial will likely be a battle of experts opining on financial documents.
Among them are former Trump lawyer Michael Cohen, who highlighted the variableness of Trump Organization valuations in congressional testimony in early 2019.
It was my experience that Mr. Trump inflated his total assets when it served his purposes, such as trying to be listed amongst the wealthiest people in Forbes, and deflated his assets to reduce his real estate taxes, Cohen told the House committee.
The civil trial is not related to the four criminal indictments Trump is confronting in as many jurisdictions. He faces 91 criminal counts overall, accused of unlawful retention of government documents, falsifying business records in order to cover up hush money payments and for attempts to prevent his election defeat in 2020.
The earliest criminal trial date Trump faces is scheduled for March 2024, at the height of the Republican presidential primary campaign.
Thomson Reuters with files from CBC News and the Associated Press