Home
Society
Ground search finds 15 'potential' grave sites at former Yukon residential school site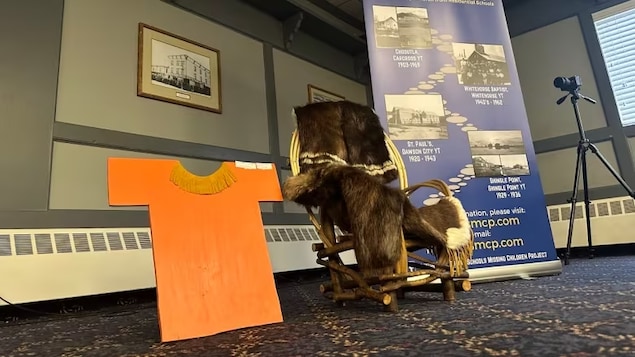 Researchers also used historical documents to identify 33 children who died at Chooutla school in Carcross
WARNING: This story contains distressing details.
A search done this summer involving ground-penetrating radar at a former residential school site in Carcross, Yukon, found 15 anomalies that researchers say are potential grave sites.
The group leading the project also says that historical research found more children died at the Chooutla Indian Residential School than was previously estimated.
It's something we've waited for a long time, said Judy Gingell, chair of the Yukon Residential School and Missing Children Project, at a news conference on Tuesday to present the results.
We don't want to just go out and just start pointing fingers, start blaming. We need the truth and we found it. It's here with us today.
The ground search at the Chooutla site began in June (new window). GeoScan, a B.C.-based company, was hired to do the work and used ground-penetrating radar (GPR) and a magnetometer to study the site in detail. 
That work found 15 anomalies at the Chooutla site and surrounding area, the researchers announced Tuesday. Those sites are not necessarily grave sites, they said.
However, the sites met several criteria to be considered 'potential' grave sites and would require further investigation to confirm exactly what was discovered there, reads a news release. 
Researchers with the project also used historical records to identify 33 children who died at Chooutla.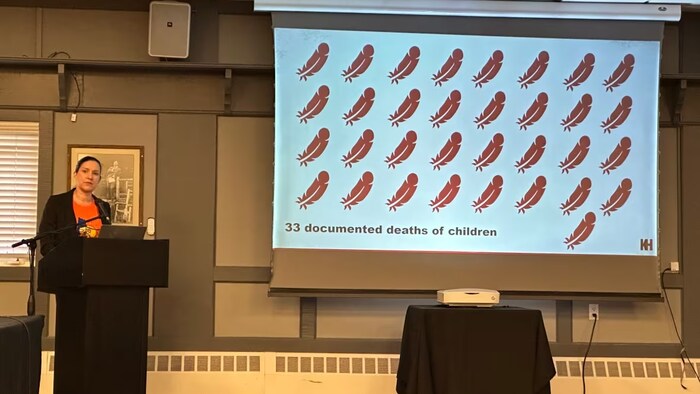 The National Centre for Truth and Reconciliation had earlier said that at least 20 Indigenous children died at Chooutla between 1911 and 1969, while the Yukon group behind the search said the number could be as high as 42. 
The new figure, based on work by historical research firm Know History, supports community suspicions that more children died at the school than the TRC had estimated. The research work was largely done at the Yukon Archives, Library and Archives Canada, and the archives of the Anglican church.
Nicole Marion of Know History said at this point, not enough is known to connect any of those 33 children to the 15 potential grave sites identified at the Chooutla site.
That'll be something that happens as research continues, if we're able to find more documentation that makes those connections. But at this time, we don't have enough information to make any correlations.
'Evidence-based' interpretation of ground survey work
The work by GeoScan saw more than 37,000 square meters of ground surveyed at and around the Chooutla site, using ground-penetrating radar and magnetometers. Interpreting the data was evidence-based and built on the GeoScan team's extensive prior experience in cemeteries as well as in residential-schools searches, the news release states. 
The 15 anomalies identified by GeoScan had potential grave-like features.
The researchers say 12 of those anomalies were on open, level ground that appear suitable for placing a grave.
These were all some distance away from the school complex and would likely have been out of sight of the school at the time it operated, the news release states.
In addition, these 12 are all in locations that have been mentioned by school survivors and community members as possibly containing graves.
The other three sites are closer to where the school stood, in an area that's been more repeatedly disturbed over the years by construction and demolition work.
Brian Whiting, lead researcher with GeoScan said it's not possible to definitively state that something is a grave site based solely on geophysical data.
We're looking at indirect evidence that reflects the process of digging a grave, breaking the soil layers and anything within those. And so it is indirect evidence, he said.
Whiting said confirming grave sites would require more invasive work, such as excavation or doing DNA analysis of the soil in a certain area.
The decision to do such a thing is a very, very sensitive community-based decision. It's not for me to recommend for or against, he said.
The federal government has committed $495,000 to the project, with the Yukon government contributing $595,000. The goal was to start with the Chooutla site, and then later look at other former school sites in Whitehorse, Dawson City and at Shingle Point. 
In a statement on Tuesday, the project group said the work is not complete.
These are still early days. There is still much work to be done to bring answers for families and justice for these children, however we believe these reports bring us a step closer.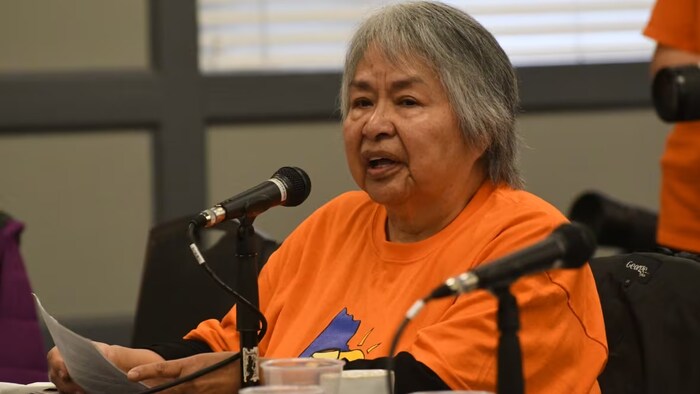 Sandra Johnson, a Carcross/Tagish First Nation elder and an advisor on the project also spoke at Tuesday's news conference and urged any residential school survivors or their families to seek help and support if they need it.
This is out there now, and it's real. But we're strong. We're really strong. We've come through an awful lot, Johnson said.
And our community as a whole, First Nations, we have wonderful gifts to share with the rest of humanity. We're not defeated.
CBC News