Home
Society
Montreal Alouettes visit Kahnawà:ke as part of activities to mark Truth and Reconciliation day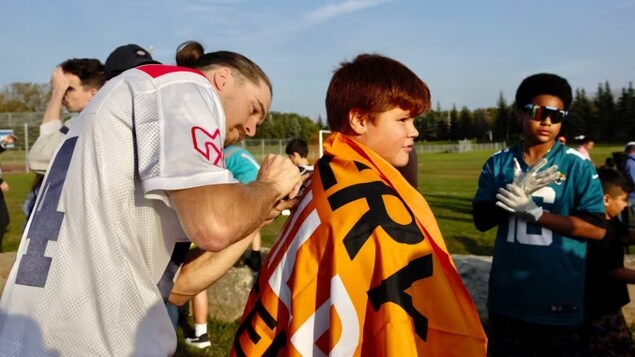 'There's no reconciliation without the truth, without talking to us,' says Jessica Lazare
As the National Day for Truth and Reconciliation approaches, the Montreal Alouettes are looking to foster reconciliation efforts through football by visiting their closest neighbouring First Nations community.
Four players and representatives of the team were in Kahnawà:ke, south of Montreal, on Wednesday to meet community members and scrimmage with young athletes. 
I think it's a great opportunity for Alouettes to get to know their neighbouring community and to inspire our youth, said Ietsénhaienhs (council chief) Jessica Lazare, who holds the heritage portfolio at the Mohawk Council of Kahnawà:ke.
There's no reconciliation without the truth, without talking to us… and without really engaging and coming to our communities.
Community members got to meet players Marc-Antoine Dequoy, Austin Mack, Kaion Julien-Grant and Frédéric Chagnon. They signed jerseys, hats, flags and even a shoe before bringing young athletes onto the field of the Kahnawà:ke Sports Complex for a round-robin tournament.
I feel honoured just to be here, and to be welcomed, too, said Julien-Grant, a wide receiver with the team.
I'm glad we started this and hope we keep it going.
Over 30 children and their families were in attendance. 
It feels cool, said Nigamowin Ottereyes-Lahache, 7,  about playing with professional football players.
It makes me happy.
Beyond orange jerseys
September 30 marks the National Day for Truth and Reconciliation, or Orange Shirt Day. CFL teams playing Saturday will wear orange and white warm-up jerseys as a way to raise awareness of the tragedies of the residential school system and show support for survivors and their families. 
Mark Weightman, president and chief executive officer of the Montreal Alouettes, said the team wanted to take a step beyond just wearing orange jerseys.
We felt it was a good opportunity for us to connect with some of our local Indigenous communities, to come out here and spend some time with some of the young athletes, he said.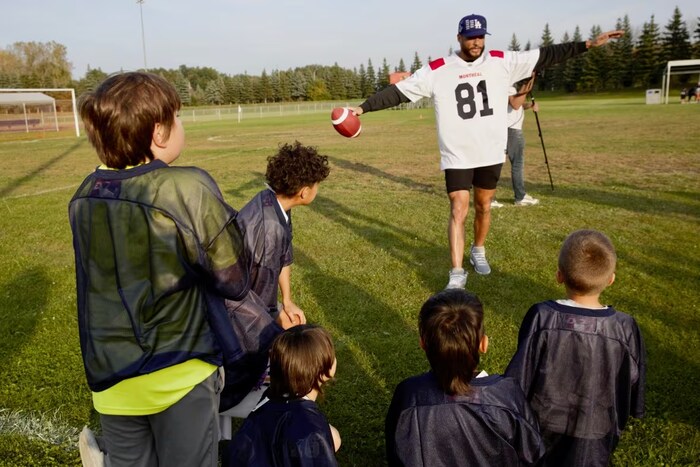 The jerseys worn by the Alouettes on Saturday's game against the Ottawa Redblacks will be sold in a silent auction, with half of the proceeds donated toward offsetting costs for Kahnawà:ke youth registering for football, and the other half for Orange Shirt Day activities in the community.
Curran Jacobs, one of the organizers of Orange Shirt Day activities in Kahnawà:ke, said that is an example of what reconciliation looks like.
The fact that this is an event that's focusing on the children, it's kind of important because it's this idea of the resilience of our communities and that we're trying to make a better future for kids, said Jacobs.
Children who were at the meet and greet will be invited to attend the Alouettes' home game on Oct. 9, where they will be greeted on the field at half time and be part of the entourage who will receive proceeds from the silent auction fundraiser.
Ka'nhehsí:io Deer (new window) · CBC News