Home
International
Republicans target absent Trump, hurl insults at sometimes chaotic presidential debate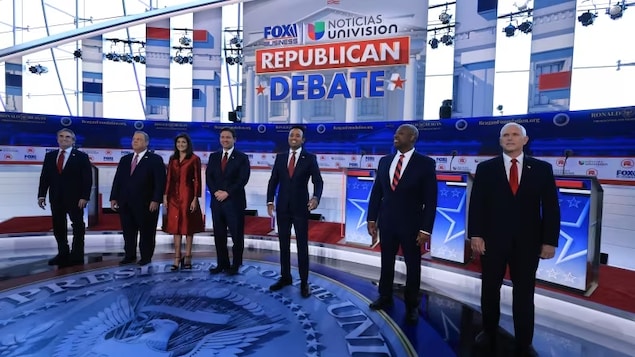 Donald Trump skipped the debate again, instead giving a speech to Michigan autoworkers
Donald Trump's rivals laid into him repeatedly during the second presidential debate on Wednesday, ripping the former president for skipping the event as they sought to blunt the momentum that has seen him build a commanding early lead in the Republican primary.
He should be on this stage tonight, said Florida Gov. Ron DeSantis, who has recently struggled to emerge as the field's top Trump alternative. He owes it to you to defend his record where they added $7.8 trillion to the debt. That set the stage for the inflation we have now.
Seven Republican candidates debated at the Ronald Reagan Presidential Library in Simi Valley, Calif., often speaking or yelling over each other, while Trump was giving a speech in Michigan, attempting to capitalize on the Auto Workers Union strike and appeal to rank-and-file union members in a key state. 
DeSantis's criticism came shortly after a similar attack from former New Jersey governor Chris Christie, who said Trump hides behind the walls of his golf clubs instead of answering questions. He later got in another dig as he broke out a new nickname for Trump. 
Speaking into the camera, Christie said, I know you're watching, because you can't help yourself. And he accused Trump of being absent because "you're afraid of being on this stage and defending your record.
No one up here is going to call you Donald Trump anymore. We're going to call you Donald Duck.
Former U.S. vice-president Mike Pence called Trump my former running mate.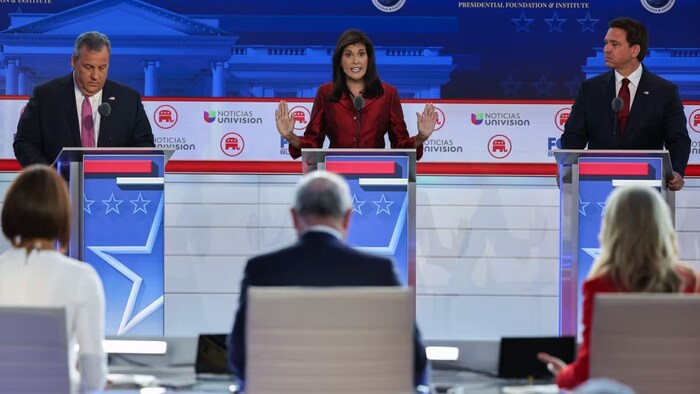 The debate came at a critical moment in the campaign, with less than four months before the Iowa caucuses formally launch the presidential nomination process.
Trump is dominating the field, even as he faces a range of vulnerabilities, including four criminal indictments that raise the prospect of decades in prison.
Trump himself made only a passing mention of the debate during his speech, drawing boos when he said, We're competing with the job candidates and poking fun at them for not drawing crowds as large as his. The former president's competitors are running out of time to dent his lead, which is building a sense of urgency among some to more directly take on the former president before an audience of millions.
WATCH | Trump sat out the last one, is sitting out tonight:
Why Trump is skipping the Fox News Republican presidential debate
Even though Donald Trump is opting out of the first GOP debate, his presence will still loom large. Andrew Chang explains why Trump would have little to gain and lots to lose by taking the debate stage.
Haley-Ramaswamy 2.0
As they did in last month's debut debate, Nikki Haley, the former South Carolina governor and United Nations ambassador and entrepreneur Vivek Ramaswamy had a split-screen sparring back-and-forth in which Haley went after the political newcomer for inexperience and, she alleged, dangerous ideas.
Asked about his recent conversation with a TikTok influencer, Ramaswamy defended his use of the platform.
I'm the new guy here, and so I know I have to earn your trust, Ramaswamy said. I'm here to tell you, no, I don't know at all. I will listen.
Interjecting by calling TikTok dangerous, Haley went on to address Ramaswamy directly — and personally.
Every time I hear you, I feel a little bit dumber for what you say, Haley said. We can't trust you.
Ramaswamy responded by saying that I think we would be better served as a Republican Party if we're not sitting here hurling personal insults, before the moderators moved on to another topic.
But Ramaswamy did take personal shots at some Americans, calling being transgender a mental health disorder in response to a question about parental notification about their children's gender identities.
That's in direct contrast to guidance from the American Psychiatric Association, which says diverse gender expressions are not indications of a mental disorder.
Ramaswamy spoke of meeting two young women who later regretted their gender-affirming surgeries.
While it's possible, regret after a gender transition is rare. In a review of 27 studies involving almost 8,000 teens and adults who had transgender surgeries, mostly in Europe, the U.S. and Canada, one per cent on average expressed regret.
DeSantis defends anti-abortion stance
DeSantis also rejected the idea that Republicans have been losing elections because of their opposition to abortion, and he says his re-election as Florida governor last year is proof he's right.
Democrats have leaned into the debate over abortion rights since a conservative majority on the U.S. Supreme Court overturned Roe v. Wade last year.
Voters have repeatedly supported abortion rights, and Democrats and even Trump have said it's a big reason for the party's better-than-expected performance in the midterms and in other elections since then.
DeSantis signed into law a ban on abortions at six weeks of pregnancy, before some women know they're pregnant. He went on to easily win a second term.
Asked about the possibility that swing state Arizona will have an abortion question on its ballot next year, making it tougher for Republicans to win there, DeSantis dismissed the idea. He also called out Trump, who said it was a terrible mistake for DeSantis to sign the ban. DeSantis said Republicans must go on the offensive and hit Democrats for their extremism on the issue.
Debate goes off the rails at times
Haley also spoke at length about the Biden administration failing to secure the U.S.-Mexico border during the second one.
And the debate got chaotic at times, with candidates shouting over one another and the moderators scolding them for not waiting their turns.
At one point, moderator Dana Perino warned North Dakota Gov. Doug Burgum, who was trying to interrupt the questioning, that they would have to cut off his microphone if he didn't stop interjecting.
I don't want to do that, she said, pleadingly I don't.
Moderators also told candidates multiple times that the cross-talking meant they would get fewer questions.
As the debate neared its end, Perino asked the candidates to write down which of their on-stage competitors should be voted off the 2024 Republican island, which did not go over well. 
With all due respect, I think that that's disrespectful, DeSantis said in response to the Survivor-style question. No candidate was willing to do it. 
But Christie said Trump should be booted given his decision to skip the debate, and accused him of dividing the country.
The Associated Press