Home
International
NDP, Bloc call for sanctions on Azerbaijan following assault on former breakaway region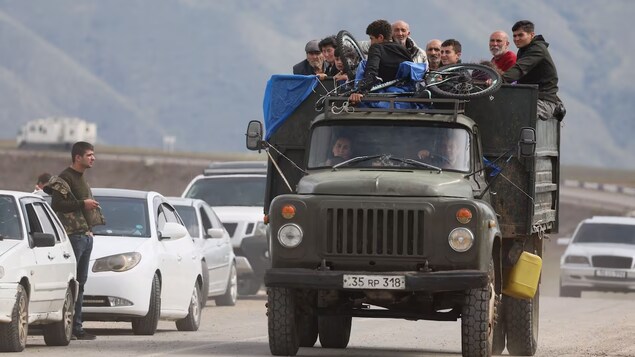 'Everything is on the table" — Foreign Affairs Minister Melanie Joly
The federal NDP and the Bloc Québécois are calling on the Trudeau government to impose sanctions on Azerbaijan in response to its military incursion into Nagorno Karabakh last week — an event that has driven close to 30,000 of the disputed enclave's ethnic Armenians to neighbouring Armenia.
We recognize that Canada doesn't play a huge role in this [geographical] area. But this is something we can do, this is something the Canadian government can do, to express our dismay, to express that we are seeing civilians being targeted, Heather McPherson, the NDP's foreign affairs critic, told CBC News.
She and NDP MP Alexandre Boulerice last week co-authored a letter to Foreign Affairs Minister Mélanie Joly pushing for sanctions.
As you know, there is no military solution to this conflict. Only diplomatic pressure and comprehensive dialogue will result in a long-term solution, the MPs wrote, adding the government should consider targeted sanctions on Azerbaijani individuals and entities responsible for violations of international law and human rights abuses in the region.
Canada's sanctions regime has its faults, said Bloc Québécois foreign affairs critic Stéphane Bergeron during a debate in the House of Commons on Tuesday. "But it is an efficient way to place pressure on foreign governments.
What are we waiting for to sanction Azerbaijan for its inadmissible behaviour toward not only Armenia but its civilian population of Nagorno Karabakh?
About a fourth of the 120,000 ethnic Armenians who consider Nagorno-Karabakh their ancestral home have fled the region since last week.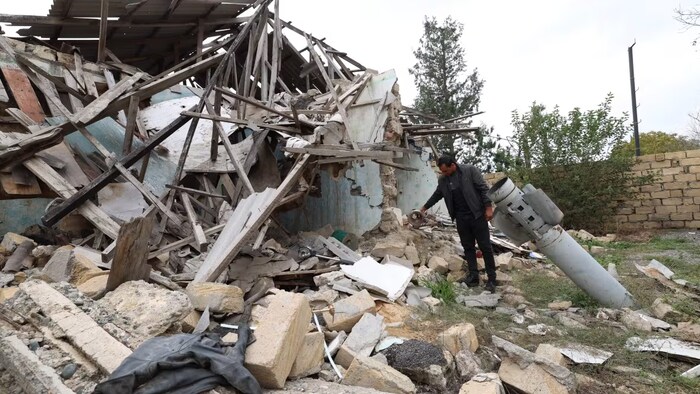 A long history of conflict 
The territory is considered part of Azerbaijan under international law but has a majority Armenian population.
Azerbaijan and Armenia fought two wars for control of the region in the early 1990s and in 2020. Ethnic Armenians prevailed in 1994 with the help of Russia and installed a de facto government.
With Turkey's backing, Azerbaijan retook large swaths of Nagorno Karabakh and surrounding territories three years ago. That 44-day battle ended after 6,000 deaths when Moscow brokered a ceasefire agreement between Armenia and Azerbaijan and installed its own peacekeeping force.
But last year, Azerbaijan launched an economic blockade of the Lachin Corridor, a mountainous passage that is the only land route between Armenia and Nagorno Karabakh.
After the region's population was largely cut off from food and medical supplies for close to 10 months, Azerbaijan announced an anti-terror operation last week that it said would target military infrastructure. But local authorities reported civilian population centres being attacked and local journalists on the ground reported civilians being killed by bombs.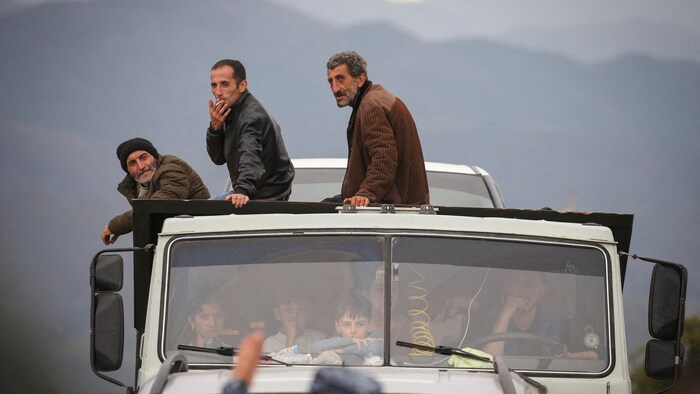 Overwhelmed Armenian authorities announced they would be handing their army's weapons over to Azerbaijan and would enter into negotiations about terms of surrender.
Armenian authorities said at least 200 people were killed in two days of bombing.
Azerbaijan subsequently reopened the corridor to Armenia and has allowed some supply trucks to travel toward Nagorno Karabakh.
The International Committee of the Red Cross has announced that over the last week, it has evacuated nearly 50 people with urgent medical needs, and delivered 66 metric tons of wheat, medical supplies, diapers and 1,500 litres of fuel to power generators at medical facilities.
But despite assurances from Azerbaijani officials that civilians would not be harmed, local journalists have reported displaced civilians sheltering in public buildings with no food or electricity in the region's capital, Stepanakert. Locals have gathered in great numbers at the city's unused airport and are asking Russian peacekeeping forces for help.
Citing what he called deliberate starvation tactics, former International Criminal Court prosecutor Luis Moreno Ocampo has accused Azerbaijan of committing genocide.
The government of Armenia has accused Azerbaijan of ethnic cleansing.
Sanctions possible, Joly says
On Tuesday, when pressed by opposition members about sanctioning Azerbaijan, Foreign Affairs Minister Mélanie Joly told the House of Commons that everything is on the table.
When it comes to sanctions, we always want to act together with other countries because it is important to put pressure on the concerned country, she said. "Use of sanctions is something that can be very efficient.
We have been following this very closely and we continue to call on Azerbaijan to stop the hostilities. There must be freedom of movement for humanitarian supplies and aid, and civilians must be protected.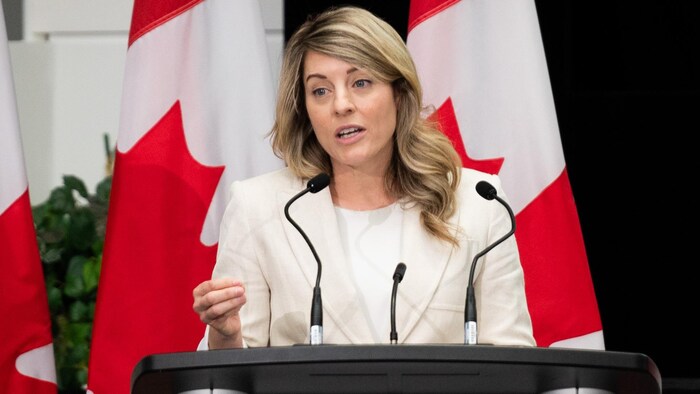 Joly added all parties involved in the 2020 ceasefire agreement must honour their commitments and said she has raised these issues at international bodies, including the United Nations General Assembly last week.
She said Canada firmly supports a comprehensive peace treaty, adding Ottawa has committed to sending two experts to a recently launched European Union peacekeeping mission in Armenia.
The European Union has a memorandum of understanding with Azerbaijan on purchasing oil and gas from Baku. The EU signed the deal in July 2022 as a means of weaning itself off Russian energy supplies.
The EU and the United States have made aid commitments to the streams of refugees arriving in Armenia over the past week. Joly's department did not provide an answer when asked if Canada would follow suit.
CBC News has reached out to the Embassy of Azerbaijan for comment and will provide an update if there is a response.
Raffy Boudjikanian (new window) · CBC News