Home
Courts and Crime
Peter Nygard used power, status to sexually assault women in office bedroom suite, court told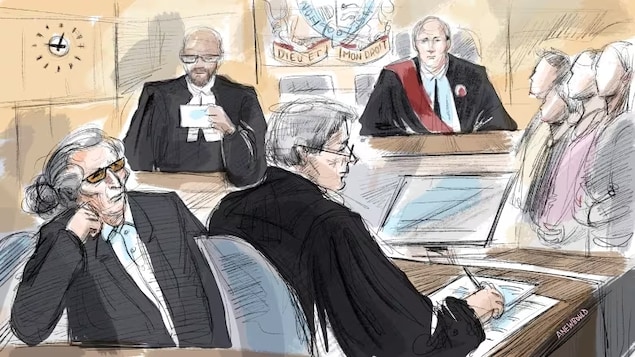 Nygard has pleaded not guilty to 5 counts of sexual assault, 1 of forcible confinement
Canadian fashion mogul Peter Nygard used his power and status to lure and sexually assault five women in the private bedroom suite of his downtown Toronto headquarters from the late 1980s to 2005, a Toronto court heard Tuesday morning.
In her opening argument, Crown attorney Ana Serban gave a brief but detailed synopsis of each of the attacks Nygard, now 82, is alleged to have committed against the women, who ranged in age from 16 to 28 at the time.
Nygard had previously met each of the women and would give them the tour of his headquarters at 1 Niagara Street, court heard, which would eventually end up at his bedroom suite.
This suite included a bed, televisions and a jacuzzi, but also doors without handles and locks controlled by Nygard, the Crown alleged. It was in this room that Nygard sexually assaulted the women, court heard.
Nygard pleaded not guilty last week in the Ontario Superior Court of Justice to five counts of sexual assault and one count of forcible confinement.
On Tuesday, Nygard was brought into the courtroom in a wheelchair, wearing a black suit and white shirt, with no tie, and black-rimmed glasses. His hands were cuffed in front of him, with his long white hair tied back into a bun. 
Nygard was uncuffed and helped by a court security guard into his seat at the defence table where he took a seat beside his lawyers. This was a prior agreement, that he would be allowed to sit with his defence team and have access to a pen.
Nygard stood, showing no emotion, as the charges against him were read to the jury.
Nygard also faces sex-related charges in Manitoba (new window) and Quebec (new window), and is set to be extradited to the U.S. to face sex-related charges there once his criminal cases in Canada are completed.
He founded the now-defunct Nygard International in Winnipeg in 1967, but stepped down as chairman of the clothing company in February 2020 before it file for bankruptcy.
Mark Gollom (new window) · CBC News