Home
Courts and Crime
Jury at murder trial shown pictures of damaged truck that struck Muslim family in London, Ont.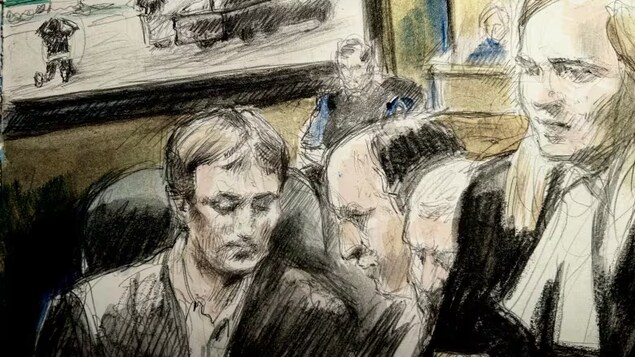 Nathaniel Veltman, 22, charged with murder, attempted murder, terror counts as trial now in Week 3
Warning: This story contains disturbing details.
The jury at the trial of the man accused of killing a Muslim family in London has been shown close-up photographs of the damaged pickup truck driven by Nathaniel Veltman on June 6, 2021.
In Ontario Superior Court in Windsor on Monday, jurors also saw pictures of the intersection of Hyde Park Road and South Carriage Road in London where the crash that killed four members of the Afzaal family happened. 
You can see blue cones marking a darkened area of the sidewalk, London police Det. Const. Chris Thomas testified about photos taken at the crash scene.
Thomas, speaking at the start of Week 3 of the trial, is a forensic investigation officer who took pictures ot the intersection as well as in the parking lot of Cherryhill Mall, where the suspect surrendered to police. 
The blue cones marked tire marks on the curb, sidewalk and grass where the Afzaal family was struck. 
Veltman, 22, is charged with four counts of first-degree murder and one count of attempted murder. He also faces federal terrorism charges because prosecutors allege he was motivated by far-right ideology. He has pleaded not guilty to all charges.
Five members of the Afzaal family were on an evening stroll when they were hit by the accused's truck. Yumnah Afzaal, 15, her parents, Madiha Salman, 44, and Salman Afzaal, 46, and family matriarch Talat Afzaal, 74, were killed. A boy who was nine years old at the time survived.  
Prosecutors say Veltman set out to kill Muslims that day, and the Afzaal family members were targeted because of their clothing.
Clothing lodged in truck hood 
When they were struck by the pickup truck, both Madiha Salman and Talat Afzaal were wearing a traditional Pakistani clothing called a kameez, prosecutor Sarah Shaikh told the court, a fact that was earlier agreed to by both sides. 
DNA that matched Madiha's DNA was found on the hood of the truck, court heard. She was wearing a pink-coloured kameez and Talat was wearing a green-and-mustard-coloured kameez.
Prosecutors and defence lawyers agree the accused drove the truck and struck the family. They also agree that pieces of Madiha's and Talat's clothing were found lodged in the damaged hood of Veltman's truck. Photos depicting that were shown to the jury Monday.
This afternoon, jurors are set to be shown pictures of the accused's studio apartment. 
Kate Dubinski (new window) · CBC News