Home
Economy
Canadian Ford autoworkers ratify Unifor deal with 54% approval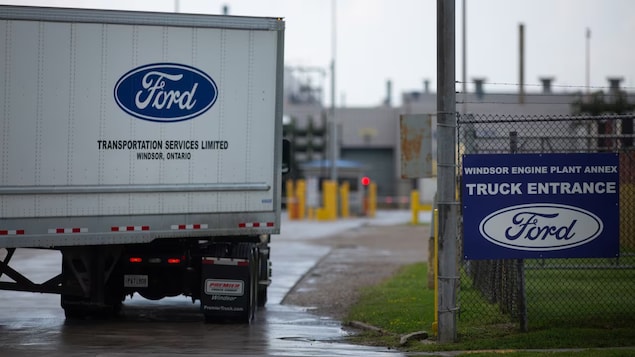 Unifor members accept new deal as American autoworkers continue strike action
Canadian autoworkers have narrowly approved a new three-year contract with automaker Ford, according to Unifor. 
The union said that 54 per cent of their members voted in favour of a new deal that sees wage increases, signing bonuses and reactivates a cost-of-living allowance.
Ford, in a statement released on Sunday, called the deal historic as it announced the company had agreed to the largest wage increase in the company's Canadian history.
The automaker has about 5,600 unionized employees in Canada, mainly in Oakville, Ont., and Windsor, Ont. 
I believe when people see and look at it in its entirety, it is such a comprehensive set of improvements for workers, said Unifor president Lana Payne. 
Ford employees last went on strike in 1990 for six days. 
This deal will now be used to bargain a contract with either Stellantis or GM. Panye said they will announce which company the union will negotiate with next on Monday. 
Deal ratified with 54 per cent approval
Payne said the narrow ratification speaks to workers expectations. 
This is the environment we're living in and working in. Working people are feeling that they have not been keeping up, said Payne. 
She said that they were clear with Ford the expectations were high and the deal they brought back to workers would need to be the richest deal ever negotiated in the history of auto negotiations in Canada.
WATCH | Unifor discusses new Ford autoworker contract:
Unifor talks Ford autowoker contract that nets 54% ratification vote
Unifor's national president Lana Payne details what she calls a life-changing agreement that was narrowly ratified by Ford autoworkers on Sunday and what she would say to the people who voted against the deal.
I know that this is an incredible deal and I know that people's lives will change as a result of what's here, said Payne. 
She said people who voted against the agreement will notice the changes on their first paycheque. 
We're going to have to have many conversations with our members going forward, she said.
What members voted on
The Ford Motor Co. of Canada offered a 10 per cent wage increase in the first year of its tentative agreement with Unifor, followed by increases of two per cent and three per cent for the second and third years, the Canadian union said on Saturday.
The deal also changed the pay grid. Under the negotiated deal, a newly hired production worker will make $29.67 an hour and reach the top of the pay grid in four years rather than eight, earning $42.39 an hour.
Unifor said a top-rate production worker will make $44.52 an hour and a skilled trades worker will be paid $55.97 because of the deal. 
The agreement also includes a $10,000 productivity and quality bonus to all permanent employees on the active roll of the company and a $4,000 bonus for temporary employees.
Unifor said the deal also contains an increase in the monthly basic benefit and special allowance in all class codes across defined benefit and hybrid pension plans.
For some senior employees, the wage increases over the life of the contract vary from 19 per cent to 25 per cent, depending on the type of job, according to the details of the contract released by Unifor.
It also includes a cost-of-living allowance and secured expansion and upgrades at the engine plant in Windsor. Unifor also said that Ford reconfirmed its commitments to transform its Oakville operation to an electric vehicle assembly plant expected to start production in 2025.
The contract was reached on Tuesday night after Unifor's bargaining committee extended the negotiations by 24 hours when Ford sent what union leadership called a substantive offer.
UAW strike enters Day 10
Meanwhile, thousands of autoworkers with the United Auto Workers (UAW) union continue strike action in the United States. 
There are nearly 13,000 people on strike at three auto plants and 5,600 people on strike at 38 parts distribution centres across the U.S.
The UAW is targeting Chrysler's parent company Stellantis, Ford and General Motors in their picket action.
Unifor uses a pattern bargaining format in Canada that sees the union negotiate a deal with one automaker to set the standard for the other two.
UAW president Shawn Fain has previously called on the Detroit Three to boost wages by 36 per cent over the life of a four-year deal, a four-day work week, and to end tiered wages inside plants that allows automakers to hire new employees at $15 an hour, well below what more tenured employees make. 
Some suppliers stretched to the limit
Fain said on Friday that Ford has improved its offer to the union and said that there are serious issues with the Stellantis and GM offers. 
U.S. President Joe Biden is expected to attend a picket line on Tuesday in Michigan to support the strike. 
The UAW job action at the distribution centres is expected to disrupt dealerships and repair centres in the United States but not in Canada. 
However, if pickets continue to stop production at the three auto plants then parts suppliers manufacturing in Canada may idle some of their plants. 
WATCH | Supply chain expert says UAW strike showing cracks in the chains:
'Tremendous strain' on automotive parts suppliers as UAW strike continues
Supply chain expert and Gravitas Detroit founder Jan Griffiths tells the CBC's Chris Ensing some automotive suppliers are in a tough position with ongoing strike action in the United States, a tight labour market, and thin cash reserves. Griffiths, who was a global lead at a tier one supplier for decades, said open communication between suppliers could help companies survive.
Chris Ensing (new window) · CBC News