Home
Politics
Russia's violence 'must not go unpunished,' Zelenskyy tells Canadian parliamentarians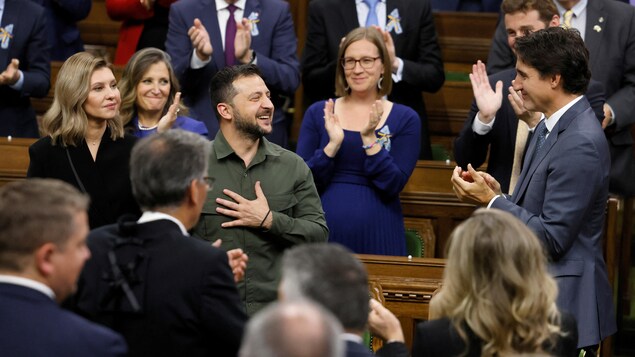 Liberals announce $650M more in military aid for Ukraine, spread over several years
Ukrainian President Volodymyr Zelenskyy delivered an impassioned speech to parliamentarians Friday calling on Canada and other western allies to stick by his country through the long, bloody road to victory.
He addressed a joint meeting of the Canadian Parliament Friday following meetings in the United States, where he appealed for more weapons and rebuked Russia before the United Nations General Assembly and Security Council.
Life and justice must prevail, Zelenskyy told the House of Commons in a speech that received at least a dozen standing ovations.
When we call on the world to support us, it is not just about an ordinary conflict. It is about saving the lives of millions of people. Literally physical salvation, ordinary women and men, children, our families, whole communities, entire cities. Russia's destruction of Mariupol or Bakhmut or any other city must not go unpunished.
As Ukrainian refugees looked on from the gallery, Zelenskyy thanked Canada for its continued support dating back to 1983, when the first monument in the world to honour the victims of the Holodomor — the Soviet-engineered famine that killed millions of Ukrainians in the 1930s. — was unveiled in the city of Edmonton.
WATCH: Ukrainian President Volodymyr Zelenskyy's full address to Parliament
Zelenskyy thanks Canada, says Ukraine must prevail against Russia
Ukrainian President Volodymyr Zelenskyy thanked Canada for its support in an address to parliamentarians Friday, saying justice must prevail and the war with Russia 'must end' with his country's victory.
Moscow now, as always, is bent on controlling Ukraine and makes use of all available means to do that, including genocide, Zelenskyy said.
Ukraine, not genocide, will be victorious in this war. People will be the winners, not the Kremlin.
Prime Minister Justin Trudeau announced Friday another $650 million in military aid for Ukraine, spread over three years, to acquire 50 armoured vehicles. The fleet will include medical evacuation vehicles to be built in London, Ont., he said.
History will judge us on how we defend democratic values, and Ukraine is at the tip of the spear in this great challenge of the 21st century, Trudeau told the House before introducing Zelenskyy.
[Russian President Vladimir Putin]  governs with deception, violence and repression, he said.
But his imperial delusions in Ukraine have been met with a fierce defence. A defence that is not just strong because of the support from friends around the world, but because those who fight for their freedom will always fight with their whole hearts.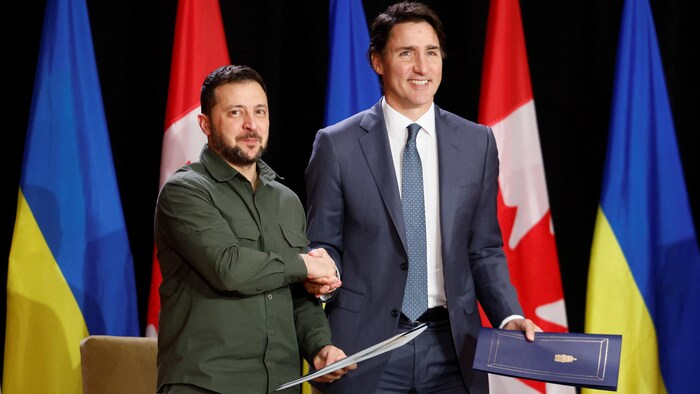 While the Biden administration in the United States remains firmly behind Ukraine, the notion of continued, open-ended support for the embattled Eastern European country is dividing the Republican Party.
There has been no hint of any such political divide in Canada. Conservative Leader Pierre Pollievre gave a thumbs-up to the Ukraine delegation when it arrived outside the House of Commons chamber and Zelenskyy was formally greeted by political leaders.
Saskatchewan Sen. Denise Batters, who is of Ukrainian descent, attended the event wearing a vyshyvanka, a traditional Ukrainian embroidered blouse. She told Zelenskyy her grandmother stitched the garment more than 100 years ago before coming to Canada.
Separately, Ukraine's new Defence Minister Rustem Umerov met with his Canadian counterpart, Bill Blair, at National Defence headquarters. Blair said the government has had outstanding discussions with Ukraine about how Canada can help with its valiant and courageous struggle against Russia.
We believe it is our responsibility and we are absolutely resolved to providing all of the assistance and support that we can for Ukraine, Blair said.
Umerov thanked Biair.
Visit comes as Ukraine reports battlefield progress
The visit happened just as reports emerged that Ukrainian forces operating near Orikhiv have penetrated the third line of Russian defences in the south of the country.
The U.S.-based Institute for the Study of War, which has been following the invasion with daily reports and analysis, hesitated to call it a breakthrough. It noted that geolocated footage posted online Thursday indicates that Ukrainian armoured vehicles advanced south of the Russian anti-tank ditches and dragon's teeth obstacles that form part of Russia's three defensive lines.
The Ukrainian ability to bring armoured vehicles to and through the most formidable Russian defences intended to stop them, and to operate these vehicles near prepared Russian defensive positions, are important signs of progress in the Ukrainian counteroffensive, the institute said in its nightly analysis.
WATCH | Ukrainians in Canada eagerly await Zelenskyy's visit
Ukrainians in Canada eagerly await Zelenskyy's visit
A group of Ukrainians in Canada are excited to see their president pay a visit to the country. Volodymyr Zelenskyy is expected to make an in-person appeal for more military support in Ukraine's fight against Russia.
Paul Grod, president of the World Ukrainian Congress, said for Ukrainians it's not about liberating territory as much as it is about freeing people from Russian occupation.
Also on Friday, a Ukrainian missile struck the headquarters of Russia's Black Sea Fleet in Sevastopol, the major city in occupied Crimea. The attack left one serviceman unaccounted for and the building that controls Russian naval operations in ruins.
Murray Brewster (new window), Catharine Tunney (new window) · CBC News ·