Home
Politics
Zelenskyy comes to Ottawa as Ukraine scrambles to shore up allies' support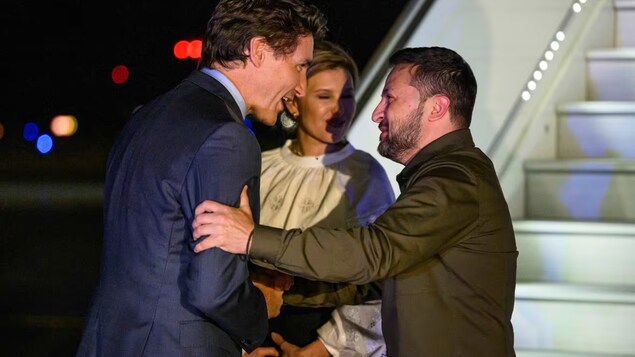 Support for Ukraine among U.S. Republicans has softened in the past year
Ukrainian President Volodymyr Zelenskyy touched down in Ottawa late Thursday night, and experts say the political headwinds he'll face in Canada will likely be less chilly than those he experienced in Washington.
Zelenskyy is on a two-day visit, which will conclude with a stop in Toronto for a meeting with the business community.
It's his first trip to Canada since the Russian invasion last year.
Along with his new defence minister, Rustem Umerov, Zelenskyy will meet and brief federal cabinet ministers on the progress the Ukrainian military has made since it launched a counteroffensive in June to drive Russian forces out of the country.
It's expected Ottawa will announce further military and social assistance while Zelenskyy is in the country. There will also be a formal welcoming ceremony on Parliament Hill today.
On his Telegram account, Zelenskyy said he's in Ottawa to talk about defence co-operation and Ukraine's peace formula with Prime Minister Justin Trudeau, who greeted him at the airport upon his arrival.
Canada and other G7 allies committed to negotiating individual security assurance packages with Ukraine while the country waits for NATO membership, but there's been very little indication what the Canadian government is prepared to offer. 
Almost a year ago, Zelenskyy presented a 10-point peace proposal, terms his country would accept in order to end the war with Russia. There has been little uptake internationally. Among the terms, Ukraine demands the withdrawal of all Russian troops from its territory and a restoration of its internationally recognized borders.  
During a whirlwind stop in Washington on Thursday, Zelenskyy received a more subdued reception than the hero's welcome he got late last year. There was no band to greet him at the Pentagon, and U.S. House Speaker Kevin McCarthy — mindful of the Republicans who are tired of funding Ukraine's war effort — chose not to greet the Ukrainian leader before the cameras.
Zelenskyy won generally favourable reviews from U.S. lawmakers for his pitch for further war assistance.
Despite the warm words from most congressmen and senators, Zelenskyy left behind a moderately divided Washington. He is expected to face a less skeptical audience in the House of Commons today, where he'll deliver an address to MPs and senators.
I don't see divisions in terms of political support in Canada, said Dominique Arel, chair of Ukrainian studies at the University of Ottawa. He said political skepticism in Washington is not as wide or deep as it may seem right now.
Although the Republican Party is divided, it's not going full anti-Ukraine, pro-Trump on that score, he said.
Zelenskyy needs to show progress, expert says
One of Zelenskyy's objectives in Ottawa — as it was in Washington — will be to reassure lawmakers that his country is making progress in its counteroffensive in the east and south, and that Ukraine has a strategy for victory, Arel said.
Eighteen months since the full Russian invasion, he said, the pressure is on Zelenskyy to make a compelling argument to Canadians that his country is engaged in a kind of a high-intensity warfare that Europe hasn't seen since the 1940s, and that these are long wars.
Negotiations with individual allies on security assurances are central to Ukraine's war effort. At the NATO summit in July, G7 countries pledged to negotiate long-term security arrangements while Ukraine waits to be accepted in NATO.
This will require sustained, predictable funding from allies, including Canada and the U.S.
WATCH | Zelenskyy makes his case for more aid to U.S. lawmakers: 
Biden welcomes Zelenskyy in 2nd wartime visit
President Joe Biden underlined U.S. support for Ukraine's fight against Russia as the country's president visited Washington for the second time since Russia invaded. But Volodymyr Zelenskyy does have some critics among Republicans, whom he tried to win over during his visit.
Coming out of a briefing with Zelenskyy on Capitol Hill on Thursday, U.S. Republican Sen. Josh Hawley dismissively described what he heard from his colleagues and the Ukrainian leader as a plea to buckle up and get out your chequebook.
President Joe Biden announced a $325-million aid package for Ukraine after a meeting with Zelenskyy on Thursday. Since the full-scale Russian invasion began in February 2022, the U.S. has delivered more than $40 billion in security assistance to Ukraine.
Recently, Trudeau's government quietly set aside another $500 million in military aid, but it has yet to explain how it's going to spend it. Canada has committed $1.8 billion in defence hardware and munitions to Ukraine so far.
A distracted America in 2024
An American foreign policy expert said support from smaller countries like Canada could become more crucial in the coming months as the United States becomes increasingly distracted by next year's presidential election.
Matthew Schmidt of the University of New Haven said it will become difficult to get large defence aid packages through Congress in the coming months.
We're going to go into an almost certain government shutdown in 2023. In 2024, you're unlikely to get a major bill because of the election, Schmidt said in an interview.
Assuming the best-case scenario, with Democrats taking over everything, which isn't going to happen ... you still won't get appropriations bills with large amounts of money for Ukraine until April 2025.
That wouldn't prevent the U.S. president from authorizing smaller packages through executive orders, he added.
Murray Brewster (new window) · CBC News