Home
Politics
Ford apologizes for 'wrong' Greenbelt decision, vows to reverse land swap
Doug Ford says it was 'a mistake' to open Greenbelt, process moved 'too fast'
The Ontario government is changing course and reversing a contentious land swap for the province's protected Greenbelt, following weeks of pressure and two ministers' resignations.
Premier Doug Ford made the announcement at a news conference in Niagara Falls, Ont., Thursday afternoon.
I made a promise to you that I wouldn't touch the Greenbelt. I broke that promise. And for that I'm very, very sorry, Ford said.
It was a mistake to open the Greenbelt. It was a mistake to establish a process that moved too fast. This process, it left too much room for some people to benefit over others. It caused people to question our motives. As a first step to earn back your trust, I'll be reversing the changes we made and won't make any changes to the Greenbelt in the future.
WATCH | Premier says province will reverse controversial Greenbelt land swap: 
Doug Ford reverses course on Greenbelt development
Ontario Premier Doug Ford, has reversed his decision to allow development in the protected Greenbelt around Toronto after months of pressure and the resignation of two cabinet ministers.
Ford said the decision came after two days of meetings with his caucus and cabinet, where ministers told him what they were hearing from constituents in their ridings.
I want the people of Ontario to know that I'm listening, the premier said.
Rushed process favoured certain developers
Ontario's Greenbelt was initially created in 2005 to permanently protect agricultural and environmentally sensitive lands from falling victim to urban sprawl. 
Last year, the province took 2,995 hectares of land across 15 sites out of the Greenbelt and replaced them with about 3,804 hectares elsewhere, citing the housing crisis. 
Ford has said the land in the Greenbelt was needed in order to meet the government's goal of building 1.5 million homes in 10 years even though his own housing affordability task force concluded (new window) that availability of land was not constraining housing supply.
Recent reports from the auditor general and integrity commissioner found that the process to select lands was rushed and favoured certain developers.
The property owners with land removed from the Greenbelt stood to see their land value rise by $8.3 billion, the auditor general found in her own Greenbelt investigation (new window).
WATCH | Ford was asked why he opened up the Greenbelt. Here's what he said: 
Ford was asked why he opened up the Greenbelt. Here's what he said
When asked by CBC reporter Mike Crawley what his government was thinking when they decided to open up the protected Greenbelt, Premier Doug Ford said 'the intention was right,' adding that 'you do things that you otherwise might not do' when faced with a housing crisis.
More than 90 per cent of the land removed was in five sites passed on to then-housing minister Steve Clark's chief of staff, Ryan Amato, by two developers Amato met at an industry event, the auditor said.
The integrity commissioner said in his August report that he had no evidence of developers being specifically tipped off that the government was considering Greenbelt removals, but that Amato's actions and conversations with them had that effect. Clark failed to oversee his staffer, the commissioner found.
Clark and Amato have both since resigned.
A second cabinet minister, Kaleed Rasheed, resigned this week after news reports raised questions about his connections to developer Shakir Rehmatullah and a trip to Las Vegas.
That same trip was attended by Jae Truesdell, who worked in the private sector at the time but most recently served as Ford's director of housing policy. On Thursday, Ford confirmed Truesdell resigned as well.
Province focused on building homes, Ford says
The RCMP is reviewing information to determine whether it should investigate the Greenbelt land swap. Ford has said he is confident nothing criminal took place.
In an update Thursday, the RCMP said it will not be providing any further comment or updates in order to preserve the integrity of any ongoing investigation.
When asked if he had any concerns about facing legal action from developers over the land reversal decision, Ford said he couldn't predict the future, but his goal remains to work with builders.
That's a decision we had to make and I can't determine what the builders are gonna do, he said.
Ford said the province's intention was to build homes in the face of Ontario's housing crisis — and said the government would continue to build in areas that are open for development.
We're going to focus on transit-oriented communities, we're going to focus on modular homes that will be starter homes, that will be affordable and attainable and we're going to make sure we hit our targets, he said.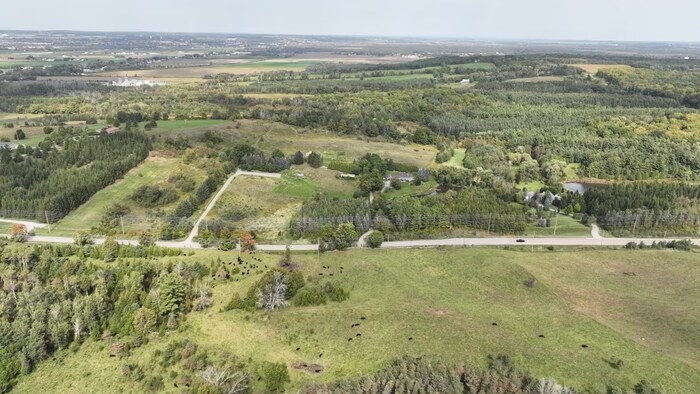 Opposition remains skeptical
Opposition NDP Leader Marit Stiles celebrated the reversal, calling it a result of pushback from First Nations, farmers, environmental advocates and people across Ontario who care about the Greenbelt.
This is a victory for you, it's a victory for all Ontarians.
But let's get real … it never should have taken a series of scandals from this government for the premier to undo the damage that he's done.
Stiles called the Greenbelt controversies a calculated attempt by the Ford government to benefit a select few of their insiders at the expense of everyone else.
Stiles also referenced a report by the integrity commissioner on Thursday released hours before Ford's announcement, dismissing a further investigation into a stag-and-doe event for Ford's daughter (new window).
Ontario's integrity commissioner said there are insufficient grounds for him to conduct a full investigation into the event, but said it was interesting that a developer told him he purchased tickets from the chair of the PC Ontario Fund, the fundraising arm of the Ontario PC Party. 
The integrity commissioner said … the threshold is very high to break those integrity laws, and I think Ontarians would probably agree that the bar needs to be low, said Stiles. 
In his own statement, the interim leader of the Ontario Liberals, John Fraser, called the reversal a good decision. But he says questions still remain about how the Greenbelt land swap was allowed to happen and how it will continue to affect Ontarians. 
How much will this flip flop cost taxpayers when the landowners ask for compensation, and how were a handful of rich insiders, and Doug Ford's personal friends and fundraisers, able to direct the government to give them an $8.3 billion payday?
In a separate statement, Green Party Leader Mike Schreiner echoed those sentiments, saying a public inquiry is needed to get to the bottom of what happened.
How can we trust that he won't try the same thing again with his Greenbelt review or in a year or two? said Schreiner.
We can't let this reversal be a get-out-of-jail-free card for Premier Ford or his cabinet.
CBC News