Home
Society
Rallies against LGBTQ rights in schools met with counter-protests across Canada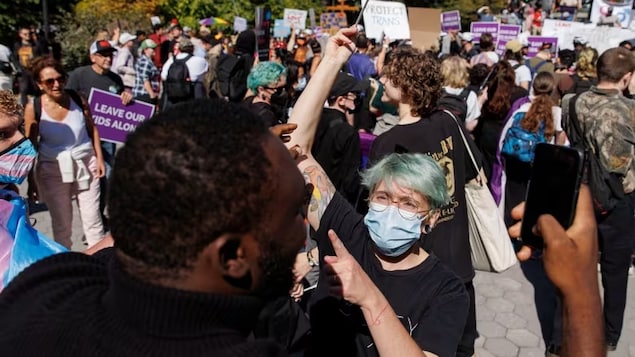 Thousands marched for and against policies that allow gender diversity to be taught in schools
Heated exchanges between protesters and counter-protesters are taking place across the country today over school policies on gender identity.
Posters created by a group called 1MillionMarch4Children say rally participants are standing together against what they call gender ideology in the nation's schools.
The protests are linked to emerging policies across the country, including in New Brunswick and Saskatchewan, that require young people to get parental consent before teachers can use their preferred first names and pronouns. The rallies are being met with counter-protesters who say those policies are a violation of children's rights and that transgender youth should not be outed to their parents by teachers.
WATCH | Thousands gather in Ottawa for protests and counter-protests: 
Protesters, counter-protesters line Wellington Street over LGBTQ rights in schools
Hundreds demonstrated in front of Parliament Hill in Ottawa Wednesday morning, one of several similar events across the country.
Protest locations include Montreal, Fredericton, and Ottawa — where thousands of people are facing off in front of Parliament Hill and NDP Leader Jagmeet Singh led a group of counter-protesters down Wellington Street.
Prime Minister Justin Trudeau posted on X, formerly known as Twitter, expressing his support for LGBTQ people across Canada.
We strongly condemn this hate and its manifestations, and we stand united in support of 2SLGBTQI+ Canadians across the country, he wrote. 
Wellington Street in Ottawa was closed in both directions between Elgin and Bank streets as over 1,000 people gathered for demonstrations on Parliament Hill. Ottawa Mayor Mark Sutcliffe posted on X an expression of support for LGBTQ children.
The protests taking place today will only cause harm to youth who are looking for our support and acceptance, Sutcliffe wrote. 
In Ottawa, Toronto, Kitchener and Guelph, school boards issued statements expressing support for LGBTQ students, staff and families.
WATCH | Why are people protesting about gender curriculum? 
Heated arguments, locked doors
In St. John's, Grand Falls-Windsor and Corner Brook, N.L., groups of protesters gathered at government buildings and parking lots. These gatherings saw tears and heated back-and-forth arguments between those who argue for parental rights in school curriculums, and those who say these parental rights do not include parents who are LGBTQ or parents of LGBTQ children.
The Newfoundland and Labrador English School District issued a notice to staff ahead of the rallies, advising teachers and employees not to engage with any protesters who show up on school properties and to keep school doors locked. 
Similar marches and counter-protests are planned in B.C., which does not have a specific sexual orientations and gender identities (SOGI) curriculum in schools but where students learn about human rights, respecting diversity and responding to discrimination. 
B.C. human rights commissioner Kasari Govender issued a statement Tuesday saying she is disturbed by news of hate-fuelled marches and said erasing trans people from school curricula amounts to hate.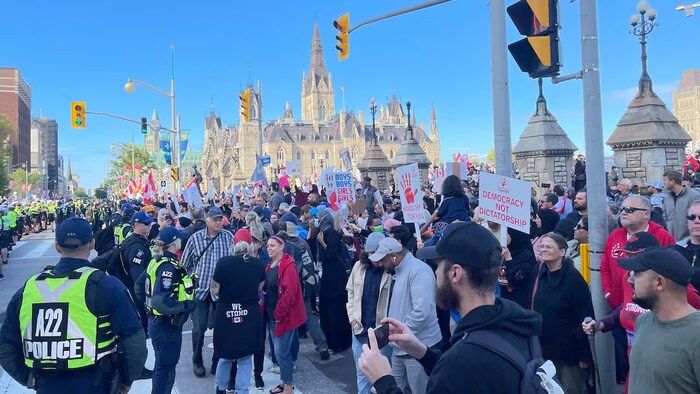 The leader of the Conservative Party of British Columbia, John Rustad, issued a statement Wednesday in support of the rallies against gender ideology in schools, stating he would end SOGI curriculums if elected.
First, I will end SOGI123, and I will implement a zero-tolerance anti-bullying approach in our schools. Schools must be safe for all students, and the SOGI123 program is a failure; it has become a distraction and it is divisive, Rustad said in his statement.
Second, I stand with parents who are demanding honesty, transparency, and accountability from our public education system.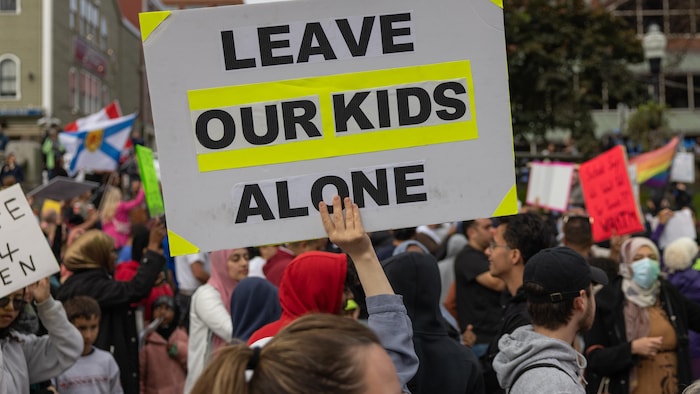 In Fredericton, New Brunswick Premier Blaine Higgs — whose government helped spark the national debate about gender policies in schools — told reporters today that parents must be informed if their children are questioning their gender identity.
Alex Harris, a transgender student and advocate in Riverview, N.B., told CBC News that the protests and discourse is creating a scary and dangerous situation for queer students. 
I have had more slurs yelled at me in the hallway since I have gone back to school this September than I ever have previously, and I have been out at school as part of the LGBTQ community for probably five years now, Harris said.
While Harris's own parents have been supportive after he came out as trans, he said he knows several students who are scared to come out to their parents for good reason, and school needs to stay a safe space for them. 
I know students who would be at risk of physical abuse if they came out to their parents or they would be kicked out [of their home] if they came out to their parents, Harris said.
WATCH | More bullying, slurs in schools this fall, student says: 
Protests over LGBTQ school policies 'scary,' says transgender student
Alex Harris, a transgender student in Riverview, N.B., says he wanted to attend a counter-protest over LGBTQ rights in school but decided against it because he didn't feel it was safe.
The Canadian Press with files from CBC News