Home
Society
Protesters and counter-protesters shut down Ottawa streets over LGBTQ rights in schools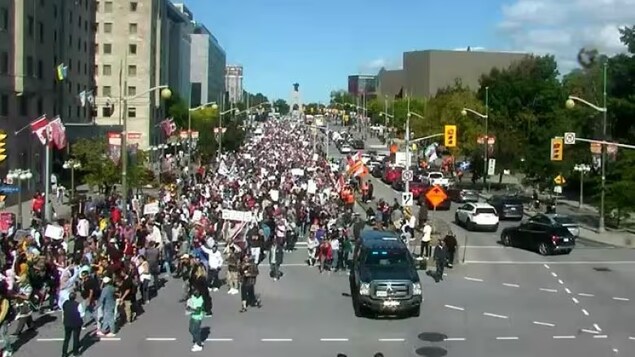 Street closures started just before 10 a.m.
There have been rolling closures on downtown Ottawa streets as demonstrators march through the city's core.
Wellington Street is closed between Bank and Elgin streets and is also closed eastbound at Lyon. Metcalfe Street is closed at Queen.
After 11 a.m., the city said Elgin Street was closed southbound between Wellington Street and Laurier Avenue and around 11:30 the city said Elgin was now open and Bank was closed between Laurier and Wellington, as the protest moved through downtown.
The protests and counter protests are in relation to the 1 Million March 4 Children, planned across the country on Wednesday. 
Similar events are planned across Canada, with some parents and socially conservative groups protesting LGBTQ-inclusive education policies in the classroom and in extracurricular settings under the banner of parental rights.
But critics and researchers say the term parental rights is a misnomer because it doesn't address the concerns of LGBTQ parents or parents of LGBTQ children.
A line of police is separating the two groups of demonstrators using bicycles to create a barrier between them.
There are approximately more than 1,000 people at the demonstration.
Irrespective of your faith, heritage, sexual orientation, or colour of skin, our government is firmly committed to the safety and well-being of all children in Ontario schools, a spokesperson for Education Minister Stephen Lecce said in a statement. 
Our priority is to ensure that we get students back to basics and focus on what matters most — strengthening literacy and STEM in the classroom. Our firm commitment is to continually support the voices of parents across Ontario's education system, so that their children can graduate with the real-life and job skills they need to succeed.
Mayor Mark Sutcliffe condemned the protest in a post on X, formerly known as Twitter.
The protests taking place today will only cause harm to youth who are looking for our support and acceptance, the post said. 
I stand with Ottawa's 2SLGBTQIA+ community. Please know that you are valued and are always welcome here.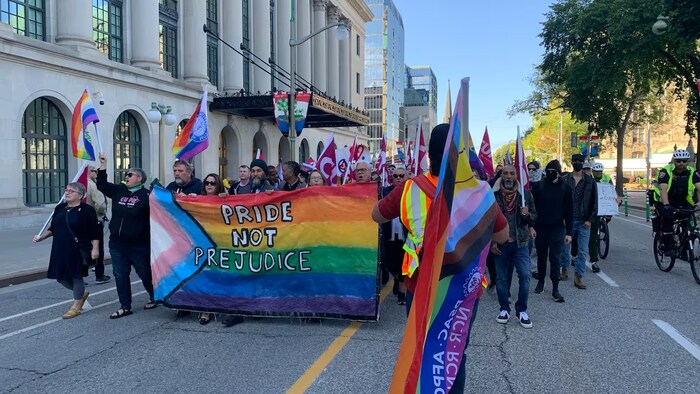 Hala Daboussi has kids in the Ottawa school system and was at Parliament Hill to protest school policies.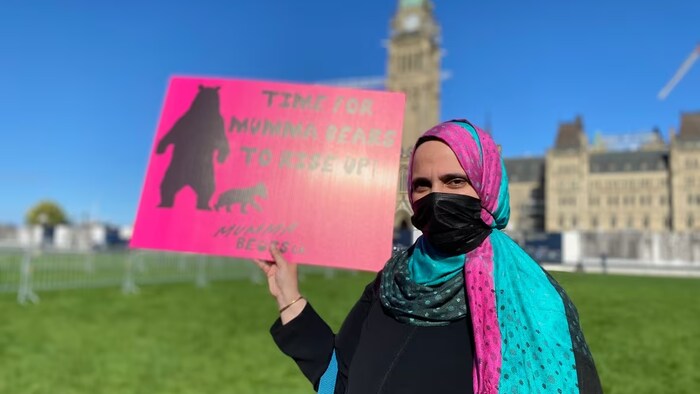 Just to explain that we are not against any group … we are just against sexualization of the curriculum, she said.
I want this subject to be left to the parents to teach their kids about it. I don't want the school, I don't want the government to teach the kids about it.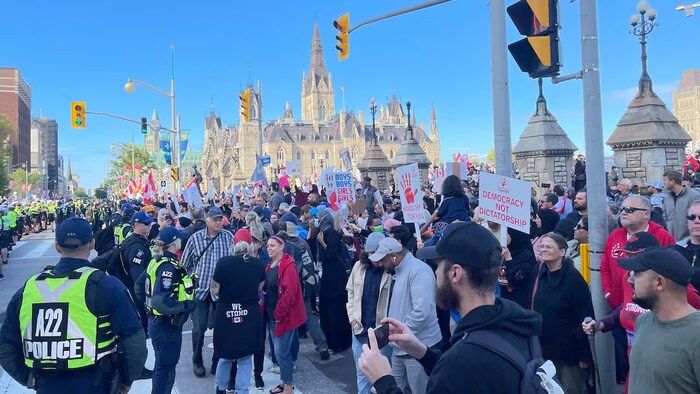 George Soule has one school-age child and was at the counter protest.
I'm here because I think we have to protect trans kids and there's no room for homophobia and transphobia and hate in our society, he said.
We need to make sure there are safe spaces and for some kids, the only place they feel safe is in their school.
In an interview Wednesday, NDP Leader Jagmeet Singh addressed the question of parental rights.
We want parents involved. I think it's a bit of a red herring argument. There's no question that parents should be involved in everything that their kids are engaged with at school, that parents should be incorporated, he said.
It's also important to acknowledge that for some kids, home is not always a safe place.
CBC News