Home
How translating classic hits into Inuktitut became a healing process for Elisapie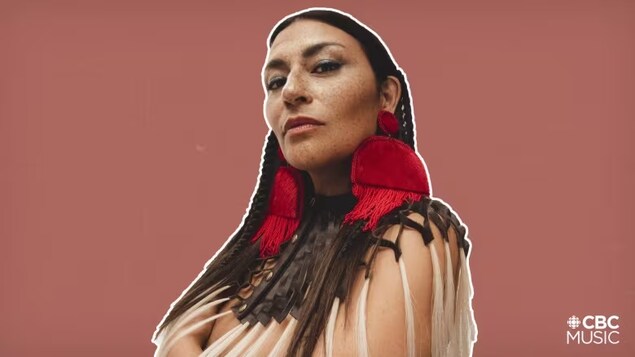 She had 1 criterion for an album that includes Blondie and Metallica: 'If it doesn't make you cry, it's out'
There are so many classic songs that have been translated into Inuktitut, that when Elisapie was younger she thought Bob Dylan's Blowin' in the Wind was originally written in her native language.
She names the Ian and Sylvia classic Four Strong Winds, and starts singing in Inuktitut. I get very emotional with that song because it's sung by an Inuk man and I just thought they were Inuit songs, she says.
It's what gave her such a strong blueprint for Inuktitut (new window), Elisapie's newest and fourth album, which consists of 10 covers of classic rock and pop songs spanning the '60s to the '90s. In collaboration with producer and arranger Joe Grass, Elisapie originally and skilfully translated the songs that were so formative to her childhood in Salluit, a village in Nunavik, Que. With a tracklist that includes Cyndi Lauper's Time After Time and Blondie's Heart of Glass, Inuktitut's stunning covers are only recognizable by the muscle-memory melodies intrinsic to the worldwide hits.
We decided: if it doesn't make you cry, it's out; if it makes you cry, it's in, Elisapie says, laughing, as she describes the criteria for choosing songs to include on Inuktitut. 
WATCH | Elisapie shares 5 songs that have changed her life 
Elisapie | 5 Songs That Changed My Life
From Nina Simone's Love Me Or Leave Me to Led Zeppelin's Going To California watch Elisapie share the five songs that changed her life.
Her process began during the pandemic, after a friend gave Elisapie a playlist for when she ran. It unearthed classic songs tied to her childhood, and when the right song came on, the crying started. 
It's like I opened a closet full of memories, emotions that I didn't even know were so deep and almost painful, you know? she says. And I realized, 'Oh, God, here goes Elisapie again [laughs], the cry baby.' And I realized, there still needs to be work and healing. And it's not just healing for me, but collective healing.
It's Elisapie's reclamation of songs that were once her escape — sung for friends and family members lost too soon, as well as those who are here today — that infuses the project with such vibrancy. Elisapie has always wanted to do a covers album, but just for herself and her family, with no pressure from labels or even southern fans. In doing so, the Polaris Prize-shortlisted and Juno-nominated artist has created one of the most resonant albums of her career.
WATCH | Elisapie's official music video for 'Uummati Attanarsimat (Heart of Glass)' 
'I have to go all the way'
Originally, Elisapie thought she and Grass would do simple covers of the songs she'd chosen, with only voice and guitar, but that's not what the project deserved. 
I was trying to protect myself in a way, she explains. I realized I have to go all the way.
So Elisapie gathered her band — often only guitarist Grass and drummer Robbie Kuster, though fellow Montrealer Leif Vollebekk joined on Qimmijuat (Wild Horses) — and every morning in the studio, she would tell the story behind each song and why she wanted to record it.
And so I cried every morning when we started the session because I finally had people to really talk to, and to really explain the emotion behind the song, she says. So we can work better and really try not to cheat with just good sound, good arrangement [but] to really project the identity and the emotion behind that.
She describes a heavy and receptive atmosphere, where Elisapie says the musicians realized, Oh, we're not just doing sessions anymore, we're witnessing a woman and also her culture.
Elisapie found freedom in letting the songs out this way. Metallica's 'The Unforgiven,' it's really like an Inuk story about a man who was going through hardships, trying to find his identity, being put down and trying to stand this silent suffering. This is like colonization on an Inuk man, she explains. Or Queen's I Want to Break Free, which brings back sharp memories of her cousin Tayara, who died by suicide as a teenager. 
[In that song] I see my cousin who wanted to break free because we also all want to break free because we've suffered so much. We need to feel light again, and we're trying to find that lightness. It's so hard. But through dance, through this song, we're able to feel free, even if we're drunk at 3 a.m. and in a shitty bar.
WATCH | Elisapie's official music video for 'Isumagijunnaitaungituq (The Unforgiven)' 
But it's Pink Floyd's Wish You Were Here that hits the hardest. At first Elisapie didn't want to record it because of its popularity: Sang by the whole world in a campfire, as she puts it. But the emotional pull of the song was too strong. Grass, who didn't want to touch the canonical guitar for it, suggested they work with the Westerlies, a brass quartet from New York City, to create what turned into a stunning, new version of the song. 
I realized, we had to mourn so much at such a young age because we lost so many cousins, young people to suicide, explains Elisapie. And once you get used to it, you start numbing yourself. And sometimes you don't even cry anymore. 'Oh, another suicide? OK.' It's become so common. And I realized, what the hell. This is not normal.
But when Wish You Were Here re-entered her life as an adult, Elisapie knew its purpose.I want to remember. My cousins, they deserve to be remembered, she says. Now that she's translated and recorded the song, there's been a transformation. It's almost like all that heaviness, all the yuckiness that I didn't even know existed that had been stuck in my body — [it's] just gone.
'I became like a bulldozer'
It wasn't easy to get the rights to all these big songs, though. After the recording sessions, Elisapie banked a year for her team to get all the permissions she needed to release an album with covers of some of the biggest songs of the last six decades. 
I don't like to be pushy, she says. [But] I was able to be pushy to get this and to really say, 'We're going to get all of them. I cannot do an album without 'Going to California.'' It was very clear in my head. So I became like a bulldozer.
By the last week of her deadline, Elisapie had everyone's blessing except for Cyndi Lauper, Pink Floyd and Led Zeppelin. She was able to get a contact for a Montreal event producer who'd worked with the bands years ago — through his daughter, through a friend, she describes — and with his help (and some name-dropping), it worked.
Through that email we just mentioned [the producer's] name and somehow my management gets [an email that says], 'Robert Plant approves. Now you just have to talk to Jimmy.' Which they, eventually, also did.
Elisapie says the artists' public responses have been heartening: Debbie Harry retweeted it and sent Elisapie a personal note after hearing Heart of Glass, and Metallica's Lars Ulrich posted the cover of The Unforgiven in his Instagram stories. 
But for Elisapie, the project will always be first for herself, and her community.
It's going to bring people to their memories, she says.
Holly Gordon (new window) · CBC Music