Home
Politics
Migrant march for permanent residency fills downtown streets Sunday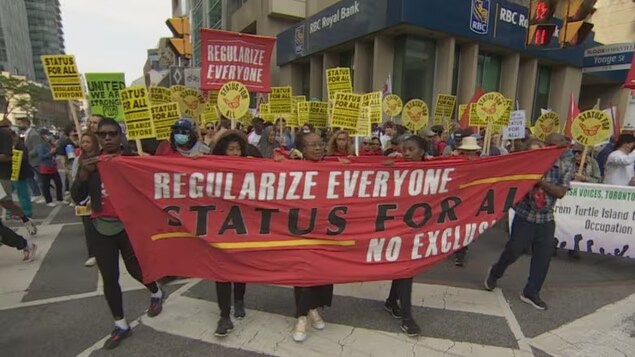 'Without status you can't do anything in this country,' said one undocumented migrant
Migrants, including undocumented people, students and refugees, marched in cities across Canada Sunday to demand permanent residency status for all ahead of the resumption of federal parliament on Monday. 
In Toronto, migrants and supporters marched downtown, including through the intersection of Yonge Street and Dundas Street, prompting police to say on social media that traffic in the area had been disrupted. 
The protesters are calling on the government to create an uncapped program that would grant permanent resident status to all migrants and undocumented people without any exclusions, according to Sarom Rho, an organizer with Migrant Workers Alliance for Change. 
Without permanent resident status migration, undocumented people are facing massive exploitation at work, are denied life saving treatments in healthcare, live in daily fear of deportation and the pain of family separation, Rho said. 
Protest comes after UN criticizes foreign worker program
The protest comes after Canada's temporary foreign worker program was labelled a breeding ground for contemporary forms of slavery by a United Nations official earlier this month. Tomoya Obokata, UN special rapporteur on contemporary forms of slavery,  called on the federal government to give all temporary foreign workers a pathway to longer term or permanent residency.
At the time, a spokesperson for Immigration Minister Marc Miller's office wouldn't say if such a permanent pathway would be instituted. 
We cannot speculate on future policies. All new policies will be announced publicly, a spokesperson said in an email to CBC News. The ministry did not reply to a request for comment on this story prior to publication.
1.7 million people on temporary permits
Rho said Sunday that there are 1.7 million people in Canada on temporary study or work permits. She says they are growing Canada's food, taking care of children and working in essential frontline jobs.
That's one in 23 people and it hurts all of us when there is a section of our society who are denied the same rights and protections [as everyone else], Rho said.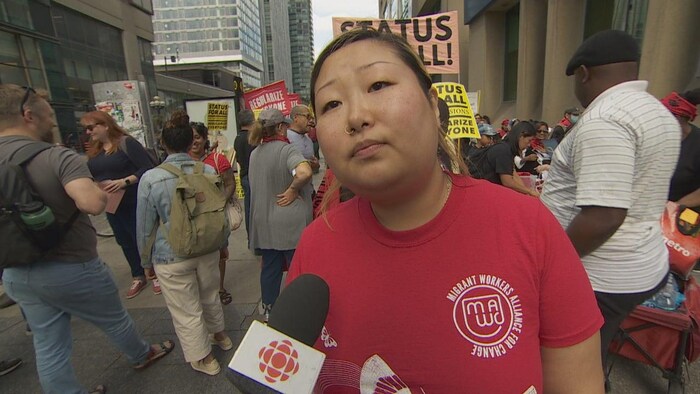 Jane, an undocumented immigrant from Uganda, attended the protest in Toronto. She requested CBC News withhold her last name because of her precarious immigration status. 
After living undocumented in Canada for six years, Jane says she wants permanent residency so she can get a good job and be treated equally. 
A fair job where you won't be discriminated, where you earn decent wages, where you [are] free to go wherever you want, to reunite with your families, she said. Without status you can't do anything in this country.
CBC News with files from Darren Major and Reuters