Home
International
Spread of disease, unexploded munitions in Libya recovery concern officials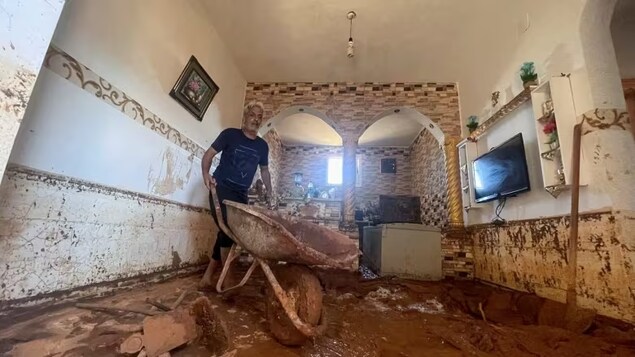 Unexploded ordnances are common in some parts of Libya after years of conflict
The World Health Organization (WHO) and other aid groups on Friday called on authorities in Libya to stop burying flood victims in mass graves after a UN report showed that more than 1,000 people had so far been buried in that manner since the country was hit by floods.
A torrent related to the storm Daniel washed away whole districts of Derna, a city in eastern Libya, on Sunday night after two dams collapsed. While there have been discrepancies in the specific totals given by various officials, thousands were killed and thousands more are missing.
We urge authorities in communities touched by tragedy to not rush forward with mass burials or mass cremations, said Dr. Kazunobu Kojima, medical officer for biosafety and biosecurity in the WHO's Health Emergencies Programme, in a joint statement sent out by the UN health agency with the International Committee of the Red Cross (ICRC) and the International Federation of the Red Cross and Red Crescent Societies.
The statement called for better-managed burials in well demarcated and documented individual graves, saying that hasty burials can lead to long-lasting mental distress for family members as well as social and legal problems.
WATCH l How war left Libya vulnerable to weather disasters:
How Libya's preoccupation with war left it vulnerable to epic flooding | About That
Storm Daniel devastated the city of Derna, Libya, with severe flooding. The death toll could be as high as 20,000. Andrew Chang breaks down the political climate in the country that led to a preoccupation with war, which analysts say distracted from being able to react to the disaster.
The bodies of victims of trauma from natural disasters almost never pose a health threat, it added, saying the exception was when they were in or near fresh water supplies since bodies may leak feces.
A UN report published on Thursday said that over 1,000 bodies in Derna and over 100 bodies in Albayda had been buried in mass graves after the floods on Sept. 11.
Bodies are littering the streets, washing back on shore and are buried under collapsed buildings and debris. In just two hours, one of my colleagues counted over 200 bodies on the beach near Derna, Bilal Sablouh, Regional Forensics Manager for Africa for the ICRC, told a Geneva briefing.
Aid, equipment being sent
The ICRC has sent over a cargo flight to Benghazi on Friday with 5,000 body bags, he added. Sablouh warned that unexploded ordnances, common in some parts of Libya, posed a risk for those involved in recovering the dead.
Rescue work is being hindered by the political fractures in a country of seven million people, where rival military factions still clash at times, and with no government holding nationwide reach since a NATO-backed uprising toppled Moammar Gadhafi in 2011.
An internationally recognized Government of National Unity (GNU) is based in the capital of Tripoli, in the west, while a parallel administration operates in the east, under control of the Libyan National Army of warlord Khalifa Haftar, who failed to capture Tripoli in a bloody 14-month siege that unravelled in 2020.
United Nations aid chief Martin Griffiths said Friday that Libya needed equipment to find people trapped in sludge and damaged buildings after floods that have killed thousands, as well as primary health care to prevent a cholera outbreak among survivors.
Priority areas are shelter, food, key primary medical care because of the worry of cholera, the worry of lack of clean water, Martin Griffiths told a UN briefing in Geneva.
He said the UN humanitarian office had sent a disaster co-ordination team of 15 people to Libya who had been redeployed from Morocco, which suffered an earthquake last week.
Griffiths said that a suggestion by the mayor of Derna to create a maritime corridor to deliver aid could be a viable option given that the city is on the Mediterranean Sea.
You still keep coming in from the land, you're finding the people who are fleeing south, fleeing south from Derna, toward aid, away from the cities, so you need to support them as well, he said.
But certainly, adding the maritime option makes complete sense.
The International Organization for Migration (IOM) in Libya said on Friday that over 38,640 individuals were displaced in the most affected areas in northeastern Libya due to the devastation.
Thomson Reuters ·