Home
International
Cleaning up London's air has become toxic politics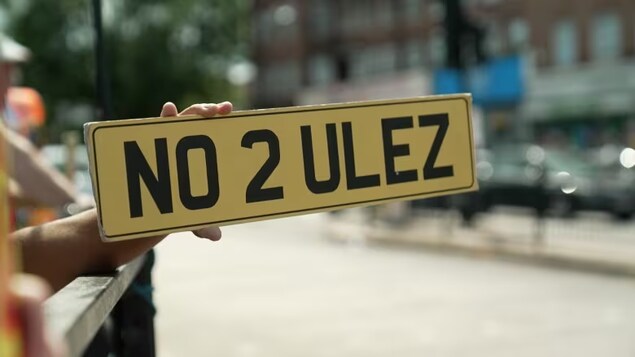 People with high-polluting cars now have to pay £12.50 to pass through Ultra Low Emission Zone
London, a global pioneer in pricing schemes aimed at reducing traffic and automobile emissions, is taking another big leap forward today with a dramatic expansion of its pollution-charge zone.
But the latest change has ignited surprisingly fierce resistance, evoking not just protests but also mass acts of vandalism and the type of intense rhetoric associated with populist campaigns against COVID-19 restrictions.
London police say (new window) they are braced for a new round of physical attacks on the monitoring cameras and other infrastructure needed to enforce the new scheme.
The ULEZ, or Ultra Low Emission Zone, will expand far beyond the city's centre to include all 32 local boroughs, capturing close to nine million Greater London residents.
Anyone with a high-polluting car — typically an older, diesel-belching vehicle — will now have to pay £12.50 (over $20 Cdn) a day to drive into or through the zone.
The whole thing is based on a big lie, said Nicholas Arlett, a retired builder and prominent anti-ULEZ activist, who has organized protests in the weeks leading up to today's change.
We have people that are absolutely suicidal that they won't see their grandchildren because they live in the [ULEZ] area. They have a non-compliant car that has to now comply with [the new rules].
Arlett was protesting with a group of roughly 100 people recently near Sutton, in southwest London, a region that will be included in the expanded anti-pollution zone.
It's going to destroy London, Arlett told CBC News.
WHO reports high pollution in U.K. cities
The anti-ULEZ groups argue tougher vehicle emission limits have done little or nothing to make the air cleaner, and that instead the scheme amounts to a tax grab that hurts the poor the most. This is in defiance of abundant scientific studies that clearly indicate otherwise (new window) and that air pollution significantly shortens human lifespans. (new window)
The World Health Organization reports (new window) that most metropolitan areas in the U.K., including Greater London, Greater Manchester and the Birmingham area, all have higher-than-recommended levels of the pollutant nitrogen dioxide in the air.
Arlett came to the protest with a hand-held monitor that measures air particulates, and pronounced that the low readings he observed are proof that air pollution in London has been vastly exaggerated.
All these lies that we exceed WHO figures, it's total rubbish, he said.
Political observers view the anti-ULEZ crusade as the opening act in the next British election campaign, which is expected sometime in 2024.
Frankly, there are some outright lies, said Bob Ward, policy director at the Grantham Research Institute on Climate Change and Environment at the London School of Economics.
Those who claim air pollution doesn't cause premature deaths are arguing against a huge abundance of science, he said.
Cleaner air
London was among the first cities in the world to bring in a congestion zone. Motorists have had to pay a toll for driving in the central business area during the day for the past 20 years.
Londoners have also become used to living with polluter-pay schemes for motorists for the past five years, with little, if any, political fallout.
WATCH | A look inside London's Ultra Low Emission Zone: 
A look inside London's Ultra Low Emission Zone
London's Ultra Low Emission Zone is expanding to include all 32 local boroughs, meaning anyone with what's considered a high-polluting car will now have to pay almost $20 a day to drive into or through the zone. 'All and any increase in air quality is to be welcomed,' said Seb Dance, London's deputy mayor for transport.
The science behind the ULEZ is clearly on the side of the clean-air campaigners, even if the politics have put them on the defensive.
An air quality study commissioned by Transport for London, the authority overseeing the scheme, concluded London's pollution levels are 21 per cent lower than they would have been without the ULEZ. It also claims 74,000 polluting vehicles have been taken off London roads every day since 2019.
Those are really big numbers when we are talking about serious pollution and the health effects that follow on from that, said Simon Birkett, the founder and director of Clean Air in London. He and his organization are strong proponents of the expanded ULEZ.
This is really targeting the most polluting vehicles in the last part of London.
The TFL study also underscores that the vast majority of drivers won't be affected by the change when it kicks in. It says 85 per cent of the cars on the road in the expanded zone already meet emission standards, and drivers of those vehicles will pay no pollution charge at all.
Financial hardship for some
There will be economic impacts, however. Some of the ULEZ opponents include business owners who say the expanded rules are creating financial hardship at a time when the country is dealing with inflation at a stubbornly high rate of 6.4 per cent (new window).
Anna Hills, 61, who owns a hot water boiler servicing company, says she was stuck with a £90,000 ($154,000 Cdn) bill for replacing her two older diesel trucks.
I should be retiring. But I can't, because I've got to pay for the loans on the vans, so this has hit me quite badly, she told CBC News at the Sutton protest.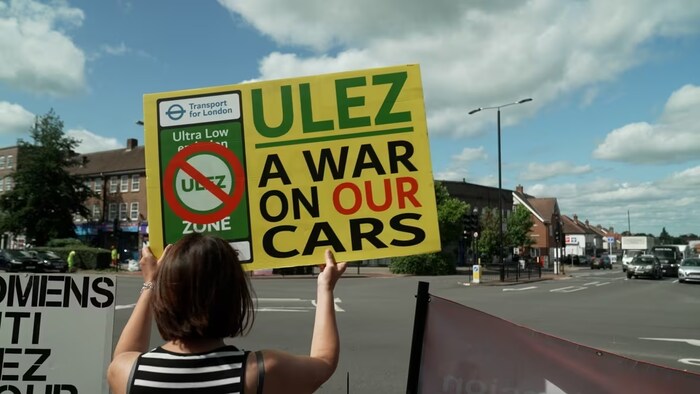 The intensity of the resistance is redefining political calculations in Britain about whether championing clean air during difficult economic times has become a can't-win proposition. Opposition to the ULEZ has moved far beyond protesters and placards on street corners. It may be shaping political contests.
In a recent by-election in former prime minister Boris Johnson's old riding in Uxbridge — which will now be covered by the ULEZ — resentment over the scheme emerged as a decisive issue. The Labour Party, which has held huge leads in just about every national public opinion survey over the last two years, failed to dislodge the deeply unpopular Conservatives and take the seat in Uxbridge.
Political calculations
Both parties attributed the unexpectedly strong showing by the Conservative candidate, who opposed the ULEZ expansion, as a backlash to the anti-pollution measures championed by London mayor Sadiq Khan, a member of the Labour Party.
I think it has run into an attempt by some to use this issue to reposition the Conservatives ahead of a general election next year, and this is a sign that environmental issues are going to be used as a wedge vote, said Ward, the climate and environment professor. They've chosen this issue around air pollution in London as one of the issues to focus on.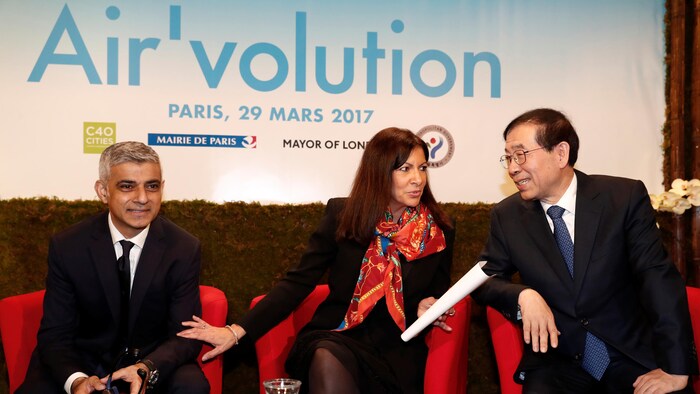 It was actually Boris Johnson, a Conservative as well as a former London mayor, who conceived of the ULEZ. But it was Sadiq Khan who implemented it and has emerged as its chief proponent. 
In the wake of the recent by-election loss, Khan adjusted the so-called scrappage scheme, by making £2,000 (about $3,400 Cdn) available to any Londoner who needs to ditch a non-compliant car.
He has acknowledged in subsequent interviews that the move was an attempt to mute some of the criticism.
I have always said that expanding the ULEZ to the whole of London was a difficult decision, and not one I took lightly — but it's a decision I remain committed to seeing through, Khan was quoted as saying in one London newspaper. (new window)
Police on alert
More worrying, some opponents have resorted to vandalism to try to halt the implementation of an expanded ULEZ.
London's Metropolitan Police says (new window) it's investigating nearly 300 crimes related to damage to ULEZ traffic cameras around the city meant to monitor traffic in the zone.
Police say 164 cameras were stolen outright and power cables were cut to 185 others. A fringe group calling itself the Blade Runners has been video-recorded using long poles (new window) equipped with scissors-like cutters to quickly snip the connections.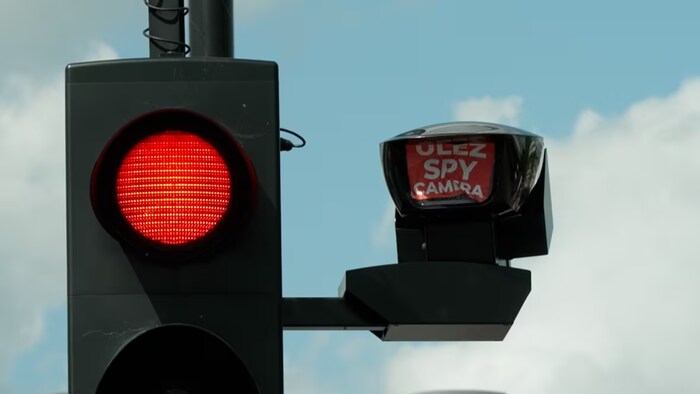 While CBC News was at the Sutton demonstration, one protester climbed several poles with video cameras on top and slapped stickers across the lenses, rendering them unable to capture any images of vehicles passing by.
In a radio interview last week with British broadcaster LBC, Khan lashed out at those fuelling the vandalism and spreading what he said were lies about the impacts of ULEZ. 
I didn't expect this to be weaponized ... by those who didn't believe COVID was real, believed in conspiracy theories and so forth, Khan said. I will always try to address genuine concerns Londoners have, but I have been surprised how [the conspiracy theories] have been latched on to by others.
Chris Brown (new window) · CBC News