Home
Environment
Wildfire
What is the economic cost of wildfire smoke?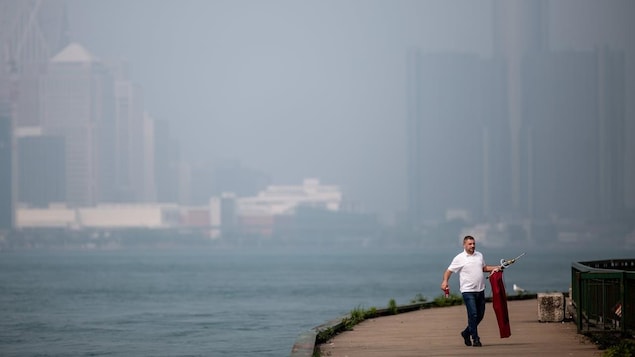 When tallying the economic toll of climate change, flooding tops the list (new window) in Canada. But the wildfire smoke that has blanketed many parts of North America this summer also comes with a financial cost.
Wildfires release fine particulate matter known as PM2.5, which is made up of tiny particles 2.5 microns in diameter or less (that's roughly 30 times smaller than the diameter of a human hair). Those particles can enter the lungs and bloodstream and are particularly harmful for those with pre-existing conditions.
At the height of the haze in June, baseball games and Broadway shows were cancelled, schools closed and flights postponed. A growing body of research is trying to put a dollar figure on the larger economic fallout.
A forthcoming paper (new window) in the Review of Economics and Statistics estimates that between 2007 and 2019, U.S. earnings were reduced by an average of $125 billion a year because of wildfires. 
Air quality matters for more than just health outcomes, David Molitor, the study's co-author and an associate professor of finance and economics at the University of Illinois, said in an interview. It shows up in the statistics for economic productivity.
The researchers found smoke exposure can decrease income across a range of sectors, from manufacturing to farming to real estate, and that older workers and people of colour were disproportionately affected.
The paper drew on satellite imagery of wildfire smoke, air quality records and labour market data in the U.S.
One of the things that really surprised me about wildfire smoke is that in the United States, the geography of wildfire smoke is very different from the geography of fires, said Molitor. It turns out that the Midwest U.S. experiences, on average, some of the highest number of days of smoke per year. We don't have a lot of fires there, but just a lot of smoke.
Another study (new window), published last month in the journal Science of the Total Environment, concluded smoke particulates from wildfires could ultimately lead to between 4,000 and 9,000 premature deaths in the U.S. and cost a staggering $36 billion to $82 billion a year in health care.
Shuai Pan, the lead author, had previously looked at the effects of pollution from the transportation sector, but became interested in the consequences of wildfire smoke while doing his doctoral work in the U.S. 
Epidemiological research suggests exposure to wildfire smoke is associated with increased mortality and certain common respiratory diseases, Pan said. 
It's not news that wildfire causes air pollution that has an impact on human health, but we really wanted to provide some numbers, said Pan, a postdoctoral researcher at Nanjing University of Information Science and Technology in China.
For the study, Pan and his fellow researchers used satellite wildfire emission and air quality data gathered from 2012 to 2014 to create a model estimating how smoke from wildfires could impact human health and economies.
For instance, Los Angeles — downwind from many of the fires in the western U.S. — may see 119 premature deaths annually, and $1.07 billion in financial burden, the study said. Those numbers would be far higher if the research had drawn on this summer's smoky air, Pan said. 
In the midst of Canada's record wildfire season this year, Dave Sawyer, an environmental economist at the Climate Institute of Canada, tried to calculate (new window) the health cost of smoke in this country. 
He figured that during a particularly smoky stretch from June 4 to 8, the estimated price tag of smoke-related health care alone was $1.28 billion.
Sawyer said the economic toll of wildfire smoke is yet another reason to act on climate change. 
In the meantime, Molitor said more research is needed on the most effective ways to reduce harmful exposure.
I think that's where behavioural adjustments and adaptations have the potential to play a big role, he said.
Putting air filtration in your home … or in offices or in public schools may go a long way to helping to reduce the effects.
Benjamin Shingler