Home
Environment
Vintners warn a wine shortage could be coming, as they try to adapt to climate change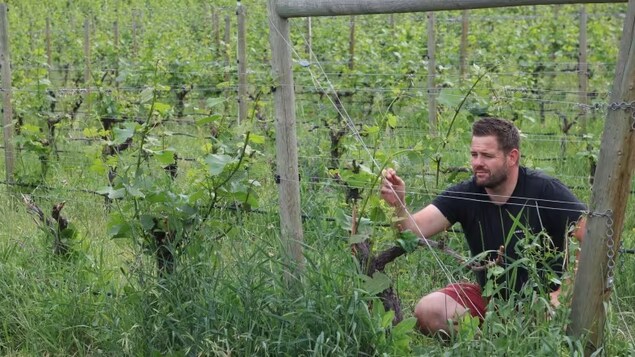 From cold snaps in B.C. to flooding in Italy, extreme weather is damaging crops
Sweltering summers and bitterly cold winters have been hindering wine production in B.C., with one winemaker warning that climate change might be cultivating a crisis in the industry.
We won't see it impact wine supply right away, but give it a couple of years and there's going to be quite a shortage, said David Paterson, general manager at Tantalus Vineyards in the Okanagan Valley.
That might mean emptier shelves at your local store, but could also affect tourism built around wineries, he said.
If this continues, then that's going to be quite devastating to the industry as a whole, he told The Current's (new window) Matt Galloway. 
B.C. suffered record-breaking temperatures in recent summers, including the deadly heat dome that set a new national high of 49.6 C in June 2021. This past winter, Paterson said his vineyard dropped to minus 27 C, which killed some of the buds that would have eventually borne fruit.
WATCH | B.C. vineyards badly damaged by harsh winter:
B.C. vineyards badly damaged by harsh winter
Many vineyards in B.C.'s Okanagan Valley are discovering massive crop damage after an extremely cold December. An estimated 50 per cent reduction in grape production will have impacts for both the wine industry and tourism sector it supports.
In April, Wine Growers B.C. forecast a 39 to 56 per cent drop in wine and grape production (new window) this year. But while it's still too early to tell, Paterson thinks those estimates might even be conservative. 
There'll be a mixture of only maybe 10 or 15 per cent down in some areas, all the way down to absolutely nothing [in harder-hit vineyards], he said.
Tantalus Vineyards had a large crop in 2022, and Paterson said they'll use some of that to bridge a potential gap this year. It's normal to hit a poor crop some years, and buy grapes from vineyards who fared better. 
But the potentially bigger shortfall this year will mean there are no grapes to buffer the people that have lost everything, Paterson told Galloway. 
We always remain optimistic and hopeful for rebounding, but if we keep seeing these extreme winters ... it's going to cause the industry to really rethink what they're doing, he said.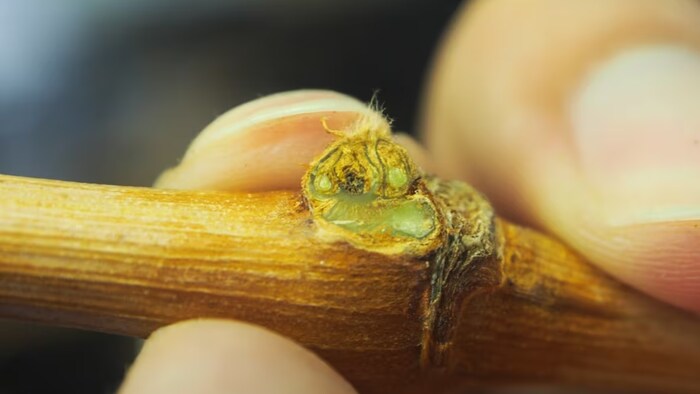 Does wine matter?
As the impacts of climate change have become more pronounced in recent years, people around the world have lost their homes and livelihoods to fires and floods. In the face of such destruction and displacement, some might wonder if wine making really matters.
In the greater scheme of things, perhaps it doesn't, said Eric Asimov, New York Times wine critic.
But he said efforts to help the industry can be part of the greater fight against climate change.
If you are not taking the steps now to protect wine, which is on the leading edge of everything that is being affected by climate change, you're not protecting society, he said.
Wine production is very much the canary in the coal mine when it comes to climate change's impact, Asimov said, because the process is so sensitive to minor environmental changes.
WATCH | Smoke from Canadian wildfires blankets much of U.S. northeast: 
Drifting wildfire smoke pushes air quality risk 'off the charts'
Air quality risks are 'off the charts' in Ottawa as smoke and haze cover large sections of central Canada. Toronto, Kingston, Ont., and Montreal are also feeling the effects as Environment Canada warns the air could be dangerous to human health for most of the week.
Wildfire smoke, like the hazy skies that blanketed parts of North America last week, can pose a particularly tricky problem for that sensitivity — producing wines that taste like an ashtray. 
Paterson, of Tantalus Vineyards, explained that as the grape ripens and changes colour, the smoke can interact with its sugars, which are key to producing alcohol in fermentation. 
That means you can't tell if a batch has been tainted by smoke until quite late in fermentation, when suddenly smoky compounds come into solution, and therefore [can be] detected by the human nose or palate, he said. 
Paterson said his vineyard has been lucky, as wildfire smoke in his region has usually dissipated by the time grapes ripen in late July or August. But wildfire smoke tainted entire vintages in 2020. In Oregon, winemakers pivoted to producing a smoke-affected but salvageable rosé (new window); while in California, a smoke-tainted crop was repurposed as vodka (new window). 
Italian vineyards flooded
Six months' worth of rain fell over just two weeks in Italy last month. Shortly after, another six months' of rain fell in just 36 hours.
In the mountain — where there are the beautiful vineyards of my region — there are an enormous amount of landslides, said Francesco Bordini, who owns a vineyard in the Italian town of Modigliana.
And to the other side in the valley there [was] a lot of flooding of the river, he said.
Bordini said historical records suggest his town hasn't suffered flooding this bad since 1636. It's situated in Emilia-Romagna, a wine-producing region at the heart of fruit production in Italy. Bordini said his family's vineyard creates a very particular wine, light in colour but very rich in flavour and minerality.
He thinks flood damage could reduce this year's crop by about 10 per cent, but the infrastructure damage could drive that number higher.
During the springtime, every day you must go in the vineyard because it's the time that the shoots are growing very fast, you have to protect the vineyard from the mildew, he said. 
But with roads wiped out by landslides, Bordini must walk 6 km every day to reach the vines. 
He said it's still too early to tell how badly this year's crop will be affected, but he expects it won't be another 400 years before they face more extreme weather. 
Adapting to a changed climate
Asimov said that the earliest effects of climate change were seen as beneficial in many wine-producing regions, because warmer temperatures helped grapes to ripen. 
A lot of these regions have gone past the tipping point now, and rather than struggling to ripen the grapes, the challenge is to prevent over-ripening, he said.
Grape growers are already moving their vines to slopes facing north, he said. They're also switching from clearing canopy to using it to shade vines, in order to protect them from intense sunlight and allow grapes to ripen at a more measured pace. 
Asimov added that there are also technological solutions, including ways of misting vines in high temperatures, and irrigation systems that manage water levels during drought.
There are steps that farmers can take, he said. But the question is how long will those steps be effective and how quickly will governments and society work to mitigate the long-term effects of climate change?
WATCH | Climate change to thank for boom in U.K. sparkling wine industry:
Climate change to thank for boom in U.K. sparkling wine industry
The U.K. sparkling wine industry is experiencing a boom. Climate change is increasing temperatures in Britain, leading to ideal growing conditions for the grapes used in sparkling wines.
As climate shifts, some vineyards are following suit and moving their operations. Felix Egerer moved his vineyard from the Okanagan to Vancouver Island's Cowichan Valley, where he sees potential for fantastic wines.
We've seen it happen in the UK over the last 15 years, said Egerer.
All of a sudden big wineries in France are buying lots of land [in the U.K.], … because the climate has shifted to a point where now it's warm enough consistently, he said. 
Asimov said bigger companies and newer vintners might have the option to move, but it doesn't work for everyone. 
Small family estates, which have been the backbone of historic wine regions, often don't have the resources to pick up and move, particularly if they've been on land that their family has owned for centuries, he said.
Climate change poses a risk to the business of those estates, but also their traditions and their cultural importance, he said. 
It's not a matter of simply getting up and taking root somewhere else, it's something wonderful is being lost.
Padraig Moran (new window) · CBC Radio