Home
Politics
Provincial Politics
Quebec offers financial aid to wildfire evacuees and municipalities
Indigenous people will need to apply through the federal government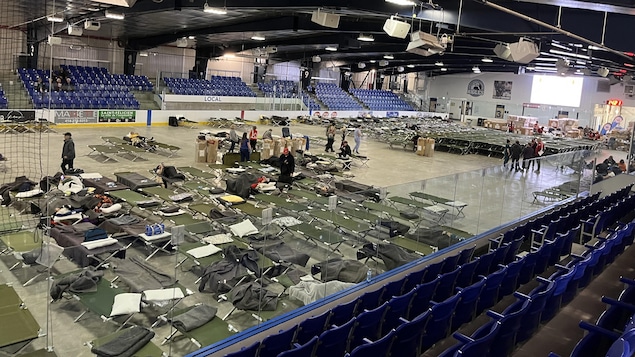 Thousands of people displaced by Quebec's wildfires will be entitled to financial compensation, the Quebec government announced Friday.
Affected households will receive $1,500 through a provincial financial assistance program.
The government will also reimburse all evacuation-related expenditures incurred by municipalities and supporting organizations.
Currently, more than 13,000 people are out of their homes after their communities were evacuated due to the forest fires that have been raging in the province since May 29. 
It was important for us to give a significant amount of $1,500 — regardless of the number of days you were evacuated, said Bonnardel during a news conference Friday. 
He said people displaced by the fires can also resort to their personal insurance policies to help cover costs. 
People can qualify for financial aid if they were forced to vacate a primary residence either by a mandatory evacuation order or official recommendation by a municipality.
The government will also reimburse the costs incurred by organizations such as the Canadian Red Cross and the association representing fire chiefs in Quebec. For example, the government will pay for the  costs of moving firefighters to different locations in the province.
Bonnardel said people will be able to apply online (new window) for financial compensation around June 14.
Ottawa to cover aid for Indigenous peoples
The provincial program will not apply to the approximately 2,800 Indigenous people displaced by forest fires, said the minister responsible for Indigenous relations, Ian Lafrenière. 
It's a little bit more complicated since it's not our full jurisdiction, he said referring to the fact that First Nations engage directly with the Crown. 
Lafrenière said he spoke with federal Minister of Indigenous Services Patty Hajdu Friday morning.
We made sure that they will have the same kind of help, he said. 
Indigenous people won't be left apart. 
ABOUT THE AUTHOR
Cassandra Yanez-Leyton (new window) · CBC News · Journalist
Cassandra Yanez-Leyton is a journalist for CBC News based in Montreal. You can email her story ideas at cassandra.yanez-leyton@cbc.ca