Home
Health
Public Health
How 'severe and unusual' smoke from Canadian wildfires is spreading and what it means for your health
Air quality warnings extend far into the United States, are likely to become more common with climate change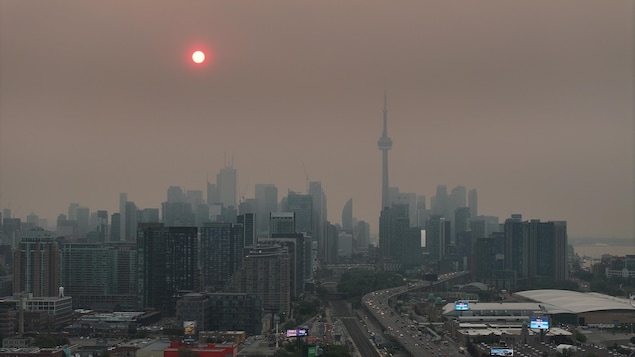 Vast portions of eastern Canada and the United States are covered in smoke and haze, as wildfires continue to rage out of control in Quebec and other provinces.
The smoke has prompted air quality warnings in many cities and towns in Quebec, Ontario and beyond in Canada, and resulted in hazy, apocalyptic skies and warnings in places like New York City and Washington, D.C.
CBC News spoke to experts and consulted recent studies to show the potential health impacts of the smoke in the air — and the extent to which it has spread across North America.
The levels of air pollution that we're seeing today are severe and unusual in Canada and in parts of the U.S., said Rebecca Saari, an air quality expert and associate professor in the department of civil and environmental engineering at the University of Waterloo.
These are poor air quality days, especially in certain areas, where people should be aware and protecting themselves.
She says such events are likely to be more common (new window) as climate change intensifies and prolongs the hot, dry conditions that wildfires need to thrive.
For June, the fire risk is considered well above average in almost every province and territory. In Newfoundland and Labrador, the risk is considered average. In P.E.I., the risk is low across the island.
Overall, people across Canada are facing an especially difficult wildfire season, and federal government officials (new window) have said their modelling shows increased wildfire risk in most of the country through August. 
Roughly 130 forest fires are currently burning in Quebec, with just under 100 of them considered out of control. 
A storm system off the eastern coast of Nova Scotia has pushed the smoke from those fires toward Ontario and to the U.S., with poor visibility as far south as North Carolina and into the Midwest.
It has also spread further east, and officials as far as Norway warned the smoke could affect air quality there on Thursday.
The air quality improved early Thursday in Ontario and Quebec, but was forecast to get worse in many parts of Ontario  (new window)again later in the day and through the weekend.
How bad is the haze?
Different countries use different indexes to measure air quality.
While the Air Quality Health Index (AQHI) (new window) used in Canada reflects current knowledge of the health effects associated with air pollution and measures on a scale of 10, the Air Quality Index (AQI) (new window) used in the U.S. is based on air quality standards and is measured on a scale of 0 to 500. The higher the value, the greater the level of air pollution.
The Associated Press reported Wednesday that the AQI exceeded a staggering 400 at times in Syracuse, New York City and Pennsylvania's Lehigh Valley. A level of 50 or under is considered good; anything over 300 is considered hazardous.
Meanwhile, the air quality in Toronto ranked among the worst in the world for much of Wednesday, near the level of Delhi, India, and Dhaka, Bangladesh, according to IQair (new window), an online service that monitors and tracks air quality using the AQI.
The levels in Kingston and points further east in Ontario were considerably worse on both scales.
Those areas had among the highest levels of particulate matter — known as PM2.5 levels — in the country. 
Those particles are so small — 30 times smaller (new window) than the diameter of a human hair — that they can go into the lungs and into the bloodstream, said Dr. Samir Gupta, a respirologist and an associate professor of medicine at the University of Toronto.
So you can imagine the havoc that they wreak in the lungs themselves, he said. That's the most sensitive organ to all of this in terms of breathing symptoms, particularly people who have underlying lung conditions like asthma.
WATCH | Masking up (again) and other ways to protect yourself from smoky air: 
Air quality in terms of cigarettes
A recent Stanford University study (new window) quantified what breathing in that particulate matter would mean in terms of cigarettes.
According to the study, an AQI measurement of 20 is equivalent to smoking one cigarette a day. 
The study noted that exposure to wildfire smoke causing an AQI of 150 for several days would be equivalent to smoking about seven cigarettes a day if someone were outside the whole time.
By that calculation, Kingston residents who spent eight hours outside Wednesday smoked the equivalent of nine cigarettes.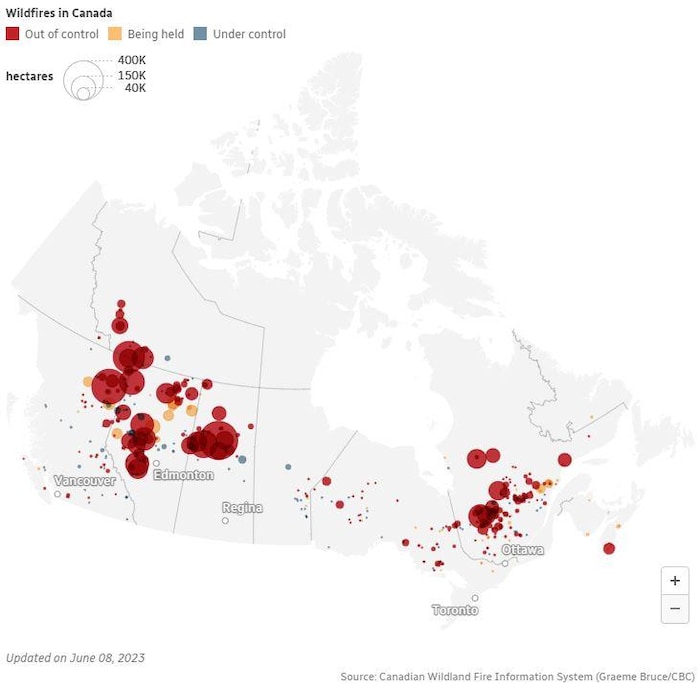 Most of Western Canada had a break from the smoky air after struggling with poor quality last month (new window), though some regions, including Vancouver, were designated as moderate risk.
If an area has been designated as very high risk, Environment Canada (new window) advises the general population to reduce or reschedule strenuous outdoor activities.
It recommended that at-risk populations (new window), such as young children, seniors and those with chronic conditions, to avoid strenuous activities altogether.
Many of the tips people picked up during the pandemic are useful now, said Scott Weichenthal, an associate professor in the department of epidemiology, biostatistics and occupational health at McGill University in Montreal.
If you have to work outside, wear a mask, a proper mask that filters out the small particles, like an N95 mask, he said.
If you don't need to be outside when it's very polluted, don't be.
IN PHOTOS | Wildfire smoke makes for apocalyptic skies in some cities (new window)
ABOUT THE AUTHOR
Benjamin Shingler (new window) · CBC News · Journalist
Benjamin Shingler is a senior writer based in Montreal. He specializes in health and social issues, and previously worked at The Canadian Press and the New Brunswick Telegraph-Journal.
---
With files from Prapti Bamaniya and Lauren Pelley