Home
Politics
Federal Politics
Poilievre accuses Liberals of leading the country into 'financial crisis,' vows to filibuster budget
Conservative leader promises filibuster speech in House of Commons in effort to delay budget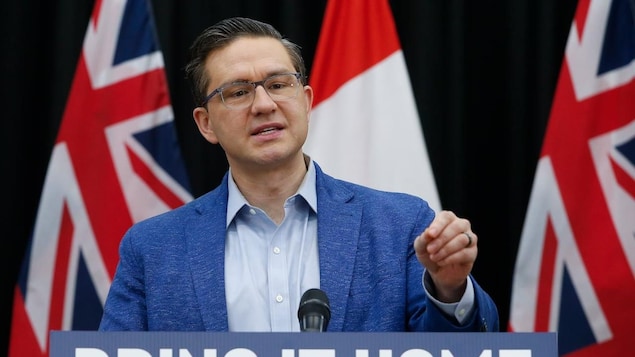 As interest rates rose again Wednesday, Conservative Leader Pierre Poilievre vowed to tie up the House of Commons with a prolonged speech to prevent the government from passing a budget he says will drive Canada into "a full scale financial crisis."
This is on the verge of becoming a crisis, Poilievre told his caucus Wednesday. Justin Trudeau, you and your spending, out of control debt and taxation are leading us head-on into a full scale financial crisis and I will not let you do it.
After the Bank of Canada raised its benchmark interest rate Wednesday to 4.75 per cent, the Conservative leader said the federal budget's $40.1 billion deficit was driving inflation and he would block this disastrous, risky and inflationary budget from passing.
I will be on my feet at roughly 7 p.m. to stand up against this budget and I will keep speaking and keep speaking, and keep blocking this inflationary trainwreck, until the prime minister rises with a plan to balance the budget and bring down inflation and interest rates, Poilievre said.
The Conservative leader pointed to the International Monetary Fund (new window) stating last month that of 38 mostly advanced economies, Canada was the one at the highest risk of mortgage defaults because of high levels of household debt compared to similar economies.
WATCH: Poilievre explains how he'll try to block the federal budget: 
An official from the Speaker's office said that because the House of Commons on Tuesday passed a time allocation motion — which limits debate at third reading of the budget bill to one day — debate will end shortly before midnight on Wednesday.
The official said that the House will be adjourned at that point and a vote on the budget bill will be called in the House Thursday afternoon after question period.
On Monday, the Conservatives introduced more than 900 amendments to the budget. They promised to do whatever it takes to halt its passage through Parliament unless the government presents a plan to balance the budget and promises no new carbon tax hikes.
If the government does not meet these demands, we will use all procedural tools at our disposal to block the budget from passing, including 900 amendments, lengthy speeches and other procedural tools that are in our toolkit, Poilievre said Monday.
The Bank of Canada's interest rate hike this week was its first since January, when the bank said it would conditionally pause (new window) its aggressive campaign of rate hikes to see whether it had served to bring down inflation.
Inflation reached a high of 8.1 per cent in July of last year and has declined steadily since, hitting 4.3 per cent in March. But the bank was prompted to act when inflation bounced back up to 4.4 per cent in April.
The bank said Wednesday it expects to see inflation level off at about three per cent in the summer. 
Jobs will save economy: Freeland
Poilievre said the rise in inflation in April was a direct result of the Liberal government's decision to continue running deficits, which he said pumps more money into the economy, causing prices to rise.
It's clear, we know, that if there's more money to buy less goods and services, those products and services will cost more, he said.
Deputy Prime Minister and Finance Minister Chrystia Freeland responded to the rate hike by trying to reassure Canadians about the state of the economy.
She said that last year, Canada had the highest economic growth in the G7, that the OECD said Canada will see the fastest average rate of growth in the coming year, that Canada's credit rating is AAA and the country's deficit-to-GDP ratio is the lowest in the G7.
Most important of all, there are 900,000 more Canadians working today than there were working before COVID first hit, she said.
Having a good job is the key to the wellbeing of every single Canadian and their family. And that is the strength we have and Canadians can count on.
ABOUT THE AUTHOR
Peter Zimonjic (new window) · CBC News · Senior writer
Peter Zimonjic is a senior writer for CBC News. He has worked as a reporter and columnist in London, England, for the Daily Mail, Sunday Times and Daily Telegraph and in Canada for Sun Media and the Ottawa Citizen. He is the author of Into The Darkness: An Account of 7/7, published by Random House.