Home
Arts
LGBTQ+ Community
Why Elliot Page is speaking out about being trans 'in this climate of such intense hostility'
After years of struggle and denial, Page says coming out as trans has been 'extraordinary'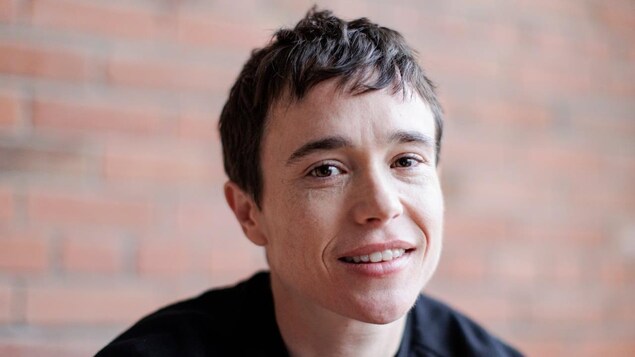 Elliot Page remembers the first time, as a teen, he tried to tell a friend he might be bisexual — only for the friend to laugh at him and say he wasn't. 
Around the same time, he tried to tell his mother that, actually, he thought he might be gay. 
She shut him down, too. 
She just snapped, Page told CBC chief correspondent and host of The National Adrienne Arsenault in a Canadian exclusive interview. "She just yelled, 'that doesn't exist!' So I was just like, okie doke."   
But Page, 36, who's best known for his Oscar-nominated role in Juno and his work in the films Inception and Hard Candy, says even then he knew it wasn't just that he was gay. He knew something wasn't quite right, wasn't aligning within himself, though it would take some time for him to come to terms with what was going on.
WATCH | Elliot Page's full interview (new window) with Adrienne Arsenault below, or on The National on Wednesday at 9 p.m. ET on CBC News Network or 10 p.m. on CBC TV:
The Canadian actor writes about how it all played out for him — how he came to the realization that he was transgender — and how he shared it first with family and then with the world, in his new memoir Pageboy. 
To finally be in a place where I wake up and I feel in my body and I'm present and don't have the sensation of wanting to flee or lift out of myself or cause myself pain … it's been extraordinary, he said in his first Canadian interview since his transition. I didn't think I'd ever feel this way in my life.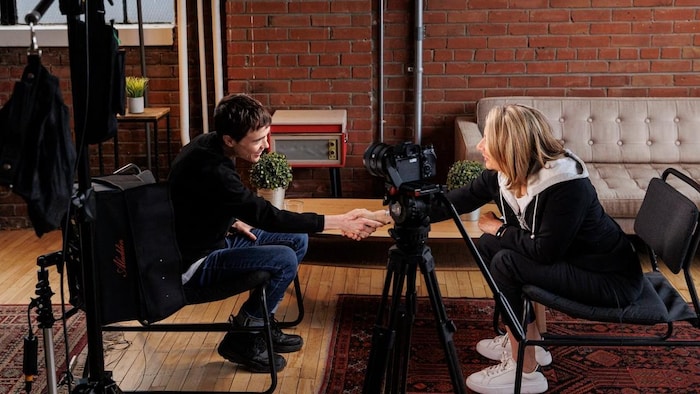 The initial reactions from his friend and mother weren't necessarily surprising, though, he said. It was the age of gay jokes on TV sitcoms, and there were few examples of gay people in their lives, nevermind someone who was transgender.
Page, who had been acting since the age of 10, came out as gay in 2014. Then, in December 2020, he shared on social media (new window) that he was, in fact, a trans man (new window). 
I'm sure ultimately that … those initial responses, conscious or not, were affecting my ability to step into my trans identity and make the decisions I needed to make for myself, he said. 
Once he did on a personal level, the thought of saying something publicly was overwhelming and he would constantly talk himself out of it, convincing himself that just cutting his hair or wearing different clothes would be enough. But it wasn't. 
And while the journey he went on came later than he might have wished, Page says he's grateful to be where he is now and that his mother, too, has arrived at a place of support and acceptance. 
She saw me struggle so much. And so I think in many ways she felt relief. Just relief to see that her kid was happy and embodied, and in just so many ways, just healthier and more vibrant and joyful.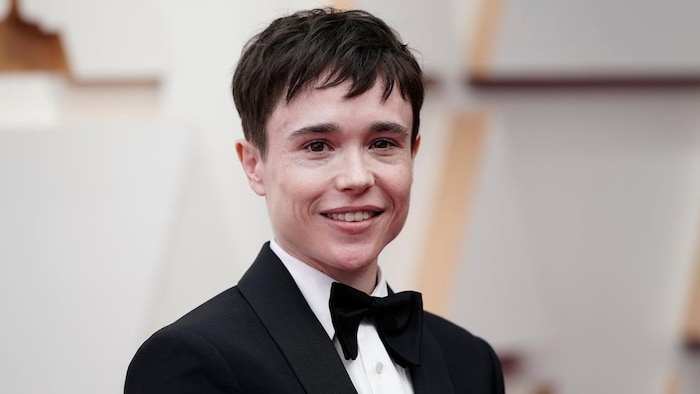 Art easier than life
It was a moment he would eventually get to experience on screen, too. He was shooting his most recent series The Umbrella Academy, and ahead of the third season, he told showrunner Steve Blackman who he really was. Blackman, he says, fully embraced him. 
He was really actually the one who was like, 'you know, I want to put it in the show and I want to do it now, this season,' Page said. 
They talked with writer and producer Thomas Page McBee, and together, figured out the best way to make it happen. 
Page's character, known as Vanya, walks into a room with a new haircut and a new sense of self and tells his family that he is actually Viktor — that it's who he's always been. 
It did actually feel quite intense shooting it, Page said. That was an instance where I felt this … certain flutter of anxiety, perhaps just because it was so personally connected at that time.
In his TV world, the news was met with little more than a shrug and a smile. I'm good with it, one character says. Cool, says another. 
---
WATCH | Viktor's transition in The Umbrella Academy 
Climate of 'intense hostility'
Still, being a public trans person in this climate of such intense hostility, the Oscar-nominated actor admits the release of the book came with some trepidation.
It lands as anti-LGBTQ+ sentiment continues to pervade society, amid increased acts of violence and more restrictive and repressive laws.
There are currently nearly 500 anti-LGBTQ+ bills in U.S. legislatures (new window) and more than 500 anti-trans bills (new window). In Florida, Gov. Ron DeSantis chose May 17 — the International Day Against Homophobia, Transphobia and Biphobia — to sign into law (new window) a sweeping bill banning gender-affirming care for minors, restricting discussion of preferred pronouns in schools, forcing people to use certain bathrooms, and more.
In Canada, the number of police-reported hate crimes targeting sexual orientation were up 64 per cent from 2020 to 2021 (new window). 
Drag shows in the U.S. (new window) and drag storytimes at libraries (new window) across Canada are being targeted (new window), and just last week in Ontario, a Catholic school board voted against flying the Pride flag (new window). 
It's getting turned into this — and has always been — so highly politicized, you know, and used by politicians as a weapon essentially, Page said. And with that rhetoric and with that dialogue, it absolutely does manifest in the real world. It does. And it manifests in schools and when you're walking down the street.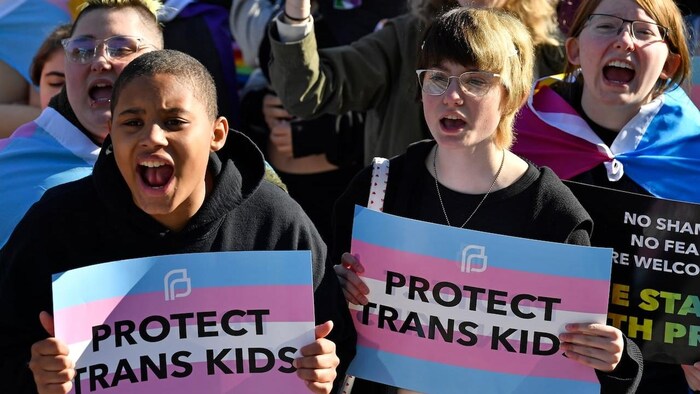 Page says he had a beer and homophobic slurs thrown at him as he walked down the street in Toronto. He's had his life threatened, too. 
It really blows my mind, you know, just some of the stuff you see, or the misinformation or the stories that are constantly peddled. It's absurd. Trans people, he says, just want to live, just want to be able to be who they are authentically.
Page considers himself lucky when it comes to the support he's received since coming out as trans, and is adamant that he is not representative of the experience of what it means to be trans in this society, citing disproportionate unemployment, homelessness, and limited or no access to health care. 
Still, he says even for him, the lack of visibility, representation and inclusivity make him hesitant about how much to share and talk about, even as he reiterates how important it is to be seen and heard. 
I wish people did understand more the reality of what the community faces, he said. 
But no matter what I deal with or even things I wrote down in the book that were hard, that were difficult … my experience just does not compare to what so many other people deal with incessantly on a day-to-day basis.
Professionally, Page says he's interested in doing more writing, working behind the camera as well as acting in front of it. He admits he's not entirely sure Hollywood will want him as the person he is, but that he'll never again let anyone tell him to be anything he's not. 
I am now in a place where I'm going to tell someone how I feel or stand up for myself, he said, in ways that I couldn't before and didn't know how to before — and didn't know I was allowed to before.
ABOUT THE AUTHOR
Stephanie Hogan (new window) · CBC News · Digital producer
Stephanie Hogan is a digital producer with CBC News, based in Toronto. She writes on a variety of subjects, with an interest in politics, health and the arts. She was previously political editor for The National and worked in various roles in TV and radio news.