Home
Economy
Economic Indicators
Bank of Canada hikes interest rate again — and there may be more to come
Speculation had grown that central bank would raise rate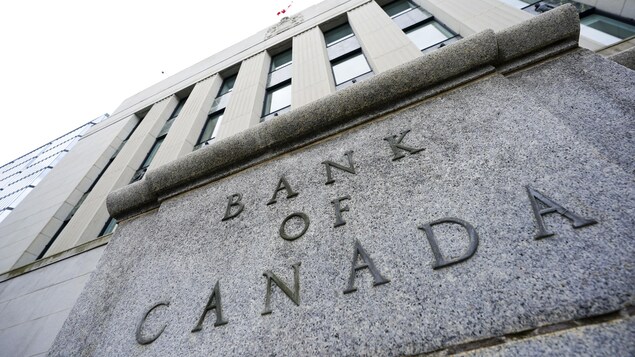 LATEST
Big Banks have all moved to match rate hike, moving prime to 6.95%
The Bank of Canada decided to raise its benchmark interest rate to 4.75 per cent on Wednesday.
It's the first time that Canada's central bank has raised its trend-setting interest rate since January, when the bank signalled it would conditionally pause (new window) its aggressive campaign of rate hikes to wait and see if it had done enough to bring down inflation.
Since then, the data has shown the Canadian economy to be unexpectedly resilient, as it has grown by more than expected. After declining for nine months in a row, the inflation rate unexpectedly ticked higher last month (new window).
The bank's latest move to increase its rate from 4.5 per cent to 4.75 per cent takes it to its highest level since 2001. 
While investors and economists thought there was a slight chance the bank would raise the rate now, the move nonetheless came as a surprise to the consensus view that the bank would probably do so later this year.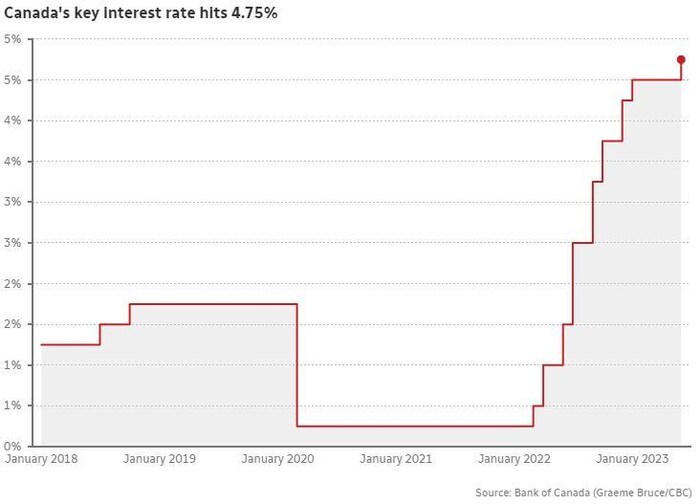 ---
Now, however, observers are increasing their bets that even more rate hikes are coming.
Trading in investments known as swaps has fully priced in at least one more hike by the end of the year, and is even open to the possibility of one more past that, to 5.25 per cent or beyond.
The central bank's move is going to make life even more expensive for variable rate mortgage holders, many of whom have seen their payments skyrocket this year.
The rate hikes already announced have added more than $1,000 to the monthly payment on a $500,000 mortgage, and that's before Wednesday's move.
Within hours of the central bank's move, Canada's big banks all moved to match the bank's hike, raising their prime lending rates to 6.95 per cent.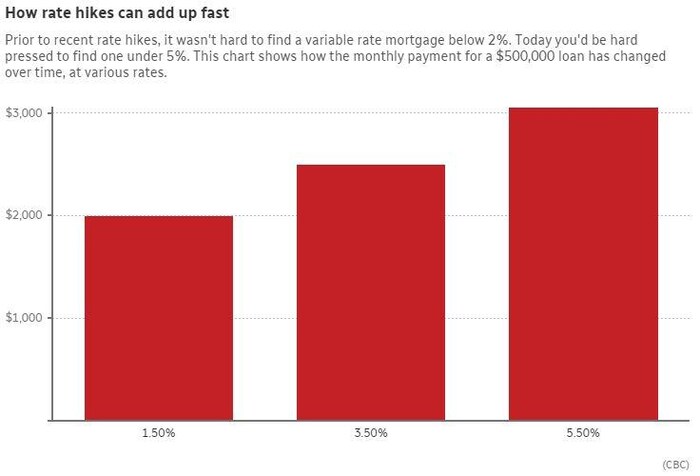 Armine Yalnizyan, an economist and Atkinson Fellow of the Future of Workers, questions the bank's move, saying it will hurt vulnerable Canadians while doing nothing to fix underlying inflation — and maybe even make it worse.
In an interview with CBC News on Wednesday, Yalnizyan pointed out that the biggest single driver of the increase in the inflation rate last month was mortgage interest costs, which increased by 28 per cent in the past year (new window).
Guess who sets mortgage interest costs? The bank, she said.
WATCH | Economist says latest rate hike could make inflation worse
I don't know why you need more pain because their rates are only making things worse for the housing market [and] that's where the biggest bite of everybody's income goes, whether you own or rent or are rich or poor.
Yalnizyan said central banks around the world are falling into the trap of trying to tame inflation the same way they always have, even though this bout has been caused by forces we haven't seen in more than a century.
Raising rates isn't necessarily the right medicine, however it's the only medicine we've relied on since the 1980s so dammit we're going to keep doing it, she said.
This is designed to trigger a recession to tame prices.
More hikes expected
Whether it's the right move or not, the consensus view is that the bank is far from finished.
Royce Mendes, an economist with Desjardins, said it's unlikely they'll see enough progress towards restoring price stability before their next scheduled rate decision for this to be the final hike of the cycle.
As a result, we continue to lean towards another 25-basis-point rate hike in July, which would take the policy rate up to five per cent, he said.
Stephen Brown, an economist with Capital Economics, was one of the economists who expected Wednesday's hike. He, too, thinks more are coming.
It is hard to see how a single 25-basis-point hike will materially change that assessment unless the CPI and labour market data before the July meeting – in just five weeks time – is materially weaker than we currently expect, Brown said. Accordingly, there is a strong chance of the Bank enacting another 25 basis point hike at the next meeting ahead of its summer break.
ABOUT THE AUTHOR
Pete Evans (new window) · CBC News · Senior Business Writer
Pete Evans is the senior business writer for CBCNews.ca. Prior to coming to the CBC, his work has appeared in the Globe & Mail, the Financial Post, the Toronto Star, and Canadian Business Magazine. Twitter: @p_evans Email: pete.evans@cbc.ca