Home
Politics
David Johnston says he never reached out to MP Han Dong before clearing him in foreign interference report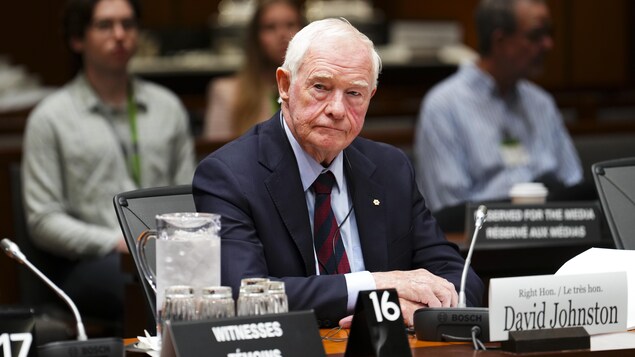 During a confrontational hearing, former GG faced pointed questions from MPs about Chinese government meddling
While David Johnston's first report into foreign interference disputed claims made about Independent MP Han Dong, the special rapporteur said Tuesday he never spoke to the Toronto-area MP in the course of his investigation. 
We did not reach out to him, the former governor general told CBC's Power & Politics Tuesday after appearing before a Commons committee and being grilled by opposition MPs on foreign interference.
We had a high degree of intelligence, both open and more particularly the classified information, and that permitted us to come to the conclusion that the allegations made about him were not founded. In fact, he was in conversation with the consulate in Toronto of China but was not wittingly being a tool of theirs.
Johnston was appointed special rapporteur by Prime Minister Justin Trudeau in March after a series of news stories by Global News and the Globe and Mail alleged the Chinese government engaged in a range of interference operations in the 2019 and 2021 federal elections.
In his first report, released last month (new window), Johnston disputed several of those reports — including one Global News story that alleged Liberal MP Han Dong urged a Chinese diplomat in February 2021 to hold off on releasing Michael Kovrig and Michael Spavor from China's custody, and others that claimed federal candidates received funds from China during the 2019 federal election campaign.
After reviewing classified intelligence reports, Johnston did conclude that there were irregularities observed with Dong's nomination for the federal Liberals in 2019 and cited a well-grounded suspicion that the irregularities were tied to the PRC consulate in Toronto, with whom Mr. Dong maintains relationships.
In reviewing the intelligence, I did not find evidence that Mr. Dong was aware of the irregularities or the PRC Consulate's potential involvement in his nomination, the report said. 
Johnston said his team didn't reach out to Dong out of respect for the Independent MP's $15 million lawsuit against Global News.
WATCH | David Johnston's opening remarks at committee on foreign interference
Hear David Johnston's opening remarks at committee on foreign interference
During his opening remarks at the committee on procedure and house affairs, Special Rapporteur on Foreign Interference David Johnston spoke of his work investigating foreign interference and says criticism won't stop him from completing his mandate.
We felt that we got both the open intelligence and the classified intelligence that permitted us to come to the conclusion that he was not a witting party to what was suggested in those stories, Johnston told host David Cochrane.
Dong quit the Liberal caucus after the Global stories broke. Since Johnston's first report was released, Dong has been seeking to rejoin the Liberal caucus. 
Johnston says public hearings will begin next month 
On Tuesday, Johnston appeared for more than three hours before a hearing of the standing committee on procedure and House affairs, where he defended his integrity and his decision to hold public hearings instead of a public inquiry.
Johnston has been accused of bias due to his past connections to the prime minister's family and the Pierre Elliott Trudeau Foundation — allegations he repeatedly tried to swat down.
I don't believe I have a conflict of interest and I would not have undertaken this responsibility had I had a conflict of interest, he told the committee Tuesday.
So my suggestion, madam chair, is that one looks at a record of service and comes to one's conclusion about conflict of interest. And I would again plea that you focus the attention on foreign interference, this report which will be reviewed, and others where we must do a much better job.
In his report, Johnston wrote that while he did not find evidence that Trudeau or his ministers knowingly ignored intelligence, there are problems with the way information flows between cabinet and intelligence agencies.
I've identified significant shortcomings in the government's ability to detect, deter and combat this threat. This must be remedied urgently, he told MPs in his opening remarks.
The report also ruled out holding a public inquiry (new window). Johnston argued that much of any public inquiry would have to be held in private due to the presence of top-secret information.
He has promised to hold public hearings, beginning next month, on the serious governance and policy issues.
Johnston said the public will be able to hear from government representatives, national security officials and members of the diaspora community.
WATCH | Chong questions Johnston on foreign interference investigation
Chong questions Johnston on foreign interference investigation
During committee, Conservative MP Michael Chong asked David Johnston how he thought he could restore trust from Canadians in his work. Chong was at the centre of the foreign interference story when he was briefed that he was a victim of targeting by Beijing.
Those who fear speaking out publicly because of the risk of retaliation will have the chance to provide testimony in-camera, or can submit information privately, Johnston added.
Conservative MP Michael Chong, who has been targeted by the Chinese government for his work to recognize the Uyghur genocide, argued that the recommendation against a public inquiry undermines public confidence.
Eight months ago, when this foreign interference scandal first blew wide open, reasonable people could have argued that public trust could be restored without an independent public inquiry. But that door closed a long time ago, said Chong.
Do you not see how recommending against a public inquiry undermines confidence in our democratic institutions?
Johnston has argued that, given the classified nature of the information, a public inquiry wouldn't build trust.
I come back to Justice [Dennis] O'Connor, who said that public inquiries in the traditional sense are not particularly useful and can be horrendous in dealing with these things and there are appropriate ways of dealing with them, said Johnston, referring to the head of the inquiry into the detainment and torture of Maher Arar.
What we have recommended and what we intend to do in the next five months is to have public hearings on these very important questions of, are our systems adequate? They are not.
Johnston said he expects his second report, which is due in October, will recommend shoring up Canada's two intelligence review bodies — the National Security and Intelligence Committee of Parliamentarians and the National Security and Intelligence Review Agency.
Opposition parties voted for Johnston to resign 
Johnston spent much of the committee hearing defending his ability to continue on as special rapporteur.
Last week, the House of Commons passed an NDP motion, with Conservative and Bloc Québécois support, calling for Johnston to be ousted from high-profile role.
Conservative Leader Pierre Poilievre accused Johnston of helping Trudeau cover up the influence by Beijing in our democracy. NDP Leader Jagmeet Singh has said the appearance of bias is so strong that Johnston cannot continue.
Despite the vote, Johnston told the committee said he intends to stay on and finish his work. He said he respects the House's right to express its opinion but his mandate comes from the government.
WATCH | Conservative MP questions David Johnston on his relationship with Trudeau
Conservative MP questions David Johnston on his relationship with Trudeau
Conservative MP Larry Brock asks special rapporteur David Johnston about the history of his relationship with Prime Minister Justin Trudeau.
Johnston has said that while he was friends with Pierre Trudeau and skied with the Trudeau family back when Justin Trudeau and his brothers were children, he hasn't had any meetings, dinners or personal contacts with Trudeau in the past 40 years.
During today's hearing, Johnston also defended the record of Sheila Block, a lawyer he hired to assist with his mandate. The Globe and Mail reported Monday morning that Block has donated to the Liberal Party in the past.
Johnston also told the committee that about 10 days ago, he began receiving unpaid informal advice from Don Guy, former chief of staff to former Ontario Liberal premier Dalton McGuinty, and Brian Topp, chief of staff to Rachel Notley when she was the NDP premier of Alberta.
Last week, CBC News reported that Johnston has hired crisis communications firm Navigator (new window) to provide him with communications advice and support at taxpayers' expense.
Navigator calls itself a high-stakes strategic advisory and communications firm that offers a range of services. Its slogan is, When you can't afford to lose.
When asked Monday if hiring a crisis communicator was a good use of public funds, Trudeau defended Johnston and accused Poilievre of participating in baseless smear jobs.
I'm not going to speak to decisions that the independent special rapporteur and his team are making to manage the toxic climate that they're operating in, said Trudeau.
WATCH | Should David Johnston step down as special rapporteur?
Should David Johnston step down as special rapporteur?
NDP Leader Jagmeet Singh has passed a motion calling for David Johnston to leave his role probing foreign interference allegations, but Johnston says he's not done as special rapporteur. Plus, what does the boost in RCMP protection for senior government ministers and public servants say about our political climate?
Catharine Tunney (new window) · CBC News ·