Home
Environment
Massive forest fires are coating much of Quebec in haze and smoke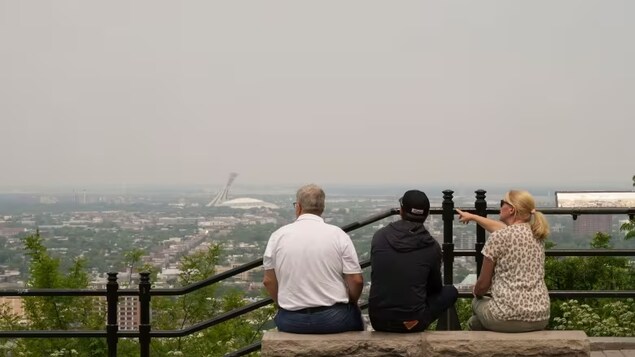 More than 160 fires burning across the province, most are out of control
As firefighters rushed to protect communities under threat, more than 160 forest fires continued to burn in Quebec, the vast majority of them out of control, coating much of the province in thick smoke and haze. 
The fires prompted air quality warnings across Quebec on Monday morning, including in Montreal, where Environment Canada urged residents to take precautions against smog. 
In Sept-Îles, the North Shore town whose outskirts are threatened by fire, Environment Canada issued a severe special air quality statement, urging residents to wear respirators if they had to venture outside and to use air filters to recirculate and clean indoor air. 
The special air quality statement extended over much of the province, stretching from the north shore to James Bay and including part of the Outaouais.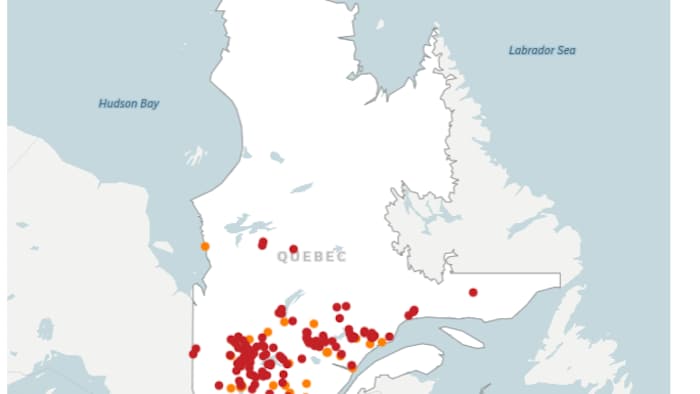 Monday late afternoon, the Atikamekw community of Opitciwan, 350 kilometres north of Montreal, announced (new window) it would be taking people with respiratory and mobility issues to Roberval or Lac Saint-Jean in the Saguenay region due to the deterioration of air quality. 
Steeve Beaupré, the mayor of Sept-Îles, said residents there woke up to a thick cloud of smoke on Monday morning. 
He urged people to keep their doors and windows closed and to avoid physical activity outdoors. 
Beaupré accompanied firefighters on a flyover to observe the fires near the town on Sunday. He said he witnessed the proximity of the flames to residential areas and how unpredictable they were. 
One of the major fires near Sept-Îles had grown since then but was being pushed northward, away from the town, by wind. 
Fortunately, he said, the weather forecast seemed to offer some relief. 
The weather seems to be turning in our favour with the promise of significant precipitation this week, he said. 
Premier François Legault said at an afternoon news conference that approximately 10,000 people have had to leave their homes across the province because of the fires, which are burning over 2,000 square kilometres.
Yan Boulanger, a research scientist with Natural Resources Canada said that the ground covered by the fires in Quebec's commercial forests in the past four days is massive and estimates that it's equal to what was covered in the past 10 years combined.
It's a really exceptional situation, he said. To have that number of fires means we had very dry, very warm conditions in the last few days and we also had a thunderstorm on Thursday that ignited those fires.
The number of fires has overwhelmed the capacity of the province's forest fire fighting agency, SOPFEU. 
WATCH | Forest fires are worse than usual this year. Here's why: 
What's behind Quebec's 'unprecedented' forest fire season?
CBC's Steve Rukavina explains why so many fires are burning, many out of control, in the province this spring.
The agency is prioritizing fighting fires that pose an urgent risk to human life or critical infrastructure. 
Firefighters are battling 35 fires, but Mélanie Morin, a spokesperson for SOPFEU, said reinforcements from the Canadian military were beginning to lend a hand. 
More manpower means more fires that we can intervene on, she said. 
Daily, our priorities change depending on wind shifts. One day a fire could be going away from a community whereas the next day a wind shift could change that.
Morin hoped the rain and colder weather forecast for later this week would help firefighters gain the upper hand on some blazes. 
Cooler temperatures, lighter winds are always a very welcome addition to the mix, she said. 
Smog filled the air in the Montreal area on Monday afternoon. Environment Canada warned asthmatic children and people with respiratory ailments or heart disease to avoid intense physical activity outdoors.
Stéphane Boyer, the mayor of Laval, Que., said on Twitter public transit prices there would be lowered to $1 per bus ride on Tuesday in an effort to reduce the number of cars on the road and keep smog to a minimum.
Matthew Lapierre (new window) · CBC News ·