Home
Environment
Forest fires prompt air quality warnings in Montreal, Sept-Îles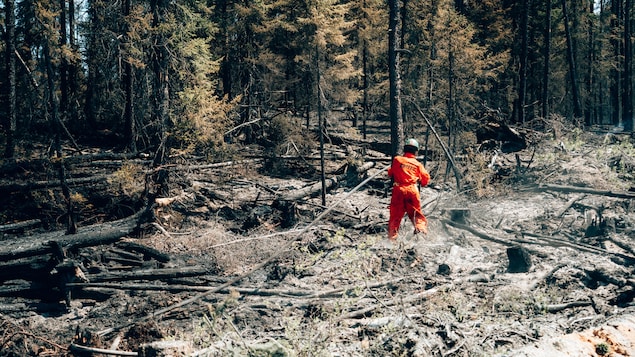 More than 160 fires burning across the province, most are out of control
As firefighters rushed to protect communities under threat, more than 160 forest fires continued to burn in Quebec, the vast majority of them out of control.
Yan Boulanger, a research scientist with Natural Resources Canada said that the ground covered by the fires in Quebec's commercial forests in the past four days is massive and estimates that it's equal to what was covered in the past 10 years combined.
It's a really exceptional situation, he said. To have that number of fires means we had very dry, very warm conditions in the last few days and we also had a thunderstorm on Thursday that ignited those fires.
The fires prompted air quality warnings across Quebec on Monday morning, including in Montreal, where Environment Canada urged residents to take precautions against smog.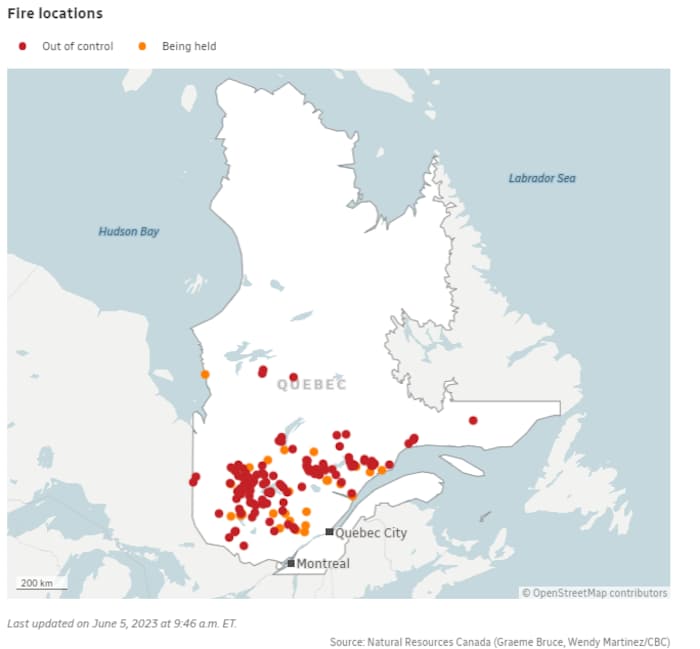 For the greater Montreal area, air quality could deteriorate beginning this afternoon, the agency said. 
Smog especially affects asthmatic children and people with respiratory ailments or heart disease. It is therefore recommended that these individuals avoid intense physical activity outdoors until the smog warning is lifted.
In Sept-Îles, the North Shore town whose outskirts were threatened by a fire last week, a more severe special air quality statement was issued. The special air quality statement extended over much of the province, stretching from Jame Bay to parts of the Outaouais. 
The statement urged residents to wear respirators if they had to venture outside and to use air filters to recirculate and clean indoor air. 
Teams were battling 35 fires which were deemed to be of urgent risk, threatening human life or critical infrastructure. 
Reinforcements from the Canadian military were beginning to lend a hand. 
More manpower means more fires that we can intervene on, said Mélanie Morin,  a spokesperson for the Société de protection des forêts contre le feu (SOPFEU). 
Daily, our priorities change depending on wind shifts. One day a fire could be going away from a community whereas the next day a wind shift could change that.
Premier François Legault is scheduled to provide an update on the forest fires later on Monday. 
Matthew Lapierre (new window) · CBC News