Home
Society
More 'challenging conditions' as fire nears Sambaa K'e, N.W.T., and evacuees wait for news
Fire was less than 30 kilometres away from the community on Friday morning
·
The wildfire burning near Sambaa K'e, N.W.T., is now less than 30 kilometres from the now-empty community and fire officials expect unfavourable winds could push the flames even closer. 
Territorial fire information officer Mike Westwick said Friday crews are planning to conduct back burns in the area, but that they're waiting for the right conditions. 
Today the conditions are not looking great, Westwick told guest-host Marc Winkler on CBC Radio's The Trailbreaker. "We expect today to be a pretty challenging day with winds coming from the south that we expect will push the fire to the north." 
In its latest online update, N.W.T. Fire said the area remains dry. 
The fire has already burned nearly 68,000 hectares within the N.W.T. and over 100,000 hectares in total. 
The fire forced Sambaa K'e's nearly 100 residents to evacuate to Fort Simpson (new window) Wednesday. 
Since then, the host community has offered up beds and meals at the Fort Simpson community centre. 
Violet Jumbo, from Sambaa K'e, is helping to coordinate evacuees in Fort Simpson. She said people are doing mostly fine but that they're overwhelmed. 
In addition to staying with family and friends in Fort Simpson, Jumbo said 21 people are staying in a student residence. 
It's just like one big, big, big family, she said. 
To keep busy, Jumbo said evacuees are taking care of each other, visiting, making coffee and making sure children and elders in particular have what they need.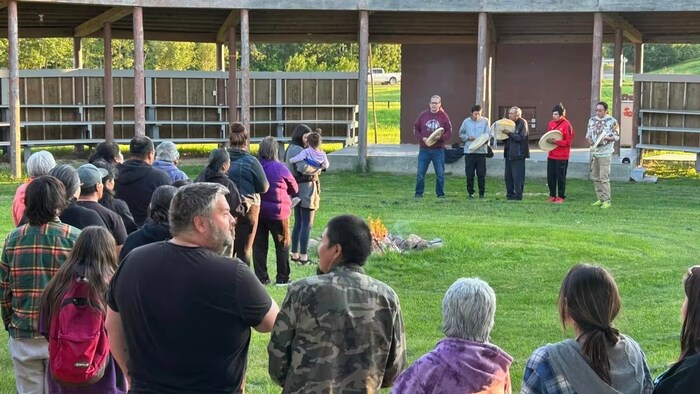 She said they've been taking part in Fort Simpson's community events too, like the fire-feeding ceremony the host community held Thursday night.
Some evacuees are worried about pets left behind. South Nahanni Airways returned to the community after the evacuation to bring some pets to Fort Simpson as well. Some have been reunited with their owners while others are being fostered in the meantime. 
There were 10 active wildfires in the N.W.T. on Friday, including the fire near Hay River and the Kátł'odeeche Fırst Natıon (KFN).
KFN members were forced from their community of May 14 and are still unable to return. 
CBC News with files from Marc Winkler and Hilary Bird