Home
Environment
Halifax-area wildfire 50% contained, has not grown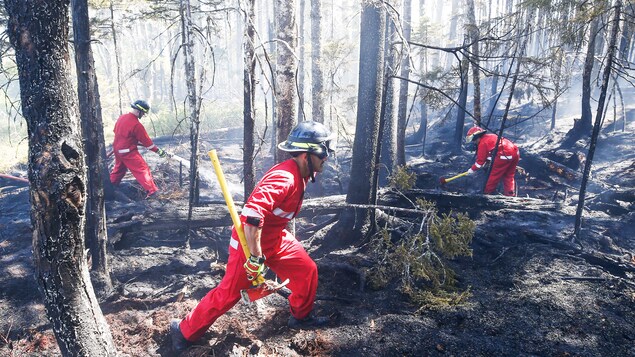 Officials say despite containment, 'we're far from being out of the woods'
---
A wildfire that has been burning out on control for more than three days in suburbs outside of Halifax is now 50 per cent contained, but officials warn crews are still dealing with a volatile and dangerous situation with more hot and dry weather on tap for today.
David Steeves of the Nova Scotia Department of Natural Resources says the fire has not grown, and 50 per cent of the 837-hectare blaze is now contained.
But Steeves stressed during an update with reporters this morning that we are far from being out of the woods.
CBC meteorologist Tina Simpkin says temperatures are expected to reach 30 C in Halifax.
This would be a hot summer beach kind of day, but for firefighters, this is going to be a nightmare, said Simpkin. The fire danger is high today with conditions perfect for spreading wildfires.
On Wednesday night, an emergency alert stated the evacuation order was rescinded for residents of Indigo Shores.
People were allowed to start returning to the neighbourhood at 7:30 p.m. on Wednesday, but only through Margeson Drive with an ID showing an address for the area.
Residents of Indigo Shores are still on an evacuation notice, which means they would have 30 minutes to go if they need to leave again.
On Wednesday, the province increased the fine for breaking the provincewide burn ban to $25,000. The increased fine does not apply to the ban on entering the woods, including hiking, fishing, camping and off-road vehicle use. The fine for violating that ban is $237.50.
We need all Nova Scotians to take the wildfire situation as seriously as we are. We are still finding cases of illegal burning, and it has to stop, Minister of Natural Resources Tory Rushton said in a news release.
During a news briefing with reporters on Wednesday, Halifax Mayor Mike Savage reiterated the importance of the provincewide burn ban. (new window) He said he was aware of eight calls for open burning on Tuesday.
Illegal outdoor burning puts lives, properties and the environment at risk. And it really ties up critical fire department resources. You're endangering yourselves, your families, your neighbours if you do that and you're adding unnecessary undue stress to firefighters who have a lot on their hands at the moment, Savage said.
Think about other people, don't be selfish. Don't be stupid. Think about how it would feel to be personally responsible for the situation that we're seeing unfold right now.
Think about what you would need to bring in event of 30-minute evacuation, CAO says
19 hours agoDuration1:19Cathie O'Toole Chief Administrative Officer (CAO) of Halifax Regional Municipality encouraged residents to think about bringing things like important documents, medications and pets in the event that evacuation areas change.
The restrictions are in place until June 25, or until conditions change.
Halifax's executive director of community safety Bill Moore said the municipality has started contacting people who have registered with 311 to advise them on the status of their homes.
The Department of Natural Resources and Renewables said a smaller fire that broke out near the Farmers Dairy on late Tuesday afternoon in Hammonds Plains was four hectares in size on Wednesday evening and 80 per cent contained.
Wooded areas of municipal parks were closed on 8 a.m. Wednesday. Parks such as Shubie Park, Point Pleasant Park and Admiral Cove Park are also fully closed, as they are heavily wooded. Non-wooded areas of parks, like playgrounds and sport fields are still open.
Anyone who wants to help people displaced by the fire can donate to United Way Halifax, which has set up a wildfire recovery appeal, he said.
Houston to feds: 'It's time to pitch in with whatever you have'
18 hours agoDuration0:49During a provincial update on the wildfires burning across Nova Scotia, Premier Tim Houston said only the federal government knows what resources it has at its disposal.
Halifax Fire Deputy Chief David Meldrum said Tuesday that about 200 homes and businesses have been damaged or destroyed. He asked for patience from some 16,400 residents who are anxiously awaiting information about their properties.
Meldrum said Emergency Health Services has seen an increase in respiratory distress calls due to poor air quality, some as far away as Dunbrack Street in Halifax, about 20 kilometres from Upper Tantallon.
Nova Scotia is offering a one-time payment of $500 per eligible household for those affected by the evacuation order. Residents can apply for that payment through the Canadian Red Cross (new window).
No injuries have been reported and no one has been reported missing.
Officials are investigating what started the initial fire in the Westwood Hills subdivision off Hammonds Plains Road, but officials with the Natural Resources department have said it was likely human activity.
CBC News with files from Aly Thomson