Home
Politics
National Defence
Ukraine takes plea for more weapons directly to Canada's defence sector
Ukraine is doing the work 'NATO was created for,' Oleksiy Reznikov tells defence contractors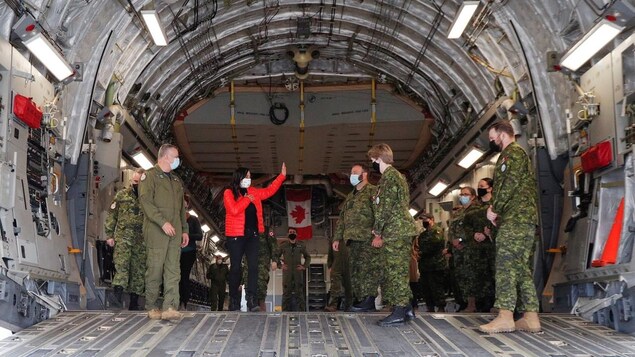 Ukraine's defence minister bypassed the Canadian government Wednesday and took his country's plea for more sophisticated weapons directly to Canada's defence manufacturers.
Through a video statement, Oleksiy Reznikov told the audience assembled for Canada's largest defence exposition that his country has urgent military equipment needs that must be filled.
Hence, we count on Canada's long-term support in this area, Reznikov told the Canadian Association of Defence and Security's (CADSI) annual trade show (CANSEC).
Ukraine has given a list of their Canadian products and technologies it needs to the Canadian government.
Ukraine, he said, wants to work in partnership with Canada and its defence contractors to make sure the hardware is available to us when we need [it] and in the quantities we require.
His appeal comes as the federal government struggles to get badly needed equipment to the Canadian Army in Europe and faces complaints from soldiers about the age and quality of their weapons and protective equipment.
Canada has donated over $1 billion worth of military hardware to Ukraine, including lightly-armoured patrol vehicles, a sophisticated air defence system, older anti-tank weapons, Leopard 2 main battle tanks and 155 millimetre howitzers. Not all of the equipment has been delivered yet.
While Reznikov expressed gratitude to Canada in his remarks, Ukrainian officials in Kyiv have privately expressed frustration at the pace of deliveries and have lobbied Canada behind closed doors to set up a more structured system and to give Ukraine direct access to the Canadian defence establishment.
The Ukrainian defence minister also laid down a marker in his speech, saying he hopes the coming reset of Canada's defence policy — which the Liberal government has been working on for more than a year — will include an ongoing commitment to his country.
We expect that [a] substantial volume of technical assistance to Ukraine will be provided within the framework of the defence policy review, which is scheduled to be released in July, he said.
'Ukraine is Europe's shield'
On that point, Reznikov may be getting out ahead of his Canadian counterpart.
The Liberal government hasn't said when the policy will be published. It faces international pressure to have some kind of plan in place before the NATO leaders' summit in Vilnius in mid-July — a meeting that is being characterized already as an important milestone for the alliance.
Ukraine is now performing the mission that NATO was created for. Ukraine is Europe's shield in the east from the Russian threat. We are destroying the military power that was targeting European values and freedoms, Reznikov said. Fewer Russian weapons means fewer Russian influences.
He went on to remind the audience that the decisions made by us today will influence the development of European and global security for the years to come.
Reznikov also made a pitch for closer cooperation between Canadian and Ukrainian defence contractors.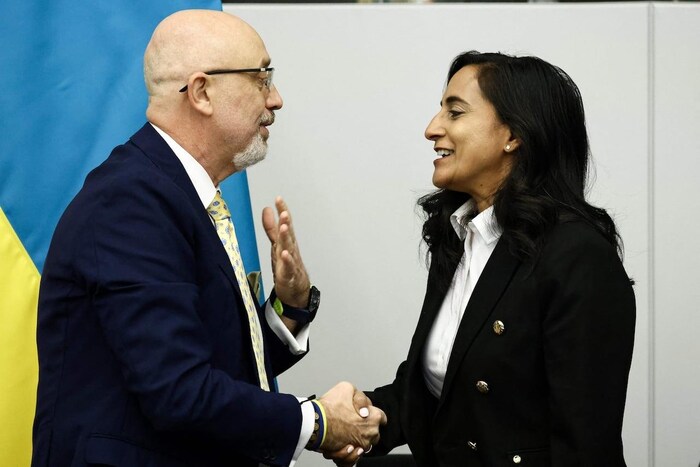 Defence Minister Anita Anand, who opened the annual CANSEC conference with a keynote address, was not present for Reznikov's speech. She was asked whether Ukraine had presented a specific list of Canadian high-tech equipment it would like to acquire.
I consider all information requests that are being provided to me by minister Reznikov, Anand said before touring the conference floor. I have been in touch with him and I will be meeting with him in the upcoming days.
Christyn Cianfarani, president and CEO of CADSI, said she can't speak to discussions individual companies may already have had with Ukraine, but her association, which is the representative of industry, has not seen a list that it can distribute to its members.
ABOUT THE AUTHOR
Murray Brewster (new window) · CBC News · Senior reporter, defence and security
Murray Brewster is senior defence writer for CBC News, based in Ottawa. He has covered the Canadian military and foreign policy from Parliament Hill for over a decade. Among other assignments, he spent a total of 15 months on the ground covering the Afghan war for The Canadian Press. Prior to that, he covered defence issues and politics for CP in Nova Scotia for 11 years and was bureau chief for Standard Broadcast News in Ottawa.