Home
Politics
Federal Politics
MPs expected to extend sittings to midnight until House rises for the summer
Liberal House Leader Mark Holland says the Conservatives are obstructing bills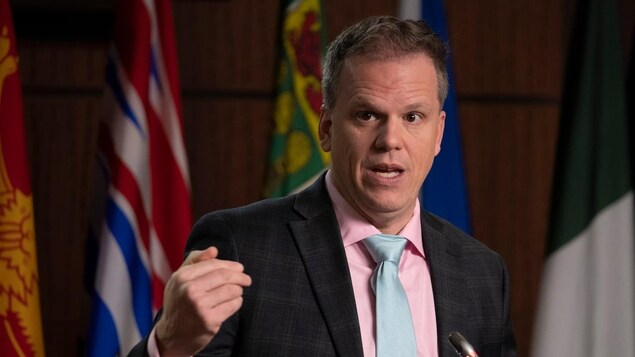 Government House Leader Mark Holland says MPs will have to extend the daily business of the House of Commons until midnight each day in order to get the Liberals' legislative agenda passed before the end of the spring sitting.
Holland accused the opposition Conservatives of deliberately obstructing House operations.
They are responsible, Holland told reporters in Ottawa Wednesday. When one party creates a condition where they refuse to share information … they unilaterally, as a single party, hold up every other party's ability to do the business of the country. 
Holland said that since the fall, he has been reaching out to the Conservatives to ask how many speakers they have on a given bill, how much time they have to debate it and what's on their agenda. He said he's received silence in return.
We have to effectively try to navigate the legislative session with blindfolds on, he said. 
And so … we're sitting here every night until midnight and we're going to get the work of the nation done.
CBC News reached out to Conservative Leader Pierre Poilievre's office for comment but has yet to receive a response. 
Holland said that while the Conservatives are expected to disagree with government legislation, that doesn't give them the right to withhold information as a tactic or strategy of obstruction.
Holland said the government has a number of key bills it wants to see pass the House before it rises for the summer and Canadians expect us to have a productive session and be able to finish it.
The Liberal legislative agenda
The government House leader said the Liberals want to see nine bills move through Parliament and one sent to committee before the summer break. The nine bills are:
The Budget Implementation Act, or C-47, which was tabled on March 28
Bill S-5, which updates the Canadian Environmental Protection Act
Bill C-42, which amends the Canada Business Corporations Act to make it easier to identify the beneficial owners of a company
Bill C-34, which amends the Investment Canada Act to allow ministers more time and authority to decide if foreign investments compromise national security
Bill S-8, which amends the Refugee Protection Act to ensure foreigners sanctioned under Canadian law are inadmissible to Canada
Bill C-18, which controversially seeks to make tech giants like Google compensate Canadian news organizations for content that appears on their platforms
Bill C-41, which amends anti-terrorist financing legislation to allow for the delivery of aid and immigration assistance in places controlled by terrorist groups, such as Afghanistan
Bill C-22, which establishes the Canada disability benefit for working-age Canadians
Bill C-35, which enshrines access to affordable child care in federal law and ensures the federal government provides long-term child care funding to provinces and Indigenous Peoples.
Holland also said that he would like to see Bill C-40 move on to the committee stage before summer. The legislation, also known as David and Joyce Milgaard's Law, would create an independent commission to review miscarriages of justice.
It's aggressive but … these matters are essential to Canadians and I think they expect us to get work done and that's exactly what we will do, Holland said. 
He said that despite the volume of bills his government wants to see pass, he is confident the House can get it done.
I wouldn't be here unless I felt confident that working with other parties ... that there's an agreement to bring them to a close, he said.