Home
Health
Public Health
Cigarette warning labels are about to get even harder to ignore in Canada
Canada to become first country to put warning labels on individual cigarettes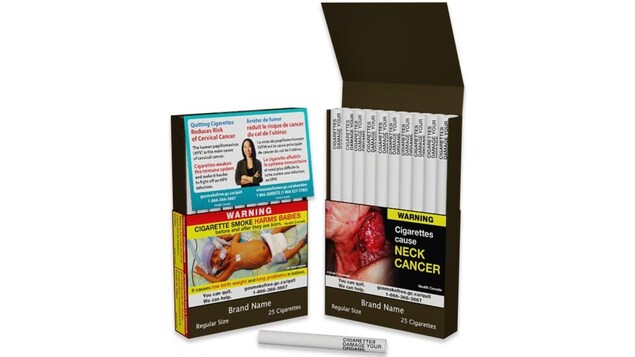 Health Canada has announced new warning labels to be printed directly on cigarettes in an effort to deter new smokers, encourage quitting and reduce tobacco-related deaths — a world first that experts hope will have a significant impact. 
There will be multiple sets of six warnings on the cigarettes themselves that will change in rotation with messages like: Cigarettes cause cancer,Cigarettes damage your organs,Tobacco smoke harms children and Poison in every puff. 
Health Canada will also include new health warnings on cigarette packaging, taking up a minimum of 75 per cent of the main display area of the package, that can be updated with the latest research available without having to change the regulations. 
Having a warning on every cigarette sold in Canada is a world precedent-setting measure, said Rob Cunningham, senior policy analyst at the Canadian Cancer Society.
The health warning is going to be there during every smoke break. And for youth who experiment by borrowing a cigarette from a friend, they'll have exposure to the health warning there as well. I expect that many countries internationally will follow this Canadian world first.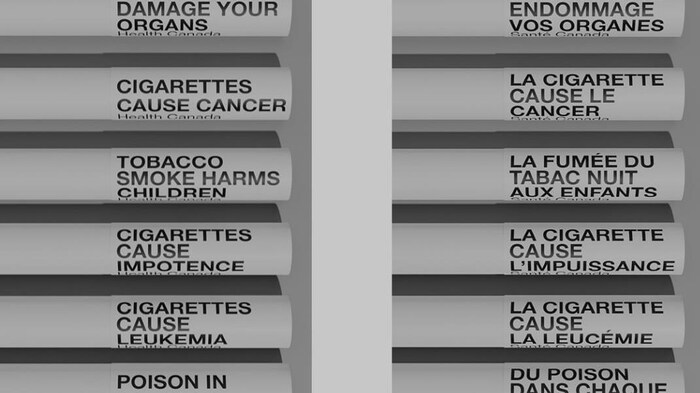 The regulations (new window) will begin to come into effect as of Aug. 1. Tobacco companies will be required to implement the first sets of restrictions for retail on king-size cigarettes (83-85 millimetres in length) by July 31, 2024, on regular-size cigarettes (70-73 millimetres in length) and on little cigars by April 30, 2025.
A new round of 14 picture warnings will also be required to appear on the outside of cigarette packaging by April 30, 2024, with a second new set of 14 picture warnings to appear two years later.
There will also be updated messages on the inside of cigarette packages required at retail stores by April 30, 2024.
The new and finalized regulations announced Wednesday were previously proposed in June 2022 as a draft regulation.
Canada is now a global leader of the pack when it comes to health warning regimes for cigarettes, said Doug Roth, CEO of the Heart and Stroke Foundation of Canada. Tobacco remains the leading cause of preventable disease and death in Canada and these important new measures will protect youth and support current smokers in their efforts to quit.
Geoffrey Fong, a psychology professor at the University of Waterloo and chief principal investigator of the International Tobacco Control Policy Evaluation Project, said the new warnings could help smokers on the edge of quitting. 
This is a new way of providing consumers with information about the deadly nature of these products, he said. Anything that is done to make the extraordinary harms salient is an important policy step.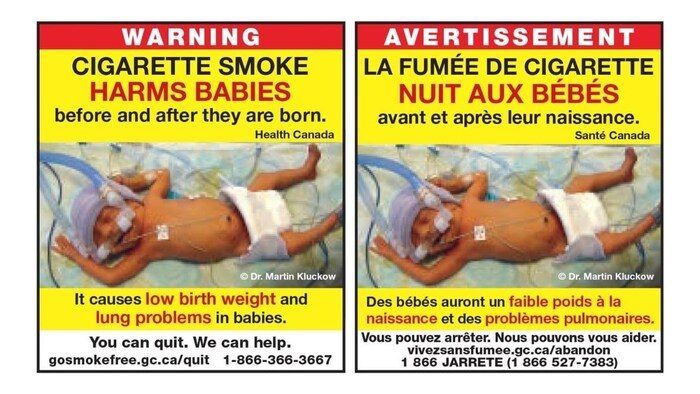 ---
'Enormous' evidence showing cigarette warnings work
The federal government's decision was announced on Wednesday on what is also World No Tobacco Day (new window) by the Associate Minister of Health and Minister for Mental Health and Addictions Carolyn Bennett. It is part of Canada's Tobacco Strategy (new window), which aims to achieve less than five per cent tobacco use by 2035.
Tobacco use continues to kill 48,000 Canadians each year. We are taking action by being the first country in the world to label individual cigarettes with health warning messages, Bennett said in a news statement.
This bold step will make health warning messages virtually unavoidable, and together with updated graphic images displayed on the package, will provide a real and startling reminder of the health consequences of smoking.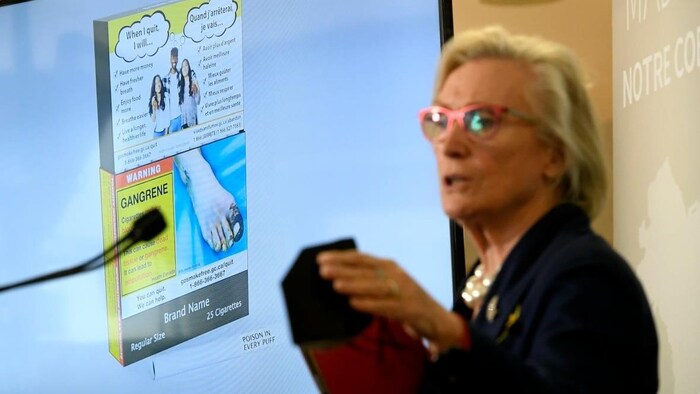 Health Canada said the health and economic costs associated with tobacco use in Canada were estimated at $12.3 billion in 2017, with direct costs to the health-care system of $6.1 billion.
While tobacco prevalence in Canada is currently estimated at 13 per cent nationally, Health Canada said the health-care costs due to tobacco use represent 47 per cent of all health-care costs associated with substance use in Canada.
It's going to have an impact to reduce smoking among adults and youth, said Cunningham, with the Canadian Cancer Society. We have almost 20 billion cigarettes sold each year in Canada, and to have a health warning directly on every cigarette is going to make a difference. It really changes the nature of the cigarette itself.
Cynthia Callard, the executive director of Physicians for a Smoke-Free Canada, said the changes to cigarettes and packaging have been in development for a number of years — but they were worth the wait.
As they did 20-plus years ago with the world's first picture-based warnings, Health Canada is breaking new ground in finding ways to better communicate the harms of these consumer products, she said. 
Hopefully other package reforms will soon follow.... There are few requirements for information to be provided on vaping product packages. We hope Health Canada will quickly move to ensure that young people are not misled into thinking these products are safe to try. 
Fong noted Canada has had warning images on cigarette packaging for close to 20 years, and there is an enormous amount of evidence showing they work to reduce smoking rates and hinder youth from starting smoking. 
A 2021 Chinese study published in BMC Public Health (new window) found that graphic warning labels on cigarette packs was associated with high levels of intention to quit smoking among current smokers in Shanghai, and the findings suggested implementing the labels would discourage smoking in China.
---

---
A 2006 study published in the BMJ (new window) by a group of Canadian and international researchers, including Fong, found gaps in knowledge among smokers and concluded that large, graphic warnings on cigarette packaging are more effective in communicating the health risks of smoking.
Now it doesn't mean every single person who sees the warning is immediately stopping smoking, he said.
But there's a significant portion of people who smoke, the majority of whom are thinking about quitting, and so they are on this kind of like knife edge of deciding whether or not they really should take the step to quit. 
ABOUT THE AUTHOR
Adam Miller (new window) · CBC News · Senior Health Writer
Adam Miller is a senior health writer with CBC News. He's covered health and medical science news extensively in Canada for over a decade, in addition to several years reporting on crime, politics and current affairs throughout Asia.