Home
Politics
Singh says he won't force an election until confidence in the electoral system is restored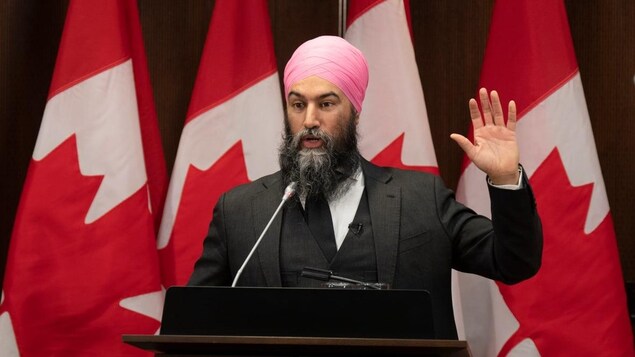 Former Conservative Leader Erin O'Toole says China worked to undermine his influence as MP, leader
NDP Leader Jagmeet Singh is dismissing calls to end his party's deal with the Liberals, saying confidence must be restored in the electoral process before he makes any decisions that could send Canadians to the polls.
I would question the approach of creating the conditions for an election, or triggering an election, as not serious about protecting our democracy, Singh said Tuesday.
If we want to protect our democracy, I would think the approach should be, let's put in place new measures … I would like to see a series of steps being taken and that to me would show some real seriousness about protecting our electoral system.
Former governor general David Johnston, now special rapporteur on foreign interference, published a report last Tuesday that probed the extent of foreign interference by China in Canada's last two federal elections.
Last week, Johnston controversially recommended the government not move forward with a public inquiry, citing the sensitive nature of the intelligence an inquiry would have to examine.
Both Singh and Conservative Leader Pierre Poilievre disagreed with that decision and continued to demand that Prime Minister Justin Trudeau call a public inquiry.
Poilievre and Bloc Québécois Leader Yves-Francois Blanchet have both said Trudeau and Johnston are self-declared friends and their longstanding ties are too close to allow Johnston to judge the prime minister's response to foreign interference.
Singh said Tuesday that while he has no criticism of Johnston's integrity or relationship with the prime minister, the appearance of a conflict of interest (new window) explains why his report failed to settle concerns about outside interference.
The NDP introduced a non-binding motion in the House calling on Johnston to step down and for a public inquiry to be struck, presided over by someone with unanimous support from all recognized parties in the House.
WATCH: Singh says it 'doesn't seem logical' to trigger an election:
Singh says it 'doesn't seem logical' to trigger an election amid foreign interference concerns
Facing questions about the NDP pulling out of their confidence-and-supply agreement with the Liberals, NDP Leader Jagmeet Singh says he 'would question the approach of creating the conditions for an election … as not serious about protecting our democracy.'
After introducing the motion, NDP MP Jenny Kwan told the House Tuesday that Johnston has to step down — because of his ties to Trudeau and because members of his team are also in a conflict of interest.
We are in a situation where Mr. Johnston does not enjoy the confidence of every member of this House for a variety of reasons, the latest of which is the discovery that his legal adviser made donations to the Liberal Party that surely should have been flagged, she said.
Kwan said that because the special rapporteur examining intelligence on China's attempts to interfere in Canada's electoral system can't reveal what those documents say, Canadians have to be able to take them at their word.
The person who is looking at these documents needs to be a person that everyone has the trust in. And I'm sorry to say Mr. Johnston does not enjoy that confidence, Kwan said.
That is a reality. No amount of talk will change that.
Last week, Poilievre said Singh should abandon his party's deal to support the Liberal government on confidence votes.
Is Jagmeet Singh going to stay in his coalition with Justin Trudeau and help him cover up this latest scandal? Poilievre said. Is Singh going to help Trudeau cover up the interference of a hostile foreign dictatorship in our elections?
On Tuesday, reporters pressed Singh to explain why he hasn't threatened to pull support from the Liberals unless they order a public inquiry.
If it's just about a game to trigger an election, then sure Mr. Poilievre's approach is tear it all down, have an election, Singh said. 
I actually don't think this is a game. I think this is serious. I want to make sure that there are steps in place, that there are recommendations being followed that actually reinforce our democracy. I want to see people believe in voting, I want to see people confident in voting and I want to restore Canadians' confidence in that. 
In the House of Commons Tuesday, former Conservative leader Erin O'Toole told MPs that he received a briefing from Canada's security services detailing four different ways China has targeted him. 
O'Toole said he considered carefully how he was going to reveal that information to the House to make sure he did not compromise national security or reveal sources.
He said the Chinese Communist Party worked to create and disseminate disinformation about him, to fund people engaged in efforts to discredit him, to discredit him publicly through Chinese social media and to target him with a campaign of voter suppression.
O'Toole also weighed in on the NDP motion, saying he supports efforts to press for a public inquiry. 
Rather than restoring faith in our institutions and democratic process, the perceived conflict of interest of the special rapporteur, ... the outcome-driven terms of reference he was given and the final report that followed them [have] actually deepened mistrust, he said.
Peter Zimonjic (new window) · CBC News