Home
Politics
Quebec launches new platform for signing up to learn French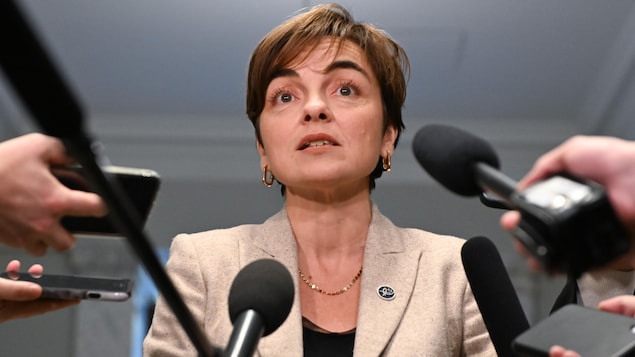 Bill 96 allows all Quebecers access to French courses
Starting June 1, Quebecers who want to learn French will be able to register for courses via a new online portal: Francisation Québec.
The portal, which will be accessible from Quebec.ca, is intended to be the government's new one-stop-shop for co-ordinating French-language learning services.
Christine Fréchette, minister of immigration, francisation and integration, and Jean-François Roberge, the minister responsible for the French language, launched the platform on Monday morning.
The new service was developed over the past year in response to increasing demand for French courses — which the government expects to grow even more in the coming months and years due to Bill 96.
Bill 96 made it a right for all Quebecers, including anglophones, to have access to French courses. 
Francisation Quebec, the new portal, will gather all French-language learning services in one place for new arrivals, future immigrants who want to learn French in preparation for their arrival, workers and Quebec residents who do not speak French.
Fréchette said the government will adapt to the expected increase in demand for French courses, and Francisation Québec is continuously recruiting teachers to meet it. Her department currently employs 550 teachers.
Meanwhile, the new service is expected to provide the government with more accurate data on who is learning French in the province. 
Current francization services were fragmented due to the large number of partners, so it was more difficult to obtain data on the number of people learning French, she explained. With Francisation Québec, we're going to consolidate, monitor and centralize this data, which will give us a more accurate picture of the situation.
In 2021-2022, more than 37,000 were undertaking steps to learn French through a government program in Quebec, an increase of 16 per cent over the previous year. For 2022-2023, the increase was even more pronounced, at 25 per cent, with a peak of nearly 46,000 registrants.
Fréchette attributes this growth to her government's investment in francization, which doubled between 2018 and 2022.
Guillaume Cliche-Rivard, Québec Solidaire's critic for immigration and francisation, said the launch of Francisation Québec was good news, but we'll only be able to judge its success by the results.
Priority must be given to creating the right conditions for successful francisation in the workplace,  and it remains to be seen how successful Francisation Québec will be in achieving this goal.
The Canadian Press with files from Rowan Kennedy