Home
Sports
72-year-old Quebec swimmer battling cancer takes gold at Canadian championships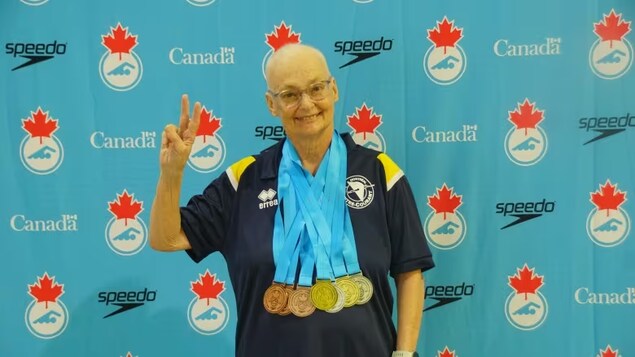 'She's a machine,' says husband
From her hospital bed in Sherbrooke, Que., Lina Courtois visualizes her artistic swimming routine. She points her toes and extends her limbs, imagining herself in the pool. It's Tuesday, the day of the week the 72-year-old pauses her training to receive chemotherapy. 
The treatment leaves her drained, but she doesn't want to miss a beat. Battling cancer, she still focuses on shattering her own records, one stroke at a time. 
The Ste-Catherine-de-Hatley, Que., native flew back home Sunday from the Canadian Artistic Swimming Championships in Calgary, where she competed in her first ever artistic swimming routine and won silver and gold medals. 
She also took home gold in both the 100-metre butterfly and 400-metre individual medley at the Canadians Masters Swimming Championships last week, also in Calgary. 
A lifelong swimmer and former physical education teacher, Courtois decided last September that she needed a new challenge and went all in to compete for the top prizes in Canada and internationally in artistic swimming.
That December, she was diagnosed with breast cancer. 
But she was undeterred. 
My coach tells me it's crazy. I know it's crazy, said Courtois of training and competing both in artistic swimming and racing.
Her coach, Sandrine Lemire, usually works with young children closer to seven years old than 70, but she was impressed from the first moment she saw Courtois in the water. 
She's amazing. She's always smiling. She comes to every practice and she works hard even though she had her chemo the day before. I'm really impressed by her work ethic, said Lemire, who travelled with her prodigious student to Calgary. 
But it was a stressful start for Courtois. 
I was very nervous, she said about competing for the first time in the Canadian Artistic Swimming Championships. She said some of the other swimmers in her category had been competing in artistic swimming for decades.
But swimming isn't just an activity to pass the time. It's how Courtois pushes her limits.
I have a competitive spirit. I want to see if I can improve. Like when I swim the butterfly, if my time gets better, my health gets better, so I really need to be tested. It's not training just for the fun of it, she said. 
Training while undergoing treatment for breast cancer has also meant learning lessons in humility, says Courtois.
After feeling exhausted from the chemotherapy, she had to get used to spending less time in the pool, slowly building up her strength and energy levels to train.
Now I do less, and I have to accept doing less, she said.
Others at the pool sometimes stare at her because of her shaved head, even at the competitions in Calgary, she says. She is expecting more curious looks after one of her breasts is removed this summer.
But I will adapt, she said. This year is training. Next year, I will be even better.. 
'Completely exceptional'
Cheering the swimming champion on from the stands, Serge St-Pierre describes his wife of 32 years as a fighter.
She's a really special person, said St-Pierre. Her energy is completely exceptional.
As a fan, St-Pierre doesn't just sit on the sidelines. He has been integral to helping Courtois train, filming her routine for her to analyze at the hospital so she could up her game. 
Inspired by his wife, St-Pierre has also begun to swim competitively and will be taking on the competition in his category in Calgary, too, though he concedes he may not be graced with the same gifts as his partner. 
I'm not as good as her, he said with a laugh. She is a machine.
Joe Bongiorno (new window), Alison Brunette (new window) · CBC News ·