Home
Politics
Albertans let Danielle Smith check her past baggage. Let's see where she lands next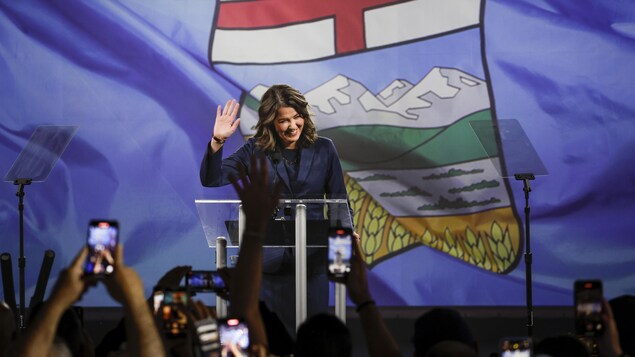 Only threat to her continued tenure now will be from within UCP
Shortly after Danielle Smith became premier last fall, communications director Jonah Mozeson made a small poster and pinned it up behind his desk. He printed a couple dozen copies and urged all ministers' press secretaries to similarly decorate their office walls.
The poster asked a simple question to United Conservatives, a thought experiment of sorts that would prove pivotal in Monday's election victory.
The question: Will this help us get elected in Calgary–Peigan?
That southeast Calgary riding was held by an MLA that Smith had shuffled to UCP's backbenches, but Tanya Fir's status wasn't the point.
According to Mozeson's math, Peigan was the bellwether, the red-line riding Team Smith absolutely could not afford to lose. If it flipped to the NDP, the government would, too.
The message was this: all aides and politicians, from Danielle Smith on down, needed to view every decision and public utterance through the lens of south Calgary suburbanites, and not say or do anything that would turn off that middle-of-the-road Albertan.
Translation: no vaccine skepticism, no spooking seniors about pensions, no zany policy brain waves. Tell voters in Calgary-Peigan how strong the economy will be under UCP rule, how stable their public services, how low their taxes, how pretty the picture.
A huge reason the UCP won and get to keep the premier's and ministers' offices is that one critical person was locked onto that tight message track for not just the entire campaign, but nearly all Smith's premiership.
That one critical person is and will remain Alberta's premier. (For now, at least.)
Keeping on the message track
The Danielle Smith that the NDP had depicted as extreme and erratic did not show up for the debate, or at any time during the election period — older clips notwithstanding. 
She'd turned her back on a lifetime of libertarian populism, of musings about health care user pay (new window) and doubt in science on climate change (new window) and public health (new window).
She largely jettisoned most of the ideas she'd campaigned on to win the UCP leadership and become premier seven months ago — an Alberta-only pension plan and police force, enshrining rights of the unvaccinated into the Human Rights Act, health spending accounts for uninsured services. She passed the Sovereignty Act as her Bill 1 last December, and then stopped talking about it once calendars switched to 2023.
With all those more divisive ideas purportedly behind her, Smith instead played a radio-friendly music mix of low taxes, safe streets, big spending — hello, Calgary Flames arena — and improved public health care.
That politician who reveres (new window) the libertarian streaks of divisive Republican governors Kristi Noem and Ron DeSantis? Smith campaigned more like an Erin O'Toole-style moderate (new window).
To do so, Smith had to suppress long-standing habit of embracing wild ideas, ones she either believed or got newly excited about. It took a determined UCP team to keep her on that message track, including an ever-present branding and communications consultant from Toronto, a campaign manager who'd previously sanded down the controversial edges of federal Conservative leadership hopeful Leslyn Lewis, and Mozeson, whose campaign title was director of script.
And Smith knows about sticking to scripts, after multiple career turns as a broadcaster.
She was so dead set on sounding blandly appealing that when a reporter asked her early in the campaign what the differences were between her and Jason Kenney — where would one begin with that list? — Smith avoided contrasting herself with the ex-premier whose COVID policies she'd decried, and insisted she really represented continuity atop the UCP.
(Further risk mitigation didn't hurt, spending most campaign days shielded from media.)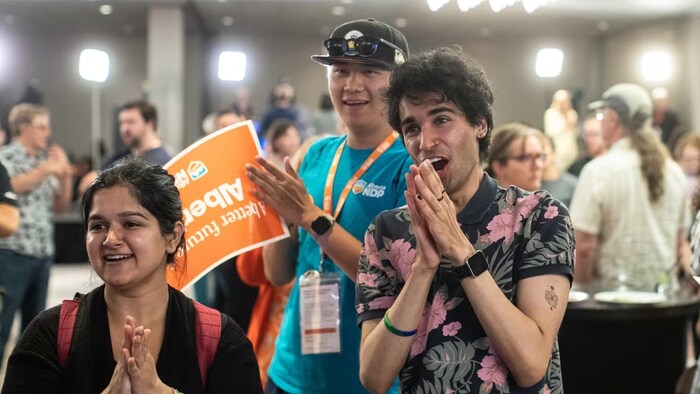 To win as the new-and-improved Danielle Smith, she tried to become the leader that Calgary–Peigan wanted her to be, and UCP handlers wanted her to be. They won the riding by a few thousand votes.
Even in a campaign that served up fresh reminders about how problematic Smith can be, with the ethics commissioner's finding Smith breached the Conflicts of Interest Act, and the 2021 remark likening vaccine supporters to people who abided Hitler's rise, it didn't seem to matter enough.
The NDP now appears to be Alberta's largest-ever opposition, and the seat gap may be the closest in provincial history, although still more comfortable than the razor-thin gap some were speculating about.
The UCP reversed a nearly two-year trend of polls showing them behind the NDP, dating back to Kenney's pandemic management. Perhaps more surprisingly, the 2023 model D-Smith managed to erase (new window) what used to be a wide popularity gap (new window) between herself and Notley. 
The UCP's steady attacks on its rival certainly helped even the scales on leadership popularity. As much as pundits wax on about the negativity of Team Notley's campaign, the Smith side often seemed to be just as unrelenting, constantly hammering at the economic and budgeting woes when Notley was premier between 2015 and 2019, and oil prices were in the tank.
They depicted a world of job losses, massive deficits, and recession. The NDP's promise to hike corporate taxes (while axing the less lucrative small business tax) gave conservatives ammo to reinforce those sentiments and the bitter memories.
Keeping the coalition afloat
Smith's campaign slogan Moving Alberta forward often seemed to be coined for its flip side, the warnings that NDP would take the province backwards.
Bundle that in with the steady drumbeat of ads and pamphlets claiming Notley was beholden to federal leaders Justin Trudeau and Jagmeet Singh (new window), and the UCP cooked a hearty traditional stew of reasons why longtime conservative voters shouldn't take a leap into the progressive unknown with the NDP.
The video endorsements by Conservative icons Stephen Harper and federal leader Pierre Poilievre reinforced those messages, and may have gone some lengths to keeping the coalition from leaking support. After all, this was the reason why Kenney had created this party, as an election-winning juggernaut that the NDP could never beat.
Somewhere on Monday night, Kenney must have put his feet up and thought to himself: I've built a party so strong that not even Danielle Smith could screw it up. 
Even if Smith did manage to improve her approval rating over the course of the campaign, that won't erase the memory that so many candidates have of several weeks of hearing at the doors how much voters disliked the UCP leader.
There's a reason you'd see the NDP line public boulevards in Calgary suburbs with Rachel Notley lawn signs, but good luck finding a sign or billboard with Smith's name within city limits. Even a leader with resurgent popularity was still less favoured than her party.
And it's with that sense that Smith, although her premiership is now endorsed by Alberta's populace, has no four-year lock on her job. The UCP and its predecessor parties have proven so good at chewing and spitting out their own leaders that no conservative premier has served a full term since Ralph Klein won in 2001 and survived to fight the 2004 contest. Klein got pushed out a couple years later, and conservatives never gave Ed Stelmach, Alison Redford, (the losing) Jim Prentice or Jason Kenney a chance to run a second general campaign.
But Smith is likely the first one in that premier's line who comes into her elected term with her departure being an active calculation among the public and partisans.
Few MLAs had supported her leadership, even if they were all playing nice in the caucus she'd strived to keep united. They will look around at some urban candidates who went down to defeat, like Kaycee Madu in Edmonton and Jason Copping in Calgary, and wonder if a less polarizing leader could have done better, and given them fewer arrows to dodge when they went door knocking.
From her 2014 floor crossing to the actions that led Smith to be found in breach of rules by the ethics commissioner, unpredictability has long been a predictable facet of her career, despite her low-risk, low-error campaign.
On the outside keenly looking in, there's Take Back Alberta (new window) (TBA), the grassroots group whose cries of freedom began in opposition to the Kenney government's COVID rules.
TBA enlisted activists to help turf Kenney, vault Smith into the premier's chair and has begun to take over elements of the UCP apparatus, from constituency associations and provincial board seats to candidate selection. Group leader David Parker has insisted to followers we need to control the party and make politicians accountable to them — and while they're on Smith's side now, those populist conservatives liked Kenney, too, until they decidedly didn't.
If broadcast Danielle Smith was different from UCP leadership contender Danielle Smith was different from pre-election Premier Danielle Smith and election campaign Danielle Smith … what sort of Smith will Albertans get, now that she's secured a mandate?
She pivoted rather quickly and decisively when she went from wooing United Conservatives to wooing the public. Now, she's supposed to govern for all Albertans, but the only threat to her continued tenure will be within the UCP.
Keeping the factions in line
She could remain on the moderate track, and recognize the riskiness of past ideas on pensions or experimentation with the health-care system. My oath is to serve all Albertans, no matter how you voted, Smith said in her victory speech.
But then she'll also have to find ways to keep the more hardline faction of her party satisfied, and now given the urban losses her party suffered, her more heavily rural caucus as well.
One piece of red meat Smith may throw to her base comes quickly in June, when we're supposed to get a report from Smith's public health emergency management panel, chaired by COVID rules skeptic Preston Manning, the former Reform Party leader.
Will the moderate Smith be here for keeps, now that the vote has ratified in her team's mind what it is that the public wants from her? Or, to borrow a line from the film The Usual Suspects, what if the greatest trick Old Danielle ever pulled was to convince the world she no longer existed?
Smith and the rest of us now know what it took to get elected in Calgary–Peigan, but doing what it takes to stay on as leader may mean listening to a different audience. The mantra on corkboards in cabinet aides' offices may change, but to what?
As Albertans watch eagerly, the UCP now has time to figure all that out. 
Jason Markusoff (new window) · CBC News