Home
Science
What can we expect from clean hydrogen in Canada?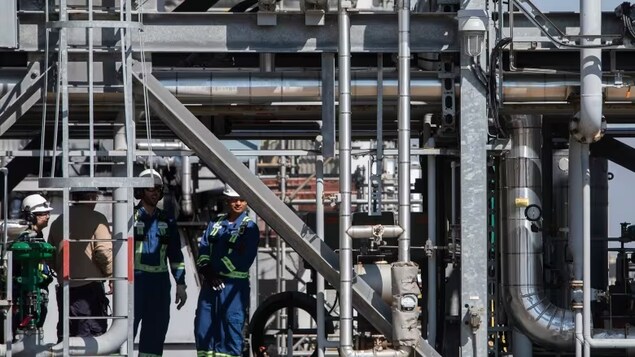 The industry is earning international interest, but some suggest expectations should be tempered
As the world races to find effective climate solutions, hydrogen is earning buzz as a potentially low-emitting alternative fuel source. 
The promise of hydrogen as a clean fuel source is nothing new — as far back as the 1970s hydrogen was being promised as a "potential pollution-free fuel for our cars (new window)."
While hydrogen hasn't yet taken off as the fuel of the future  — a 2023 report from McKinsey & Company and the Hydrogen Council  (new window)estimates that there is a grand total of eight hydrogen vehicle fuelling stations in Canada — many still hope that will change.
The hope is hydrogen will play a significant role in combating climate change, serving as a low-emissions substitute for fossil fuels in power generation, home heating and transportation, and today, interest in a Canadian clean hydrogen industry may be starting to bubble over.
People are super excited about hydrogen because of the opportunity to use it as a clean chemical fuel. So, as a displacement for natural gas, diesel, gasoline, jet fuel, said Andrew Gillis, CEO of Canadian hydrogen company Aurora Hydrogen. 
Plans for low or zero-emissions hydrogen projects are beginning to take shape across the country. But, at the moment, hydrogen is far from a low-emissions fuel, which is why some experts suggest expectations for the resource should be tempered. 
ARCHIVES | Jack Nicholson promoting a hydrogen car in 1978:
The International Energy Agency (new window) indicates that in 2021, global hydrogen production emitted 900 million tonnes of carbon dioxide — roughly 180 million more than the aviation industry (new window) — as roughly 99 per cent of hydrogen production came from fossil fuel sources. 
There is a concern that the role of hydrogen in the process of decarbonization is being very greatly overstated, said Mark Winfield, professor of environmental and urban change at York University. 
A growing excitement 
In 2020, the government released a hydrogen strategy (new window), aiming to cement hydrogen as a tool to achieve our goal of net-zero emissions by 2050 and position Canada as a global, industrial leader of clean renewable fuels. 
The latest budget includes over $17 billion in tax credits between now and 2035 to help fund clean hydrogen projects.
Today, the most common application for hydrogen in Canada is as a material in industrial activities such as oil refining and ammonia, methanol and steel production, according to Natural Resources Canada (new window). 
But, the buzz around hydrogen isn't exactly over its industrial applications, said Aurora Hydrogen's Gillis.
All these sorts of things where we currently have emitting gaseous or liquid chemical fuels, hydrogen's an opportunity to replace those and access the energy without creating emissions at the point of us, Gillis said. 
When used in a fuel cell, hydrogen can produce electricity for transportation, heating and power generation without producing common harmful emissions like nitrogen oxide, hydrocarbons and particulate matter (new window) — BloombergNEF estimates (new window) that hydrogen could meet 24 per cent of global energy demand by 2050. 
A growing industry
Canada's hydrogen strategy (new window) aims to have 30 per cent of end-use energy be from clean hydrogen by 2050. According to the strategy (new window), Canada produces an estimated three million tonnes of hydrogen per year from natural gas today, but the strategy doesn't indicate how much hydrogen is produced from low-emissions sources.
In recent years, the Canadian clean hydrogen industry has earned international interest.
In 2021, Canada signed a memorandum (new window) of understanding with the Netherlands to help develop export-import corridors for clean hydrogen between the two countries. Canada also recently inked a deal with Germany (new window) to start exporting the resource there by 2025.
But while a low-emissions hydrogen plant went online in Becancour, Que (new window)., in 2021, the rest of Canada's clean-hydrogen industry seems to be in the early stages.
Canada's East Coast has been drawing interest as a destination for wind-powered hydrogen projects, with new hydrogen projects planned in (new window) all four Atlantic provinces (new window) — some with price tags (new window) in the billions (new window). 
In Manitoba, two clean hydrogen projects (new window) are in the early phases — one hopes to be producing by the year's end (new window).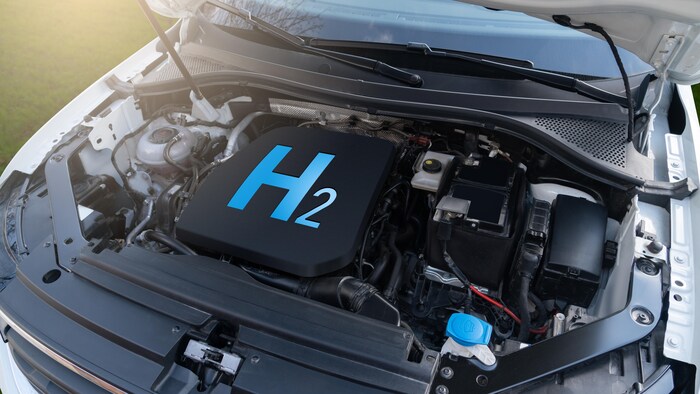 This past winter, the federal government and Alberta announced a $461-million investment into (new window) a hydrogen plant in Edmonton that would use carbon-capture technology and is aiming to produce in 2024.
Atura Power (new window) is set to have a Niagara, Ont., plant operational in 2024, while both the Varennes Carbon Recycling Plant in Varennes, Que (new window)., and HTEC's clean hydrogen plant (new window) in Vancouver aim to be online by 2025.
What is clean hydrogen?
The emissions capacity of hydrogen is dependent not only on how hydrogen is used, but also how it is produced. 
Hydrogen produced from fossil fuel sources often uses steam-methane reforming — a method of separating hydrogen from carbon in natural gas — and is commonly referred to as grey hydrogen, said Winfield.
Lower-emissions hydrogen can be produced with fossil fuels using carbon capture and is often referred to as blue hydrogen.
Emissions-free hydrogen — or green hydrogen — is typically produced by using renewable electricity for electrolysis, a process of splitting water into hydrogen and oxygen without producing carbon emissions. 
How you make your hydrogen counts quite significantly in terms of how helpful it is or what kind of trade-offs you're involved in, Winfield said.
WATCH | How green is green hydrogen?
Is green hydrogen really eco-friendly?
Green hydrogen has been labelled as one solution for Canada to meet its net zero goal by 2050. CBC's Frances Willick finds out if green hydrogen is really better for the environment.
'Rainbow of bullshit'
Paul Martin, chemical engineer and co-founder of the Hydrogen Science Coalition (new window), says the so-called hydrogen rainbow is more myth than reality. 
There is only one colour — the rainbow of hydrogen is this rainbow of bullshit; this rainbow of euphemism, he said. 
On the global scale, nearly all hydrogen production is from high-emitting grey sources, according to the International Energy Agency (new window); less than one per cent of the world's hydrogen production uses carbon capture or electrolysis. 
Martin has doubts about the viability of green and blue hydrogen. One consideration is the cost of production, he said.
Compared to grey hydrogen, blue hydrogen can be over 40 per cent more expensive, while green hydrogen can be 32 per cent to nearly 300 per cent more costly, according to Canada's Commissioner of the Environment and Sustainable Development (new window). 
Winfield said efficiency also needs to be considered — using electricity to produce green hydrogen for fuel adds unnecessary steps to the energy process. 
For example, rather than use electricity to produce green hydrogen, which is then used in a fuel cell for home heating, it would be more efficient to pump that electricity directly into something like a heat-pump (new window), Winfield said. 
WATCH | CBC's Terry Milewski talks about the promise of hydrogen cars in 2006:
ARCHIVE | CBC's Terry Milewski explores hydrogen fuel cell technology in 2006
Hydrogen has long been hyped as the fuel of the future, but forecasts of how quickly that would happen have failed to materialize in the past.
As well, there's a lack of infrastructure, Winfield said, pointing out that hydrogen can't be shipped using existing natural gas infrastructure. 
A 2022 audit from Canada's Commissioner of the Environment and Sustainable Development (new window) found that Canada's hydrogen strategy was overly optimistic, in terms of the greenhouse reducing capabilities of hydrogen. 
Niche applications
Aurora Hydrogen uses microwave energy to convert methane into hydrogen and solid carbon, which Gillis says will produce no CO2 emissions and use 80 per cent less electricity than electrolysis.
There's lots of stuff that people are going to want to electrify, and hydrogen production is probably going to be lower on the list, Gillis said.
So the extent that we can produce hydrogen with a minimum amount of electricity required, we think that's a strong benefit.
Gillis believes his technology can be scaled up efficiently. He aims to reuse existing natural gas and electricity infrastructure — not to ship hydrogen but to ramp up production of hydrogen quickly and cost-effectively at the point where the resource will be used. 
But Aurora's new technology will be put to the test this year at their first demonstration plant outside of Edmonton, which Gillis says will produce enough hydrogen to fuel 10 buses continuously.
Winfield suggests there is a place for green hydrogen, even if it's not a perfect substitute for fossil fuels. 
Using green hydrogen for certain industrial processes, such as steel and cement making or the production of certain petrochemicals and fertilizers, could make sense, said Winfield.
He also suggests hydrogen might have a place in the long-distance heavy-duty transportation sector (new window) where electricity has proven difficult due to battery weight and size issues.
There are very specific circumstances under which it makes sense, but those are not necessarily universal, said Winfield.
Adam Beauchemin (new window) · CBC News