Home
International
Canada, Saudi Arabia agree to restore relations 5 years after diplomatic feud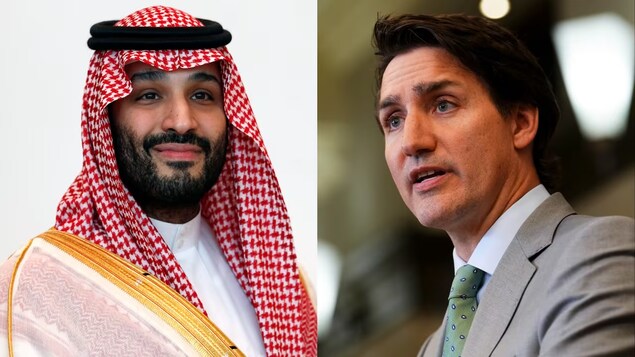 Saudi Arabia expelled Canada's ambassador in 2018 over Ottawa's criticism of the kingdom's human rights record
Canada and Saudi Arabia have agreed to name new ambassadors nearly five years after a diplomatic conflict halted relations and strained trade between the two countries.
Global Affairs Canada (GAC) released a statement Wednesday announcing the decision. The news was first reported by Reuters.
Prime Minister Justin Trudeau met with Saudi Arabia's Crown Prince Mohammed bin Salman on the sidelines of the Asia-Pacific Economic Cooperation (APEC) summit in November.
GAC's statement suggests the two leaders discussed restoring relations at that time.
In light of what has been discussed between [Trudeau and bin Salman] ... and the desire for both sides to restore diplomatic relations between the two countries on the basis of mutual respect and common interests, it has been decided to restore the level of diplomatic relations with Saudi Arabia to its previous level, the statement reads.
Saudi Arabia's foreign ministry tweeted a similar statement on Wednesday.
Jean-Philippe Linteau has been named Canada's new ambassador to the Middle Eastern kingdom.
Saudi Arabia ordered Canada's ambassador to leave the country and announced it was freezing all new trade and investment transactions with Canada in August of 2018. The kingdom also recalled its own ambassador at the time.
The move was seen as retaliation against Ottawa over its criticism of Saudi Arabia's human rights record — specifically a GAC tweet that raised concerns about the arrests of prominent women's rights activists, including Samar Badawi.
Badawi is the sister of Raif Badawi, a Saudi dissident blogger who has been imprisoned by the Saudi government since 2012 on charges of apostasy and insulting Islam through electronic channels. Raif Badawi's wife Ensaf Haidar and their three children fled Saudi Arabia to Canada in 2015.
Darren Major (new window) · CBC News