Home
Politics
MP Han Dong says he wants to rejoin Liberal caucus after being 'vindicated' by Johnston's report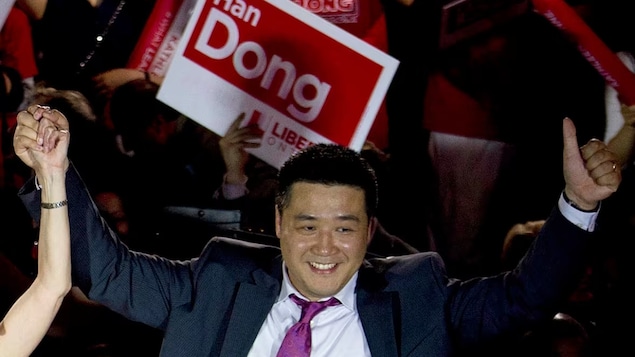 Independent MP left the caucus after media story claimed he meddled in detentions of Kovrig and Spavor
Independent MP Han Dong says he wants to return to the Liberal caucus now that special rapporteur David Johnston's report on foreign interference has concluded that a high-profile allegation made against him was false.
The Toronto-area MP left the caucus in late March to sit as an Independent MP after Global News published a report alleging he advised a senior Chinese diplomat in February 2021 that Beijing should hold off on freeing Michael Kovrig and Michael Spavor — the two Canadians being held by China at the time.
When asked by CBC News if he wants to rejoin the Liberal caucus, Dong said he did.
I absolutely want to get back to caucus, Dong told CBC News on Wednesday. 
Prime Minister Justin Trudeau said Wednesday that Dong chose to step away from caucus to clear his name and rejoining now would be his choice.
I look forward to conversations with Han about whether he wants to come back, and whether his fight to clear his name is ongoing ... said Trudeau.
It's rare for MPs to return to caucus after stepping aside or being kicked out.
Since Trudeau became Liberal leader, almost a dozen other Liberal MPs have left or have been dropped from caucus to sit as Independent MPs for various reasons — including misconduct allegations — according to the House of Commons website (new window). None have returned to caucus. 
WATCH: Liberal MP Han Dong announces he's leaving Liberal caucus
Liberal MP Han Dong announces he's leaving Liberal caucus amid foreign interference allegations
Han Dong, the Toronto area MP at the centre of allegations that his election campaign benefited from Beijing's meddling, says he is leaving Liberal caucus and will sit as an independent.
A Global News story posted in March alleged Dong secretly advised a senior Chinese diplomat in 2021 to delay freeing Spavor and Kovrig, who were being held by China at the time.
The federal government said both men were arbitrarily detained. Their detention, which lasted more than 1,000 days, was largely seen as a retaliatory move in response to Canadian authorities carrying out a U.S. extradition request and arresting Huawei executive Meng Wanzhou in Canada in 2018.
The Global story suggested that, just over two years into Spavor and Kovrig's detention, Dong told Chinese consul general Han Tao to hold off on releasing them because the Conservatives would benefit if they were freed.
Johnston investigated the claim and concluded the allegation was false, says his report.
Mr. Dong discussed the 'two Michaels' with a PRC official, but did not suggest to the official that the PRC extend their detention, the report says.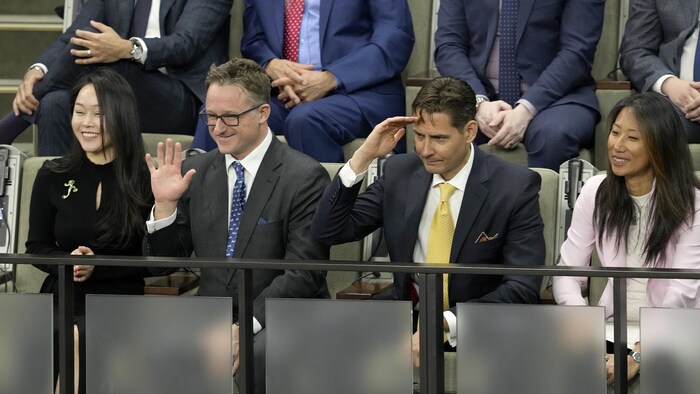 Johnston's report says that Dong did continue to maintain close relationships with China's consular officials up to at least the 2021 federal election. Heading into that election, security and intelligence officials were well aware of the threats posed by foreign interference and were actively monitoring them, Johnston's report says. 
Johnston also looked into another allegation reported by Global News — that the Chinese government interfered in the nomination process that chose Dong as the Liberal candidate in Don Valley North. Johnston says in his report that intelligence and interviews with top officials did find irregularities were observed with Mr. Dong's nomination in 2019.
... There is well-grounded suspicion that the irregularities were tied to the PRC Consulate in Toronto, with whom Mr. Dong maintains relationships, Johnston writes.
Johnston said he didn't find any evidence that Dong knew about China's potential involvement in his nomination.
Johnston says in his report the prime minister was briefed on the irregularities and found there was no basis to remove Dong as a candidate. The report concludes Trudeau's decision was not an unreasonable conclusion based on the intelligence available to the prime minister at the time.
WATCH/Trudeau defends MP following reports of Chinese interference in election 
Trudeau defends MP following reports of Chinese interference in election
Prime Minister Justin Trudeau is defending Liberal MP Han Dong following media reports that a Chinese interference campaign helped him get him elected. Meanwhile, he faces growing calls for an inquiry into the claims.
A Global News story also alleged Dong was one of at least 11 candidates in Toronto ridings that Beijing supported during the 2019 election. Global news reported China gave $250,000 to the candidates.
Johnston called it one of the most inflammatory allegations. He concluded that it appears from limited intelligence that the Chinese government planned to send money to seven Liberal and four Conservative candidates in the federal election through proxies.
There is uncertainty about whether there was money, if it actually went to staff or the provincial MPP, and there is no intelligence suggesting any federal candidates received these funds, wrote Johnston. 
I feel vindicated by Mr. Johnston's report, Dong said in a statement released Tuesday.
He called on Global News and its parent company Corus Entertainment to retract their stories and issue an apology. Dong filed a $15 million defamation lawsuit in April against the media companies.
In a statement issued in March, Global News said it is governed by a rigorous set of journalistic principles and practices, and we are very mindful of the public interest and legal responsibility of this important accountability reporting.
CBC News requested a comment from the Prime Minister's Office and Global News on Wednesday morning and has not yet heard back.
Ashley Burke (new window) · CBC News