Home
Politics
Afghans left in limbo in Greece urge Ottawa to speed up resettlement process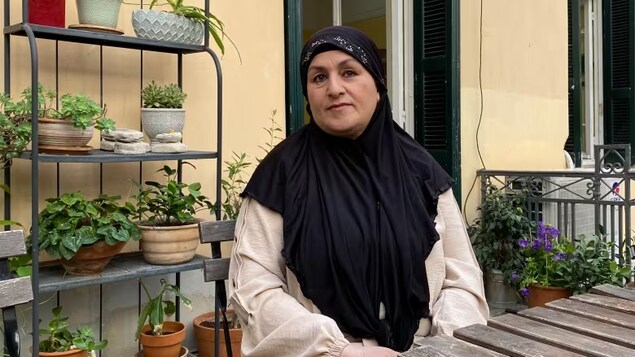 'We cannot continue like this,' says former Kabul prosecutor after 2 years of waiting
In 2021, Parwin Hamkar and her family fled Afghanistan for Greece in what was meant to be a temporary stopover until they could start a new life in Canada.
Almost two years later, what was supposed to be a simple step has turned into an endless wait. 
Even if we still have hope, we cannot continue like this. Every day is more and more difficult. Psychologically I'm not well but we don't have other options, said Hamkar, through tears.
A former prosecutor in Kabul, she was evacuated to Greece along with hundreds of Afghan women in positions of authority (new window) and their families shortly after the Taliban came to power in August 2021. 
Greece had offered them temporary shelter until they could find refuge in another country. But she, her husband and two minor children are still waiting for a final decision from Immigration, Refugees and Citizenship Canada (IRCC).
We don't know if we are leaving or not. Every time we try to contact the IRCC, it's difficult, they don't respond easily. When they respond, they say you're in the process, so you need to wait. But for how long? said Hamkar.
Ottawa has pledged to welcome at least 40,000 Afghans (new window) to the country after the Taliban took power. But almost two years later, only 31,000 have made it to Canada (new window). Ottawa has faced widespread criticism for months (new window) over the slowness of the process.
WATCH: Thousands of Afghan refugees still waiting:
30,000 Afghan refugees now in Canada, but thousands wait in fear
Canada has welcomed 30,000 Afghan refugees, the majority of whom helped the Canadian Armed Forces, since the Taliban gained control in 2021, but thousands are still waiting in fear for their lives.
Hamkar said she can no longer endure the situation. But above all, she has a hard time understanding why other Afghans evacuated at the same time as her family, or even an older daughter who sent a separate application, have already been able to move to Canada. 
It's unacceptable because we came on the same flight, the same group from the same country. How is that possible? … It's unfair. It's a kind of torture for us.
The last 21 months in Greece weren't easy, she said, between the trauma of her hasty departure and now, the wait. 
Every morning when my son wakes up, he asks me if I can check my email, he says maybe today we will have good news. When I say no, there is nothing, he's crying. We are frustrated, we want to give up, we don't know what to do. We're begging Canada to please do something.
A long journey 
Homa Ahmadi has a similar story. 
As a member of the Afghan parliament, she says she realized that her life was in danger when the Taliban took over in 2021. 
When I heard that they were coming to the parliament, I immediately left and tried to return to my house. But it was too late, the Taliban had already attacked my place. So I had no choice but to hide at a friend's house, said Ahmadi.
While she was trying to escape at the Kabul airport on Aug. 26, 2021, a suicide bomber killed nearly 200 people. She vividly remembers the carnage all around her.
It was horrible. 
After hiding for one month, she was finally able to reach Greece with her family, after a long journey through Iran, Iraq and Georgia. Like others, they thought it would only be a shortstop to Canada.
But after 20 months in Greece, she says she feels left in limbo by Canada. The family sent their application to IRCC in November 2021, and they are still waiting for the final decision. 
Why do they keep us here without any reasons or explanations? My husband and I are feeling sick and one of my daughters is very anxious. She lost more than 10 kilos [22 pounds], explained Ahmadi, gripping her cellphone, where she regularly checks the status of their application online.
Ahmadi said she is especially concerned for her 14-year-old daughter, who hadn't been to school for two years in Afghanistan due to COVID restrictions, and still hasn't been to school since they moved.
It's depressing. As a mother, it's difficult to look at her and see her suffering.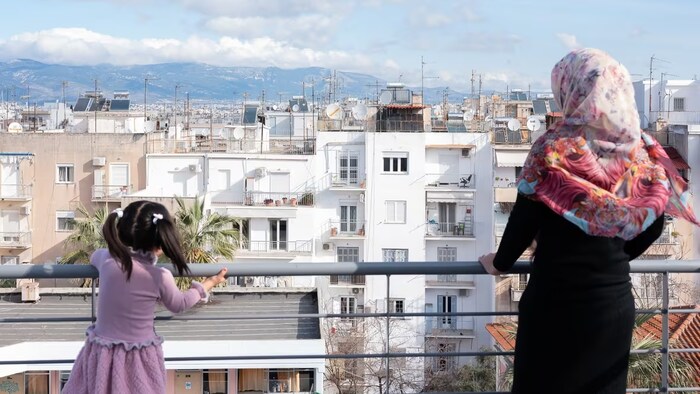 Several family members, including one of her sons, have already been approved and moved to Canada. 
On top of the wait, she says she still feels hunted by the Taliban. One of the leaders recently posted on social media a list of women to be executed, she said. She is one of them. 
They say even if these women are abroad they have to be destroyed, removed from the world anywhere they are. Every day I see myself in danger, said Ahmadi, trembling. 
Not an isolated case
Ahmadi and Hamkar aren't isolated cases, according to Nadina Christopoulou, co-founder of Melissa Network, a Greek NGO involved in efforts to evacuate Afghans to Greece. 
Christopoulou said that around a dozen families are still waiting to hear if their applications to IRCC were approved, almost two years after their arrival in Greece.
When they applied to the Canadian program, they entered a symbolic space of promises. It's very difficult for them to understand why time is passing and they cannot move forward with their kids. It's like agony, said Christopoulou.
The organization, which provides support and activities, is also asking Ottawa to speed up the resettlement process. 
The sooner they will get there, the sooner they will be active again, regain their confidence and start a new life. I really hope that it will move faster because I don't want to see them stuck for the next school year, added Christopoulou.
In an email statement, IRCC said they're processing applications as quickly as possible, adding that IRCC has mobilized existing staff and hired additional resources to support Canada's special immigration programs.
IRCC also explained that each application is different, and some may require longer delays than others, but they're still confident they will resettle at least 40,000 vulnerable Afghans by the end of 2023.
For security reasons, Canadian authorities said they could not disclose how many cases of Afghans in Greece are still being processed.
But as they wait, Hamkar is taking lessons to improve her English and dreams of the snowy landscapes of Canada.
Ahmadi dreams of seeing her daughter's dream come true. 
She wants to go to space, she wants to be an astronaut. I hope she can do it one day and become the first to put the Afghan flag there.
Romain Chauvet (new window) · CBC News