Home
Society
How 4 Asian Canadians are dismantling the pervasive and harmful 'model minority' myth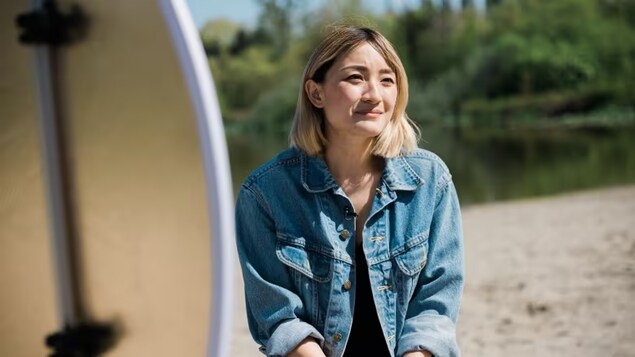 The 'insidious' myth harms everyone, artists and activists say
Intelligent. Hard-working. Quiet. Obedient. Analytical. High-Achieving.
These are the pervasive stereotypes of the "model minority" myth (new window) some Asian Canadians and immigrants say plagues every aspect of their lives, keeping them from being seen and living as their full authentic selves.
Now younger generations say they want to dismantle the competition for white approval the myth creates between Asian communities and other communities of colour.
This Asian Heritage Month, CBC spoke to four artists and activists who are pushing back on the limits the stereotype imposes on who Asian Canadians can be.
The toll that the model minority takes on you is very insidious because, from the outside, it just looks like you're a happy, successful person, said Zoe Si, a writer and illustrator in Vancouver. 
As a child, Si was good at school and considered the stereotypes as part of her identity.
It didn't occur to me that the fact people didn't see the other parts of me, that they only saw me as a Chinese kid who was good at school, was a bad thing, said Si.
But when she began working as a litigator as an adult, Si felt she was constantly underestimated.
The racial justice reckoning and anti-police brutality protests in the spring of 2020 finally made her realize she needed to stop trying to prove herself.
She slowly expanded her side work illustrating cartoons and eventually received a deal for her first book. 
Now Si is a contributing writer and illustrator for the New Yorker, where she was named a finalist for the Pulitzer Prize for illustration in 2022.
Being able to step fully into a career as an artist has changed me, said Si. I never knew that this could be my career path.
Myth erases the 'full self'
Growing up in India, Nishant Jain was in his late 20s the first time he realized others saw him as a minority.
When his engineering research took him to Chicago, and he began to perform stand-up comedy like he always dreamed, he was faced with expectations of what kind of person and performer he was allowed to be.
As he continued doing political writing during the Trump years, Jain recalls a friend asking why he wasn't more grateful to live in the United States.
In an instant, he says he realized that it was hard for even friends to see him outside of the identity of an immigrant or visible minority.
Jain felt reduced to someone who could not be critical, angry or frustrated at racism because of those expectations.
Whether you're a model minority or a 'bad minority,' there is a very narrow idea of who you are, said Jain. I want to be in a place where I can be my full multidimensional self.
Having since left engineering, Jain is now an artist, cartoonist and writer full time in Vancouver.
At a certain point … you have to stop, and you have to decide for yourself where your limits lie and at what point you're sacrificing too much, said Jain.
Roots in white supremacy
Kimberley Wong knew at an early age they would never fit the mould of a model minority.
Wong, who later came out as queer and learned they were neurodivergent, didn't do well in school and felt like a black sheep.
Their parents had grown up in poverty and were deeply impacted by the allure of things like assimilation and … the myth of the model minority, they said. It led them to jobs in the financial sector because capital was an easy way to climb the social ladder, they explained.
Wong felt they had no blueprint for what kind of life they wanted outside the myth until they found community with other queer artists.
Learning about their family's Cantonese ancestry and the history of Chinese migration to build the railway, a major colonial project, helped them make sense of the mould they were trying to break.
The model minority myth works to make certain people who are less threatening to white supremacy … the right-hand man to white supremacy, Wong said.
Dismantling it happens by fighting for equity for those who so deserve it and who will never fit into that box that has been made for us, Wong said.
Building solidarity
Hearing the model minority myth still sends Johnny Trinh into a blind rage.
The actor, writer, artist and poet says the myth has made his career fraught with pressures to limit himself into being typecast or tokenized, particularly early on.
The myth pits one culture over another …and it's all centred around whiteness, said Trinh, now the artistic director of Vancouver Poetry House. 
Trinh focuses on building intercultural solidarity in his artistic practice, as he pointed out existed to an extent on the railroad despite its colonial purpose. 
Neighbouring Indigenous communities often were the ones to rescue exhausted Chinese workers left for dead.
It's vile … but it shows that within the system, we can find solidarity, work together and build community, which is really beautiful, said Trinh.
For those of us who benefit from the model minority myth, it's about making sure that we create spaces that amplify these stories and … get the people in power to listen and change the systems.
For those looking to be allies, Trinh says he prefers the term engaged bystanders because it calls on people to reflect and take action.
"When we witness each other struggling or succeeding, how do we intervene or amplify and support?"
Moira Wyton (new window) · CBC News