Home
Politics
Alberta flooded with applications from international nurses as requirements eased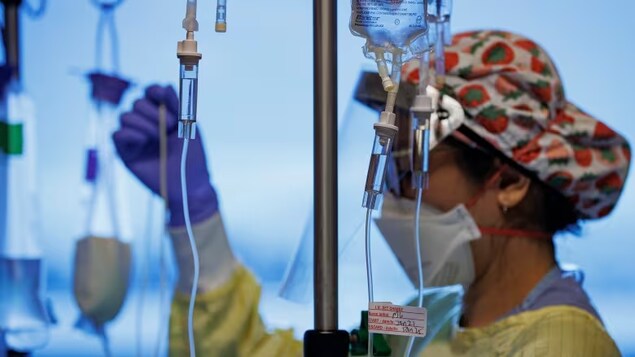 Regulator overhauled its process for foreign nurses last month
Holly Gumz misses the quiet moments by a patient's bedside.
To hold their hand and to be in a close proximity and to tell them that even if you don't know the outcome, you're there for them. It's a really, really beautiful spot to be in as a nurse.
Gumz, a critical care nurse from the United States, moved to Calgary in November. She recently landed her Alberta nursing permit, after a year of filing paperwork and applications.
It is a bit disheartening when you're at home kind of twiddling your thumbs. And you're reading these articles … about staffing shortages and about wait-times in the ER and about patients who are suffering consequences due to a lack of bed availability.
Long waits for international nurses wanting to work in this province have been the norm.
The process can take years and cost up to $4,000.
But in April, the College of Registered Nurses of Alberta overhauled its application process in an effort to make it quicker and easier for internationally educated nurses to get clearance to work in the province.
Since then, it's been inundated with nurses looking to apply.
The numbers have increased exponentially, said Andrew Douglas, an executive director at the college.
According to Douglas, their call centre has received more than 7,000 inquiries, and nearly 1,200 people have started the application process since the changes went into effect on April 4.
And the college has issued 672 permits since the launch.
For comparison, the regulator received 582 applications for an entire four-year period between 2018 and 2022.
Just by opening the doors and by looking at new ways of doing things, we're seeing a massive influx of interest, said Douglas, noting most people who've transferred their permits in the last five years have been from the Philippines and India.
[It's] allowing more registered nurses to come into the health system to provide patient care. And as we know, there are workforce challenges right now, so this is really helping to get nurses into Alberta.
48-hour goal
One of the changes removes the requirement that nurses apply for a costly and lengthy credentials assessment through the National Nursing Assessment Service — as long as they meet other requirements that demonstrate their credentials, including passing an internationally recognized registration exam.
There are different pathways depending on factors such as where they trained and their registration status.
And the new system will eliminate the need for some nurses to take further coursework.
According to Douglas, the goal is to process the most straightforward applications within 48 hours once the surge is over. With the high volumes, he estimates it's currently taking about four weeks.
Lucy Reyes's cellphone hasn't stopped lighting up with calls and texts since the new system was announced. She's the founder and president of the Philippine Canadian Nurses Association.
Easing the path for internationally educated nurses to practise safely in Alberta has been one of her goals. 
I am inspired. I think because the process is shorter and easy to understand, there's a lot of happy people wanting to do this, she said.
Could you imagine the wasted resources that have been sitting in Alberta — because they are already here — that we could have used?
In addition to easing staffing shortages, Reyes believes this new crop of nurses will help relieve stress and burnout among existing staff who've been working extremely long hours through more than three years of a pandemic.
At the provider level, I'm hoping it can only be a win-win because there's going to be a surge of all these internationally trained nurses who have been deemed qualified, she said.
Reyes cautions that ongoing evaluation of the new process is necessary.
And she'd also like to see the provincial government provide funding to the college to hire additional staff to deal with the surge.
Currently, the college is redeploying staff in an effort to keep up.
The Alberta Association of Nurses is also trying to help applicants through the process.
According to the executive director, Kathy Howe, the group has provincial funding to hire a nurse navigator to assist people through the process and help those who need bridge training before they qualify to work here.
We need to get nurses quickly working at the bedside, she said.
Howe agrees the new process is both timely and necessary, and she believes it balances the need to get nurses to the bedside with protecting the public.
I think it's a very reasonable approach said Howe.
In Alberta, we have a few thousand internationally educated nurses from other countries that are not working in health care, and we need to get them working in health care quickly. And this is absolutely making a difference.
Jennifer Lee (new window) · CBC News