Home
Society
'Their win is my win': Newcomer Leafs fans hope history will be made in Game 5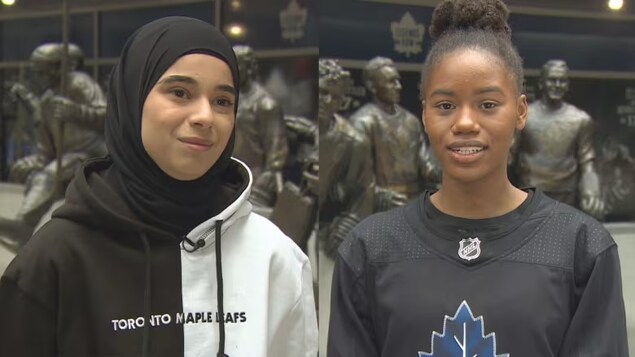 Abrar Al Mouktaran and Brittany Morrison, relatively new to Canada, now huge fans of Toronto team
Growing up, Abrar Al Mouktaran and Brittany Morrison didn't know anything about hockey. 
A resident of Syria, Al Mouktaran, 23, says she didn't know the sport existed. Morrison too, a resident of Jamaica, says she had no knowledge of the game.
Now, both young women say they have learned how to play hockey and have fallen in love with the Toronto Maple Leafs. Al Mouktaran moved to Canada with her family in 2016, while Morrison, 19, came here with her family in 2017.
The two are among many new Canadians who have become huge fans of the team.
When the Leafs try to win their first playoff series in 19 years on Thursday, Al Mouktaran and Morrison said they will be watching and hope history will be made. 
WATCH: New Canadians talk about their love of the Toronto Maple Leafs 
'I felt that energy': New Canadians say going to a Leafs game never gets old
Abrar Al Mouktaran and Brittany Morrison both developed a love of hockey after their different journeys to Canada. They hope the Leafs make history by winning their first playoff series in 19 years on Thursday.
'It's like everybody's win'
It's really good to see them achieve, Al Mouktaran said on Wednesday. Now that I'm Canadian, I'm a part of the city. So their win is my win. It's like everybody's win.
Toronto holds a 3-1 lead in its first-round playoff series against the Tampa Bay Lightning heading into Game 5 at Scotiabank Arena. The Maple Leafs have not won a playoff series since 2004, so winning would be extra special for fans who are not old enough to remember the last time the Leafs advanced past the first round.
Both women say they developed a love of hockey after their different journeys to Canada. 
Al Mouktaran said her family fled Syria for Lebanon after the civil war broke out. After four years in Lebanon, the family immigrated to Canada. Once in Canada, Abrar's brother joined Hockey for Youth, a program that teaches the game to new Canadians.
I saw that my brother was having the best time of his life, and every time when he was playing, I would go there and watch them, and I was like, I want to do that too, she said.
When she began to play to hockey, Al Mouktaran said she fell in love with the sport. At Hockey for Youth, Al Mouktaran also met Morrison, who said she has vivid memories of learning to play hockey after her family moved to Canada from Jamaica.
Moments made them fans for life
I remember, kind of the first time, putting on my skates, all my hockey equipment. I actually had my coach and everybody else kind of helping me to tie my laces, Morrison said.
Shortly after going to her first game, Brittany got to skate with Mitch Marner, Leafs right winger and alternate captain, at a charity event.
I had a moment where I had a little interaction, where we're having a conversation, kind of talking about hockey, she said.
Both women say those kind of moments have made them Leaf fans for life.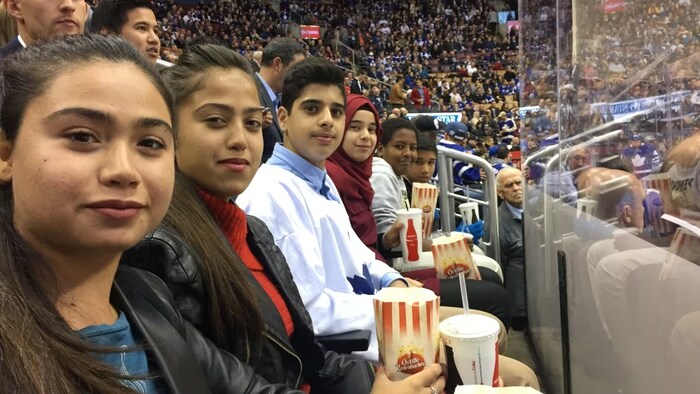 Through the program, both Al Mouktaran and Morrison were given tickets to see the Leafs play in person. That's when they discovered they like watching hockey as much as they like playing.
I didn't expect to see that many people in such a giant space. There were so many people. It was really exciting. We didn't fully understand the rules. But it was great. It still is, Al Mouktaran said.
'We can always dream'
Morrison said of her first Leafs game in person: Every time there was a goal, everybody would stand up and there would be a big eruption of the crowd, and I definitely felt that energy and I felt that atmosphere.
After Al Mouktaran's first Leafs game, she said got to stand outside the Leafs dressing room and fist bump the players as they left the ice.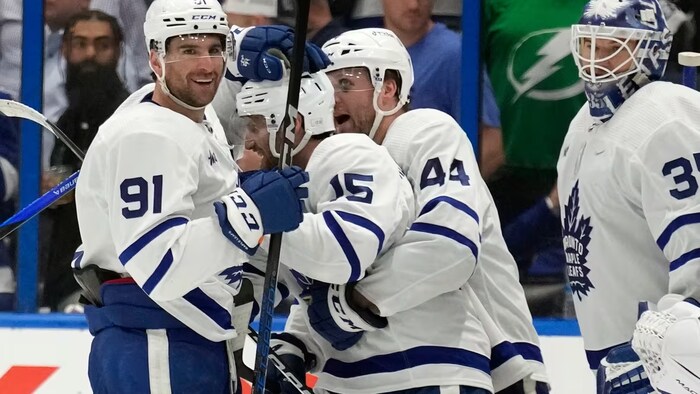 I didn't know that this was such a big deal until I posted that video on my Instagram, she said.
Now, she said: Every time I go to a hockey game, it never gets old, it's really exciting, always. I love it so much.
Morrison added seeing the team win the Stanley Cup in her lifetime "would be amazing for me and for a lot of other fans.
We can always dream.
CBC News with files from Greg Ross and The Canadian Press