Home
Politics
Inuk leader calls for legal recognition of right to Indigenous media at United Nations event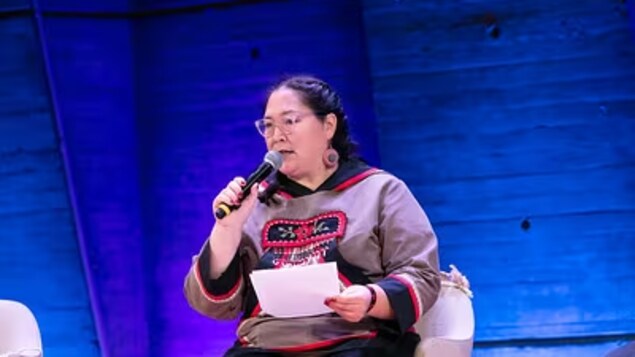 In Nunavut, 'there needs to be Inuktitut available in every aspect of our lives,' says Aluki Kotierk
In order to support the development of Indigenous media, Inuk leader Aluki Kotierk says there needs to be legal recognition and the approach taken must include specificity in Indigenous languages and cultures. 
I think it's really important that there be legal recognition of Indigenous peoples' rights to have their own media, said Kotierk on Tuesday in New York City.
In Nunavut, where 85 per cent of the population are Inuit who speak Inuktitut as their mother tongue, certainly we think there needs to be Inuktitut available in every aspect of our lives.
Kotierk, president of Nunavut Tunngavik Inc., the organization that manages the Nunavut land claim agreement, is a new member of the United Nations Permanent Forum on Indigenous Issues. 
She spoke during a side event of the forum focusing on Indigenous media — an issue enshrined in the United Nations Declaration on the Rights of Indigenous Peoples, which documents the minimum standards for the survival, dignity and well-being of Indigenous Peoples.
The declaration's article 16 states that Indigenous peoples have the right to establish their own media in their own languages and that states shall take effective measures to ensure that state-owned media duly reflect indigenous cultural diversity.
While Kotierk credited the work done by both APTN and CBC for providing programming in Inuktitut, she said having Inuit-specific media organizations is important for both self-determination and resistance.
Kotierk said two Inuit organizations have applied for broadcasting licences.
Support for Indigenous languages
UNESCO co-organized the event, along with the Native American Journalists Association, and Whakaata Māori (Māori Television).
In Canada, there are more than 70 distinct Indigenous languages currently spoken by First Nations, Métis and Inuit according to Statistics Canada. All are considered at risk, vulnerable or endangered according to the UNESCO Atlas of the World's Languages in Danger.
Learning, speaking and transmitting one's language is a fundamental human right, said Elaine Young, programme officer, communication and information at the Canadian National Commission for UNESCO. 
Supporting media development so that Indigenous peoples can access information and share their stories in their own languages is essential for the actualization of article 16.
For Shane Tourima, chief executive of Whakaata Māori, it was important to recognize the impact the media has had in supporting colonization of Indigenous peoples, and on Indigenous languages.
We acknowledge that our stories, some were never told or if they were told, they were misrepresented, he said.
Having the opportunity and the ability as Indigenous media now not only to tell our own stories in our own ways in our own languages but also to ensure the decisions that are made above and below that process are also driven by us, too.
The United Nations Permanent Forum on Indigenous issues continues until April 28.
Ka'nhehsí:io Deer (new window) · CBC News