Home
Arts
Indigenous
AFN honours singer Jully Black for her change to Canada's anthem
Black swapped word at NBA All-Star Game to sing 'O Canada! Our home on native land'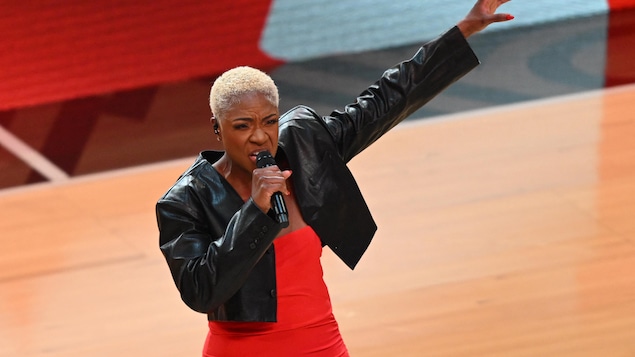 Canadian R&B singer Jully Black was honoured at an AFN Special Chiefs Assembly in Ottawa on Monday night for making an appreciated tweak to the Canadian national anthem at the NBA All-Star Game in Salt Lake City, Utah, in February.
The Juno Award-winner had swapped out one word in the anthem's usual opening line O Canada! Our home and native land! with O Canada! Our home on native land to recognize the Indigenous people who lived on the land before European settlers.
Black was presented with an eagle feather and wrapped with a blanket during a Blanketing Ceremony by AFN Knowledge Keepers and National Chief RoseAnne Archibald.
The singer said she was grateful while holding back tears.
I didn't realize that my action would garner such a response.
Black went on: On behalf of the Black community, I say we are one. We're better together.
After the presentation of the blanket and feather, Black reprised her rendition of O Canada for the assembly, again including home on native land, which prompted cheers from the crowd.

For more stories about the experiences of Black Canadians — from anti-Black racism to success stories within the Black community — check out Being Black in Canada, a CBC project Black Canadians can be proud of. You can read more stories here (new window).